Reef – Live Review – Fibbers, York
By Victoria Holdsworth, November 2018
This has to be one of my most anticipated gigs of the year, and not even a cold, damp, windy evening in York was going to stop Reef from entertaining their sold out crowd, at possibly one of the best live music venues in the North.
There was support this evening from Broken Witt Rebels, whose sound does not seem to match their look. They were okay, but the one thing I would say is: "Lads, if you have an issue with another band member or technician on stage, please don't throw a fit and start verbally abusing them down your mic, it's just not cricket. And to be honest, it ruined the tone to the start of the night, not to mention, making you look like spoilt kids. There is a time and a place, and a packed out Fibbers is not that."
Anyway, with no room to swing a cat, the unmistakable band members of Reef eventually take to the stage, looking ready for a great set, with a very cheeky twinkle in the eye of lead singer, Gary Stringer.
The crowd tonight is a majority of 30 and 40-somethings with a handful of younger followers, who are immediately under Mr. Stringer's spell from the second he strides out.
"Gritty and bluesy"
Ripping straight into 'Naked' and 'Stone For Your Love', these guys do not mess about – and it got hot and sweaty very quickly. With a great mix of old and new material, every single note was lapped up. You could feel every ounce of energy in the room as 'Higher Vibe' and 'Consideration' were delivered flawlessly, with every lick of Jesse Wood's guitar matching each soulful rasp from Stringer's vocal chords.
This is one band you can go see who actually look like they are enjoying every single minute, and not just going through the motions. This was even more apparent on the 1997 classic from their first album, 'I Would Have Left You', which is so gritty and bluesy and really grips you. Gary took the opportunity to say hello to his crowd, jumping into the pit and having a walk around, before climbing back onto the stage, looking ready for the next round.
Mr Stringer then took the time to explain how much he loves being by the sea, and with his trusty sidekick Jack Bessant skilfully laying down some rich and expansive basslines, they slip into the aptly named 'Mellow'.
One track that really does stand out above all others tonight is 'I've Got Something To Say'. The roof was about to blow off with the ensuing singalong, and even though this track is nearly 20 years old, it still sparkles and seems no less of a pleasure for the band to perform.
Reef's combination of blues and rock is, after all, what set them apart all those decades ago, and the back-to-back hits and nineties nostalgia continues with their unmistakable anthem 'Place Your Hands'.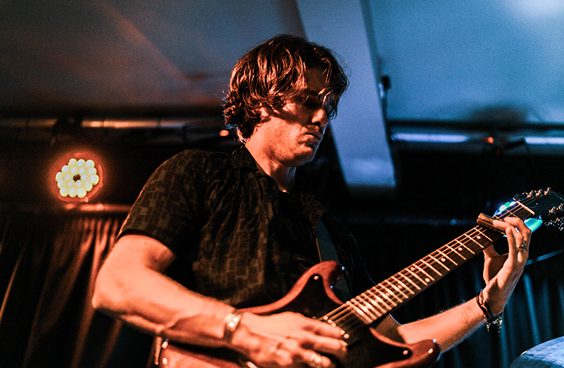 "Real force"
Some very well-thought-out cover versions lend a different dynamic to the set, with the inclusion of Big Mama Thornton's classic blues song 'Ball & Chain'. Whilst this song is mainly attributed to Janis Joplin, the lads really do it justice, and every soulful lyric cuts straight through to your bones, all dripping in the sweet honeyed notes of Stringer.
Back to a massive bounce along, and the new single 'Revelation' from same titled album is sung with real force and gusto. The crowd absolutely loved it, before attentions were turned to 'Don't You Like It',  from the album Glow.
'Precious Metal' is another astounding tune from the new album. Full throttle rock n roll loaded with some sharp guitar riffs and thunderous drums, which further unites the voices of the Fibber's crowd, before being levelled out with the slower offering of 'My Sweet Love', originally recorded as a duet with Sheryl Crow.
'Summer's In Bloom' is one track that really shows off the songwriting ability of the collective. And when Gary sings: 'My father's eye told of a place that he'd been/Yeah/Strong women play their own tune/ Summer's in bloom/Light her up, let her fill the room' it really resonates.
"Clearly emotional"
They end the set on a rousing anthem in the shape of 'Yer Old', which highlights what a collective musical force-to-be-reckoned-with the band is.
Fibbers was not going to let them go quietly, and after a building shaking session of foot stomping, shouting and applause, the lads head back out on stage and performed 'Come Back Brighter', which sounds as magical as the first time I ever heard it in 1997. Then, finally wringing out the last minutes of curfew time with one of the best cover versions of The Small Faces' 'Stay With Me' that I have ever heard.
The Reef lads were clearly emotional by the end of the set, each of them throwing their all into their own and collective performances.
Tonight was completely faultless, and they have evolved and progressed so much over these past decades into something very special. Whilst many of their '90s indie/rock peers haphazardly try to keep their dreams alive, judging from tonight's performance, Reef remain a vital part of any music scene.
images: Krista Sian Lynch