Tom Chaplin – Live Review – York Barbican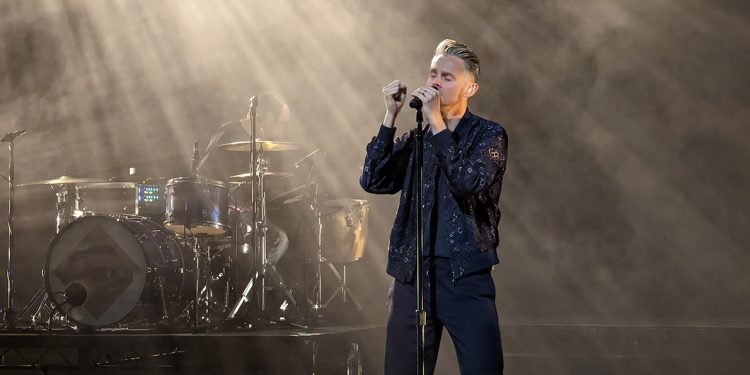 By Steve Crabtree, October 2022
With a new album in tow, Tom Chaplin is touring the UK at the moment. And the front man of Keane was at York Barbican for his only Yorkshire date.
We had a very full, all-seater theatre on this Wednesday evening, and we were going to be given a brilliant night. In fact, Chaplin was something else all the way through his 20 song show, with a gig that flew by and could have carried on for another hour.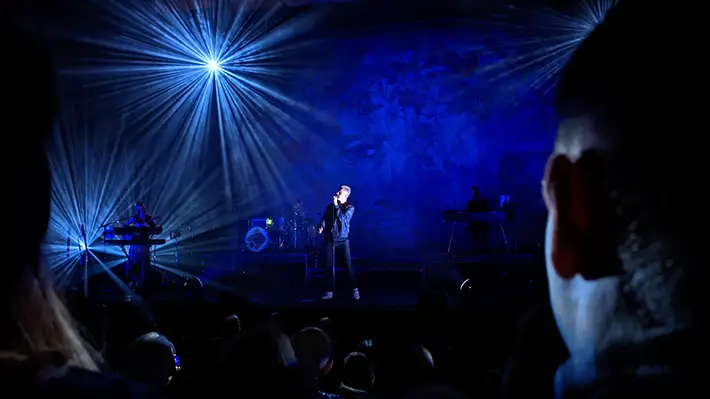 "Note security: Excellent"
At 8.45pm prompt, the lights dimmed, the band took their places and Tom calmly wandered over to his mic.  It was a darkened light, and a mellow start as he started the evening off with 'All Fall Down'. 'Rise and Fall' came straight after, keeping the same mood and tone.
Straight from the off, Tom's vocal range was (is) incredible, and his note security: excellent.
'The River' got the first dance moves of the evening from the audience. And 'Quicksand' also sounded nice. 'I Remember You' was pretty brilliant, and I really liked 'Midpoint' – the title track of his recent album.  In fact, I can't recall a tune that gave me one of those "I'll pop to the bar" or "I'll visit the gents now" moments, like you get at some gigs.
And credit to Tom Chaplin for giving us a set that was majorly his solo-stuff. We only got a very light sprinkling of Keane hits, but his own stuff stands up strong alongside his previous work with the band, and
His performance of 'Gravitational' stole the show for me on this stunning musical night.  He'd taken us from a slow, melodic feel early doors to bring some liveliness to the night in the final quarter of the show, and this one sounded crisp, clear, poppy. Recorded it's a stunning track and live it's simply beautiful.  I'm trying to think of a song that's been released this year that I prefer to this one, and I don't think I can.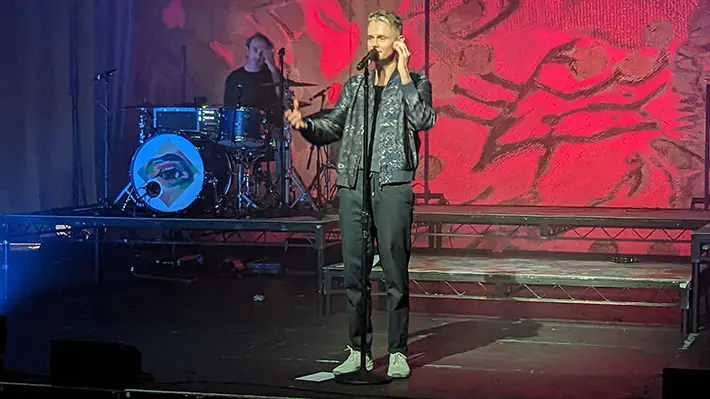 "Effortless singing"
When I saw Tom Chaplin play in a torrential downpour in Scarborough last year as the front man of Keane, I was blown away by how effortless singing was for him. Tonight, in a more intimate all-seater setting, his voice was even more epic. Everyone in the Barbican was enjoying the performance though. Plenty of singing along, plenty of cheers when song intros started – it was a place filled with good spirits.
It isn't just about how good a performer he is either. He's also a genuinely lovely chap too.  Between songs, his engagement with the audience was nice, natural and upbeat. He'd welcomed questions on social media before the show, and he answered a few halfway through the gig. He joked back at comments from his fans, and professed how proud he is of his Yorkshire roots. He also eulogised about Yorkshire Tea!  It wasn't a rehearsed act. He just came across as a guy who you could have listened to talking as much as you wanted to hear the songs.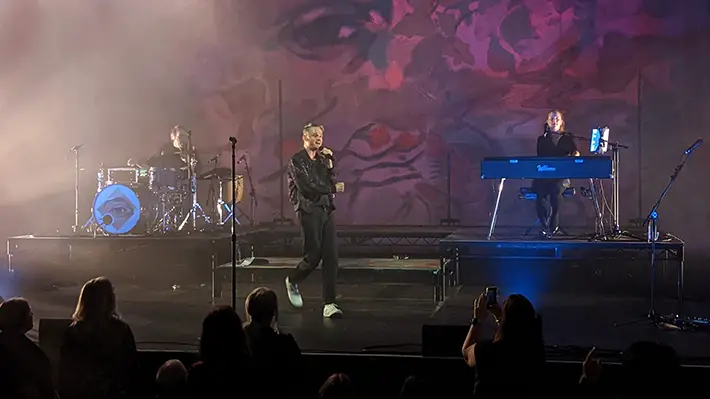 "A brilliant show"
For his encore, we got four songs, that included 'Cameo' and his Keane hit 'Somewhere Only We Know'.  The latter being the big singalong tune of the evening.
We'd been treated to a brilliant show by Tom Chaplin. No effects in sight. Only lighting to compliment the mood. He's one brilliant artist, with a great band behind him. Every single person in York Barbican were sent home happy, and I've no doubt that this gig will be one of the best they've been to this year.