The Little Weighton Kitchen Recipe Box – Review
By @Roger Crow
During the sunny months of 2020 I got into that 'delivery box recipe routine' thanks to a national company, which meant I enjoyed all sorts of interesting dishes during the early lockdown. Obviously in Yorkshire we have some of the best produce providers in the world, so I was keen to see if there was a local company whose recipe boxes gave those national brands a run for their money. The Little Weighton Kitchen rose to that challenge. Just a few clicks on their website, and I soon had three dishes on their way to my front door. But would they cut the mustard?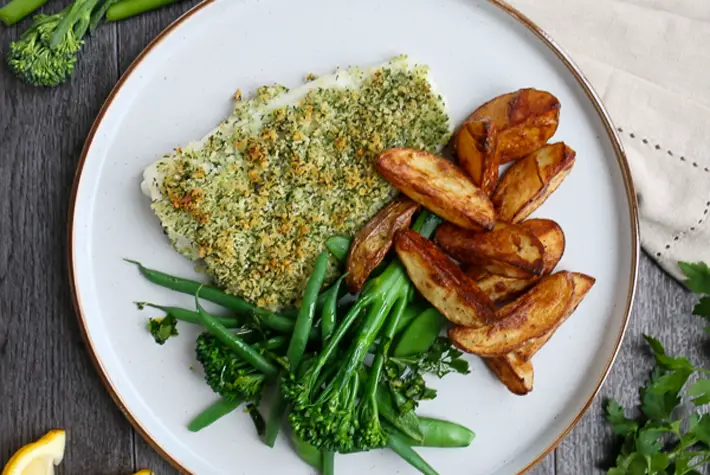 Herb Crusted Coley with Potato Wedges and Lemony Garlic Greens
'Ready in 25 minutes' comments the recipe sheet for this tasty dish, and that guide is not far off. It takes a few mins to wash, chop, top and tail your veg. The new potatoes are sliced into chunky wedges (though I like to keep some in their original form), and after they've been popped in the oven, with a good splash of olive oil and a sprinkle of salt and pepper, they're eventually given that 25 mins. Once they've been heating for 10 minutes, the *Coley is placed skin-side down on an oven tray lined with the paper it was wrapped in. (*I've never had Coley, and it turns out to be a welcome discovery).
The provided lemon herb crumb is mixed in a bowl with olive oil so it forms a paste-like consistency, and then layered onto the yummy fish. That takes up oven residence for a dozen minutes, or longer. Just make sure it's cooked through, of course. Then boil a kettle; pop the water in a pan, and cook your greens until al dente. Drain, then add the garlic, lemon and parsley salsa. Heat plates; serve, and enjoy.
The result is a beautifully light and balanced dish which is easy on the palate. Most of the ingredients are old school staples that sing on the tongue, and take me back to those halcyon days during the 1970s, when my grandad would rustle up simple fish dishes with home grown veg. Any meal which can sum up that nostalgia blast is okay by me. You don't need to be a genius in the kitchen to work culinary miracles. And most of the hard work here has been done for you. The fact there's no fish bones is an added bonus. So far, so good.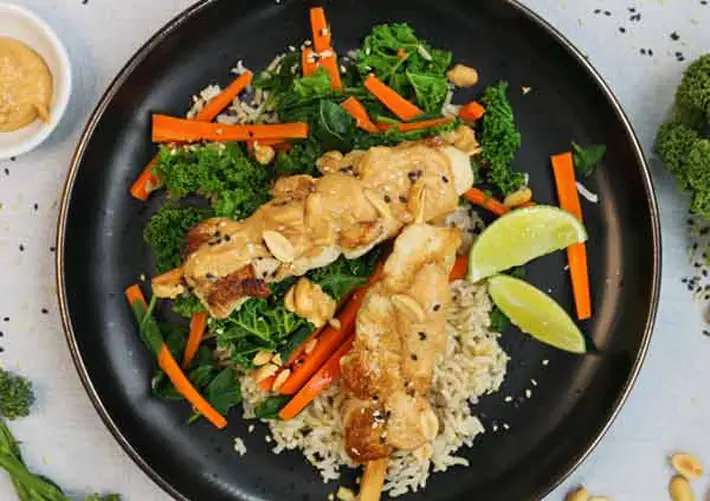 Sesame Peanut Chicken Skewers
Kale. Just the name makes me shudder a little. I've no issues with spinach. It was good enough for Popeye, and when it comes to peanuts; peanut sauce; maple soy sauce; carrots and even brown rice, I've no problem. But kale. Ew. However, I'm making a dish combining all of those ingredients, and kale is one of them, so here we go.
Sesame Peanut Chicken Skewers is one of those tasty dishes that doesn't involve much hard work. Just follow the recipe cards, take some joy in shredding that kale, cook your carrots, boil your rice (brown rice obviously takes longer than white, but you knew that), and fry your pre-diced chicken to the point of perfection. It suggests threading on the provided skewers first, though I prefer to do it after cooking. Now on paper, brown rice is like kale in the fact it seems a little dull, but the genius of this is a delicious culinary alchemy occurs. Suddenly the kale and the brown rice join forces with the peanut sauce and form a wondrous union of flavours. And obviously those chicken skewers are delicious. Yes, even the kale is a success. The fact the plates are empty in minutes speaks volumes. Is this going to be a Meat Loaf of a testing (two out of three ain't bad), or does Little Weighton Kitchen get the hat trick…?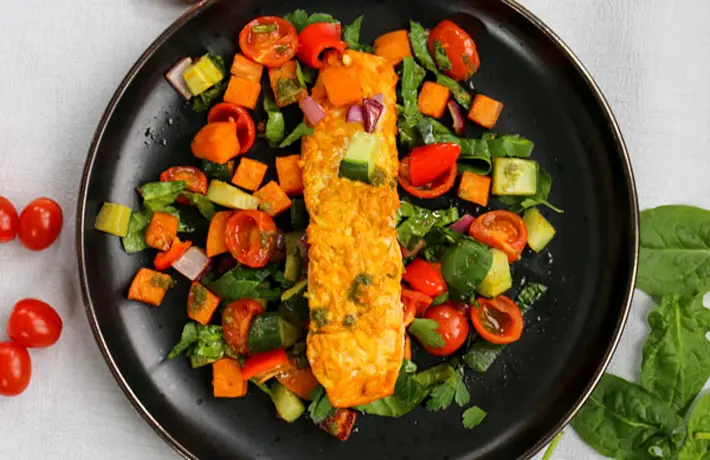 Tandoori Style Salmon with Sweet Potato and Roast Kachumber
It's Good Friday, which means for some, fish for dinner is essential. I never need much of an excuse, and as the local chip shop looks like it's feeding the 5,000, I'm glad I saved the Tandoori Salmon for this much needed holiday.
As with all the dishes, the ingredients are beautifully wrapped, and the instructions are easy to follow, which isn't always a given with some companies who let banter get in the way of clear communication. As someone who loves curried fish, this is a great twist on one of my favourite dishes. As usual just unpack your ingredients; give them a wash; stick the oven on, and have a sharp knife and a peeler on standby. Peel your sweet potato, then chop all your veg into cubes. Pop the potato on a baking tray with a generous drizzle of olive oil; cover in the provided cumin salt, and cook for a good 20 minutes, though I'd recommended longer if your oven is a bit old and decrepit like mine.
While that's cooking away, slather your gorgeous salmon fillets in the tandoori paste and leave to marinate for 10 minutes. Pour yourself a glass of something cheeky and sit down for a bit.
When curiosity sets in and those tastebuds are fired up, return to the kitchen, and when it looks like the sweet potato is getting there, plonk the rest of your sliced, chopped red onion, cherry tomatoes and cucumber onto the baking tray, with your sweet potato and salmon fillets, then leave it alone to finish off the rest of your tipple.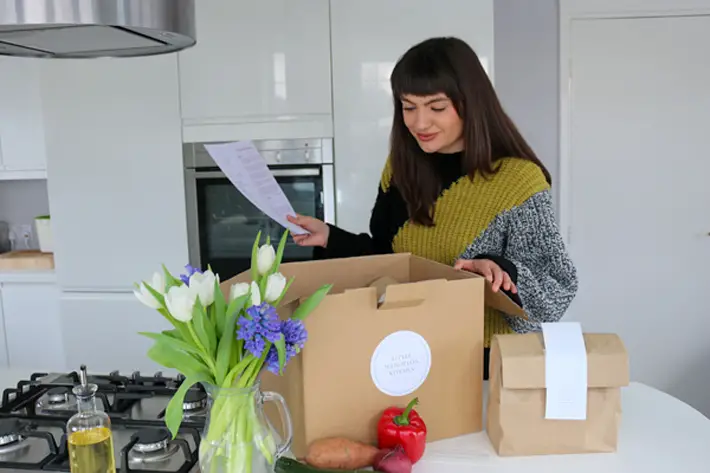 "Culinary bravado"
When the aroma of al dente sweet potato and yummy salmon fills the air, it's time for the final stage.
By this point you may be so filled with Dutch courage that you've taken to calling yourself 'Gordon Blumenthal', which is fine, because it's that's sort of culinary bravado which pushes pioneering gastronauts further than just another spag bol or tuna pasta bake.
It proves to be a terrific dish. I have noodles with mine because I hate cucumber and usually dislike tomatoes, though these are superb.
My al dente potato is crunchy, but a great counterpoint to the soft and tender salmon, and that topping gives me that curry fix I often love from many a fish dish. They work incredibly well together. As I love coriander, the dressing is equally superb. Great ingredients, and a welcome change from the usual default dishes I rustle up.
So there you go. Three fine meals and easy peasy to prepare. In these days when staying healthy and keeping your tastebuds tickled is more important than ever, Little Weighton Kitchen ticked those boxes and a whole load more.
GF, Vegan and Vegetarian options available. Free delivery on all orders. Users can receive £10 off their first box by subscribing to LWK's newsletteLWK is not a subscription based recipe box, customers can order as little or often as they wish. Delivery days are Tuesdays And Thursdays. Recipes vary weekly. All produce is fresh and local to East Yorkshire. Each order comes in recyclable packaging. Orders are delivered via DPD's Carbon Neutral Delivery Service.
For more info visit: littleweightonkitchen.co.uk