I Am Doner – Takeaway Review
By Ellie Victor
I can't think of a more maligned food in the UK than the takeaway doner kebab. Synonymous with lager-fuelled nights, regrettable taxi journeys and the occasional punch-up, the vertical rotisserie version acts like a magnet to the hunger of the inebriated, its slow, rotating shop window waltz strangely hypnotic at 12:45am – and yes, I've indulged in a few myself over the years (no chilli sauce please).
It is, of course, us Brits that have dragged the kebab through the gutter (sometimes literally) – the Turkish variant has been around for centuries and the food has made its way around the world. Now, you can get the chicken variant in Tokyo, a sweet style in Canada or a spicy pork in Mexico City – and its reputation varies from delicacy to deviant.
In the right hands though, a doner kebab can be a food lovers' triumph. The blend of spices, ground meats and accompaniments are so huge, and the taste and texture complexities so varied, there really should be a kebab to sate any meat eater (and there are even veggie options too – more of those later).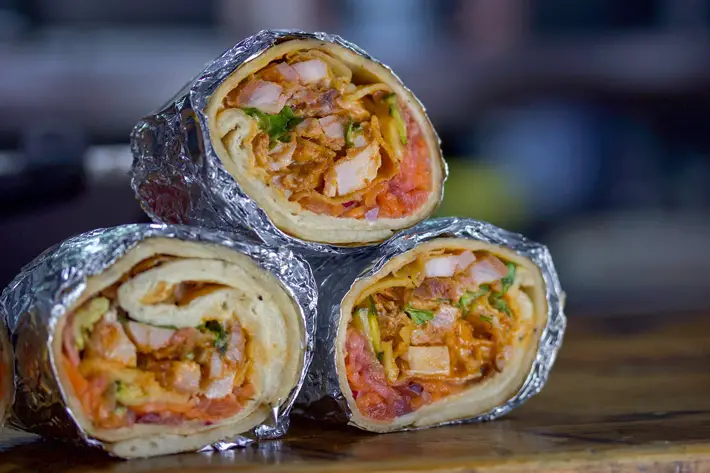 "Kebab perfection"
No wonder, then, that it was a real cook – Paul Baron, Michelin-trained and a former head chef – who confronted the doner and its somewhat sullied UK reputation head-on with his Headingley-based I Am Doner enterprise, which opened in 2016. Incredibly he uses over 120 ingredients across his eight kebab versions. Whatever secrets are in there, they are good ones because by 2017 the brand was winning the Best Kebab in Britain award and this year made the best takeaway regional final. Now there are three shops in Yorkshire (including Leeds and Harrogate) and the scope for expansion is, naturally, huge.
I tried three of the brand's signature servings, the House Special Berlin (£8.95), the chicken (£7.95) and the haloumi (£8.45), while my vegetarian partner tried the Veg Special Berlin (£8.95).
What Baron has created is close to kebab perfection – especially with the Berlin. The meat is tender and beautifully seasoned, the bread is tasty and weighty, the blend of crunch and cream in the veg is delightful as tomato, red onion, grated carrot, pickled red cabbage and other crispy fried vegetables combine with a few salty slivers of feta that really works in tandem with the meat. I loved the just right garlic mayo – and even a dabble of mild chilli sauce (you can also choose medium or spicy) worked wonders.
The chicken variety was fine and tender, although the delicate meat was slightly lost amid the flavour barrage, but the haloumi was a triumph – although I'm a sucker for the squeaky cheese.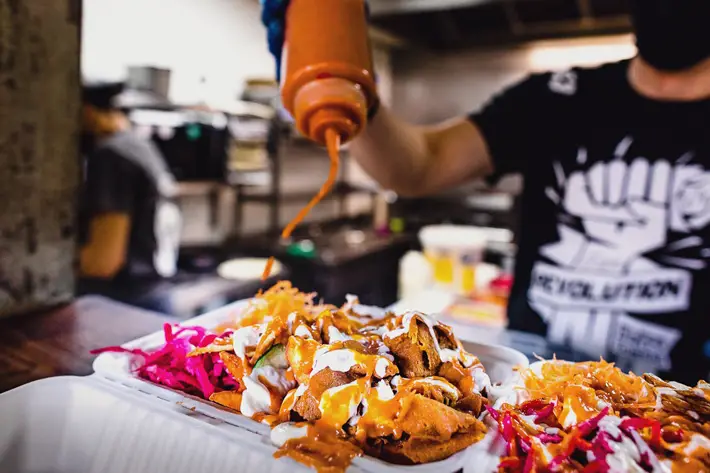 "Marriage of crunchy veg"
What's even more impressive is how it all holds together so well. You can grab the flatbread in your paws and tear at the contents without much fear of that deadly dining disaster – chilli sauce and kebab falling down your favourite shirt. It's a joy to eat – which can't really ever be said about those distant, dirty after-beer cousins.
Sides, too, were great. The French Fries (£2.95) were crisp and still warm by the time I got them home (the foil wrapping helps) and a House special Rice Box (£8.95) stacked up the kebab's ingredients on a bed of basmati, should you be in favour of eschewing the flatbread.
That aforementioned veggie version also went down a treat. My partner particularly enjoying the marriage of crunchy veg with the soft meat substitute of flour, vital wheat gluten, herbs and spices.
In truth, I Am Doner are well on their way to rescuing the humble doner kebab from its late night legacy. Here is a snack that'll work at lunchtime, after work or as a handy meal on the go with the kids. And if it also works as fuel after a few shandys too many, then that's fine too. At least your shirt will stay clean this time. Go give it a try.
I am Doner runs a click and collect service for its three Yorkshire restaurants: iamdoner.co.uk