From KitKats to Carbonara: The Rise of Yorkshire Pasta
Buitoni, Rumma, Barilla and Italy's "maestri pastai" are all looking over their shoulders and their pasta elbows at Yorkshire. Quarry Park in West Heslerton near Malton has quickly established itself as the cradle of British pasta.
Italy's first pasta factory opened in Venice in 1740. In 1827, Mamma Buitoni pawned a necklace to open her first pasta shop in Sansepolaro, Tuscany. With the help of a PAPI (Product & Process Innovation) equipment grant and her engineer husband Tom, farmer's daughter and former Project Manager for KitKat New Product Development, Kathryn Bumby founded the Yorkshire Pasta Company.
Their Eureka! moment came during a walk up Car Bells in the Lake District. They now makes five different types of durum wheat-free short pasta – Fusilli (spindle shapes, described by Kathryn as "the helter skelter of the pasta world", Conchigile (shells), Penne Rigita (ridged quills), Tortiglioni (from the Latin, tortquere, to turn) and the rare Roman Mezza Maniche. All are priced at £3.50 for 500g.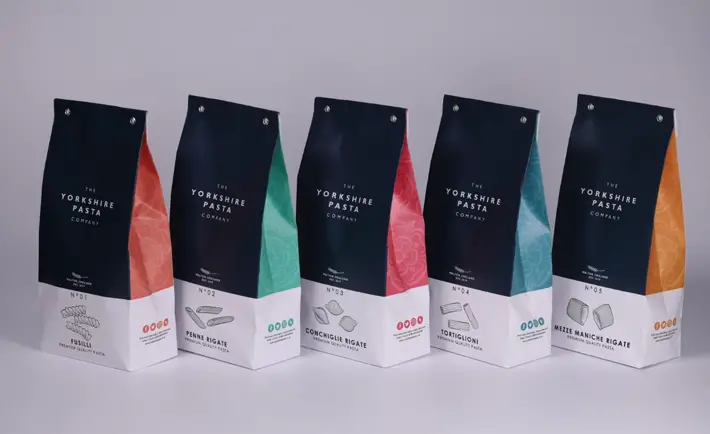 "Locally sourced"
Says 28-year-old Kathryn, who was educated at Lady Lumley's School and Pickering Sixth Form College: "Massive foodies, we had been talking about various ideas for our own business for years. Once we started thinking of pasta, we couldn't stop! It kept us up at night. I would dream of pasta! Spag bog was mine and my brother Liam's meal of choice for every special occasion, birthday or treat. I even got my bridesmaids to cook it for us the night before my wedding!
"I used to make wafers for Nestlé in their Confectionary Research And Development Centre in York. But I hadn't a clue how to make pasta. We knew we wanted to create a premium product. But it didn't feel like that when I tried my hand in our garage with a rolling pin, flour and water! Most pasta is made from semolina using durum wheat that can't be grown here because we haven't the right climate. We were determined to be locally sourced. No imports.
"It took us six months of researching and experimenting. People wouldn't just buy pasta because it was from Yorkshire. It had to be good. I visited farm shops and delis and asked if it would be something they'd be interested in stocking, still not knowing how to make the stuff!. Plastic was an issue as people are used to seeing their pasta. We worked with and went through fifty paper suppliers. Eventually we came up with a bag and a way of closing it using eyelets normally used in making shoes!"
"Well kept secret"
Continues Kathyrn: "Pasta must be carefully dried. Any moisture and it cracks. When coronavirus hit and then lockdown there was a shortage of pasta and people did ask if we would bring our launch forward. But we took a risk and stayed with our original date."
Kathryn learned that Italian master pasta makers press their dough through bronze dies. "Our dies create a rough surface on every single piece, so the pasta will absorbing sauces. We slow dry our pasta at low temperatures which creates the conditions needed to develop flavour. The drying process is bespoke for each shape. The natural rack drying process on we use ensures that our products keep well without needing any stabilisers or preservatives. We dry overnight for over fourteen hours. In the old days Italians would dry for fifty!"
The Yorkshire Pasta Company uses flour from a local mill, working directly with the miller. "We mix our specially selected flour with cold water – our ratio is a well kept secret! These two ingredients are mixed gently to preserve the proteins in the flour.
"We want to take pasta back to basics with no compromise on flavour. Yorkshire pasta is made slowly and authentically. We have had plenty of disasters and there were plenty of occasions when we thought to ourselves, 'So this is why no one is doing this already!' Temperature and humidity have to be understood and controlled correctly. The worse sound in the world is the sound of your pasta cracking up! It literally sounds like a bowl of rice crispies!"
For more info visit: yorkshirepasta.co.uk