Me, You, Madness (2021) – Film Review
Director: Louise Linton
Cast: Louise Linton, Ed Westwick, Shuya Chang
Certificate: 18
by @Roger Crow
Imagine a gender-flipped version of American Psycho, with a touch of Basic Instinct; an obsession with fancy cars, slick visuals and a champagne lifestyle. Then add a script where most gags falls flat; the anti-heroine is a fitness-obsessed sociopath; add a mix of cool eighties tunes, and you get the idea behind this "campy comedy thriller".
Catherine Black (Louise Linton) is a filthy rich tycoon businesswoman. She's addicted to everything, and yet knows the value of nothing.
Catherine sets her stall out early by berating her long-suffering office workers with a ball-busting tirade, then eats a spider, which comes as a shock to nobody. She drives the same Aston Martin from Die Another Day, which is supposed to come across as cool and impressive, but just looks like an annoying flashy car advert. There's also a gratuitous plug for that online exercise bike company, and I've no doubt they threw a chunk of change at the movie. Fair enough. Even the best films have product placement, but I do wonder if they wanted their money back when they saw the finished thing.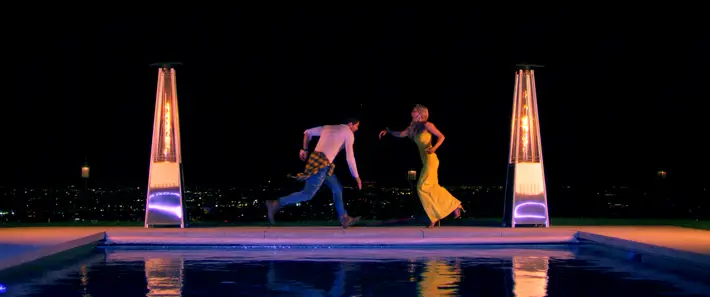 "Wears its influences"
Remember how poor Sex and the City 2 was with its high gloss visuals and obsession with designer everything, yet was rotten to the core? This is almost as annoying.
Full marks to Louise Linton for writing, directing and starring in the project. It's a pretty accomplished job for any rookie director, and she clearly knows how to make a film look good.
Just a shame it wears its influences on its designer sleeve, and cross references them. Yes, there is even a nod to American Psycho, which is fine when done well. It lets the audience in on the joke. Except in the first few minutes, our smug, fourth-wall breaking 'heroine' puts us in our place, and treats us with contempt. Which is a bold move if there's a well-crafted script and a likeable lead to win us over in the end. But Catherine Black is like an offensive stand-up comedian with poor material and a hatred for the punters. Stunning cinematography, cool gold boots and a great set will only get you so far, but this is vacuous stuff.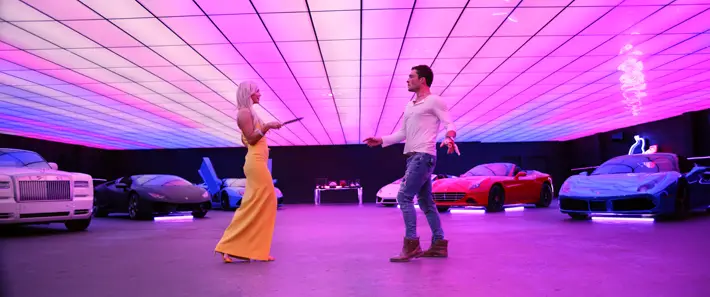 "A lot going for it"
Ed Westwick, who was rather excellent in TV comedy drama White Gold, is sold short here. I bet he yearned for the witty dialogue of that series.
The fact it boasts 'Hold Me Now', one of the best Thompson Twins numbers, as a closing track is definitely a point in its favour.
Me, You, Madness has a lot going for it, not least its superb cinematography, and it could have been a better movie if it wasn't from the point of view of a toxic narcissist.
More show less tell, a decent script editor, and an anti-heroine who talks to us with warmth, Fleabag style, and it would have made all the difference.
Me, You, Madness is available on digital download from 19th April