A Q&A with Agent Starling
Hurdy gurdy, hypnotic drones – Agent Starling's experimental collaborative edge…
What's the title of your latest release, and what does it mean to you?
The album is called European Howl. It's named after one of the tracks, an ode to being European – a call for connection in today's isolationist climate.
What was the hardest part about putting this release together, and why?
The whole album came together easily and naturally. That's not to say it wasn't hard work, though. Writing and recording can be a very intense process which was magnified because we recorded it remotely during lockdown. So, we were both beavering away in our own studios, swapping ideas, chatting about it online daily, and getting on with shaping it up without distractions or time limits. But we haven't actually seen each other in real life for well over a year!
What do you enjoy most about producing your own material?
We had the freedom to experiment and do whatever we wanted. Agent Starling is a brand-new collaboration, but we have played live music together for 25 years, so we had a clear view of our musical spirit and what we wanted to achieve so it was a joy to bounce ideas around. There are other people involved in the release. Guest violinist is Dexter Duffy-Howard and we had all the tracks mastered by a mastering engineer in Oregon, Kevin Carafa. Having a specialist, a third party, to do that is invaluable when you've produced the tracks yourselves, and he did a brilliant job. It was very exciting to get the tracks back and listen to them with fresh ears. The band photography was done by photographer Richard Duffy-Howard and we commissioned the beautiful cover art by fine artist Anna Kirk-Smith.
What do you want the listener to take away from listening to your music?
We'd like people to listen to the album and feel good. We play catchy hurdy-gurdy tunes, new songs, hypnotic drones, live bass grooves and strings, all with an experimental edge. We like to think that the tunes are immersive. Some of the sounds are unusual and some of the songs thoughtful, but we think people will feel uplifted by the album. And some of the songs are just great for dancing ­– always a feel-good thing to do!
How does a track normally come together? Can you tell us something about the process?
Most of the tracks started with a conversation about the essence of the track. Then, typically, Quentin recorded the hurdy-gurdy tune in his studio in Bridlington. He might have spent a few days working up the tune before he sent it to me, usually three tracks because the hurdy-gurdy makes different sounds, not just the tune but the trompette – the buzzing drone sound which is central to many of the songs. I added whatever else I thought would sound good. I augmented the live instruments, first of all bass and percussion with sounds I manipulated, often synthesized or orchestral. Because it was lockdown, we had to use what was available and around us. Luckily, my son Dexter Duffy-Howard is a violinist, and he played the gorgeous live violin and cello parts which feature on many of the tracks. I added the vocals; many of them are spoken word pieces with multiple harmonies underneath. I experimented with intimate whispery vocals, initially because when I was recording the ghost (guide) vocals I didn't want to disturb the whole neighbourhood. But I liked the way they sounded so intimate, so that became a distinct part of the album. The inspiration for the songs were all sorts of ideas which were around us as we were recording, and themes range from a miscellany of Greek Tales ('Wine Dark Sea'), an elegy from a dying lover ('Requiem') to 'Helicopter Arms', inspired by the glorious gurdy tune at the heart of the song. Delores County Ride started with the bass line – it's a tribute to the women who hop trains in Arno Bitschy's film This Train I Ride.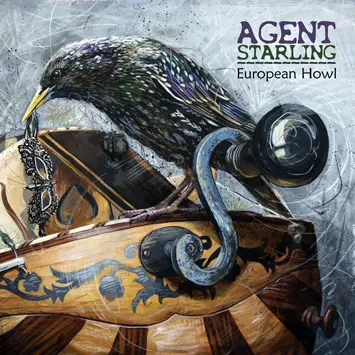 What band/artists have influenced you the most since you started this project, and why?
We've swapped all sorts of music and ideas as we've been recording from 16th century dancing tunes, traditional Klezmer songs, film scores to tunes I dance to at my Zumba class.
What countries would you like to tour?Are there any standout venues you'd like to play in?
We'd love to do a tour of medieval European buildings, market halls, churches and village squares.
If you could pick one track for our readers to listen to in order to get a taste of your music, what would you pick, and why?
'Helicopter Arms' is the opening track on the album. It's a slow burner which builds and builds until the hurdy-gurdy comes in with a glorious feel-good tune.
What ambitions do you have for the band/your career?
We're planning two sound walks in the summer, one in Bridlington and one in Hull. Details will be on the website and social media. You'll be able to walk to specific places and listen to a track on your phone etc at each place. The closing track is about the last drink before you head off home, so that might be in a nice beer garden – we'll see you there!
Finally, as you leave the stage, what are your parting words?
European Howl is out on Bandcamp. We hope you enjoy it!
For more info visit: facebook.com/AgentStarlingUK