Cas: Ed Westwick, James Buckley, Joe Thomas
Certificate: 18
by Roger Crow
When you're a driving force behind The Inbetweeners, making a follow up to one of the most successful British comedies of the last decade is no easy task. The first movie alone made a whopping £68million, so safe to say Damon Beesley could have pitched an idea about a man watching paint dry and it would have been green lit.
The inevitable option was make an Inbetweeners sequel of sorts set in the workplace, where our heroes come to terms with the mundanity of nine-to-five existence. But that's sort of been done with The Office, so as retro sells, Beesley wisely opted for an eighties setting; the perfect chance to play loads of old music and have his cast dress up in period costume. For some it's hard to think of the eighties as that old, but for a generation of school leavers, it may as well be the dark ages.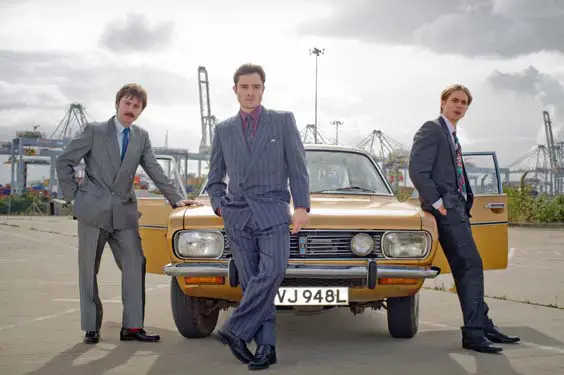 "A lot of fun"
Inbetweeners veterans James Buckley (the cocky one) and Joe Thomas (the posh one) are back along with Lauren O'Rourke (the blonde one from sitcom Drifters – also from The Inbetweeners stable). She plays Carol, the useless secretary at Cachet Windows, a double glazing company. Yes, the heady world of UPVC windows is the focal point for this engaging comedy-drama in which our tax evading hero Vincent Swan (Ed Westwick) strides through scam after scam, bedding his kid's teacher and paying the price with his partner (Linzey Cocker) while his cohorts get involved in their own deals, including a dodgy modelling experience.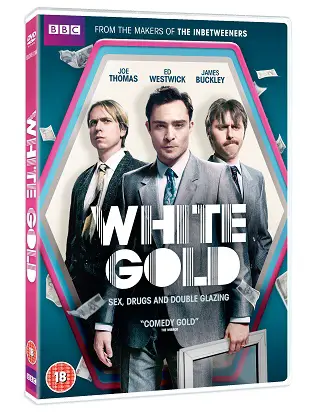 Best seen as a binge watch, White Gold is not the entertainment mother lode the Beeb would have had us believe from their adverts, but it is a lot of fun.
"Bittersweet banter"
The cast are great and like its predecessor, the script is often gloriously filthy. The writer has a knack of turning foul-mouthed characters into endearing heroes. In an age when great British sitcoms are few and far between, this love letter to personal stereos, VCRs, cassettes and four (terrestrial) TV channels is a great watch.
Westwick's pieces to camera can be annoying, but the whole thing is so slickly put together, it hardly matters. It's almost three hours of bittersweet banter with a behind the scenes extra if you want to know how the whole thing was put together.
Who knows whether a third Inbetweeners movie will see the light of day, but White Gold should tide fans over until Beesley unveils his next comedic treasure.
7/10
White Gold is out now on DVD, RRP: £20.42 from BBC Worldwide
images: 2017 BBC/Fudge Park