Francesca (2015) – Film Review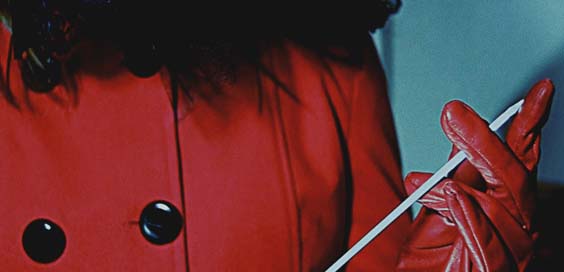 Director: Luciano Onetti
Cast: Raul Gederlini, Silvina Grippaldi, Gustavo Dalessandro
Certificate: 15
by Sarah Morgan
Vibrant colours, point-of-view shots, poor lip syncs, a gloved, faceless killer and a demonic doll…
If you're a fan of horrormeister Dario Argento, you probably recognise the subjects listed above as elements featured in his movies. It's certainly clear while watching Argentinian Luciano Onetti's movie that he's a fan of Argento's work, because all of them are included.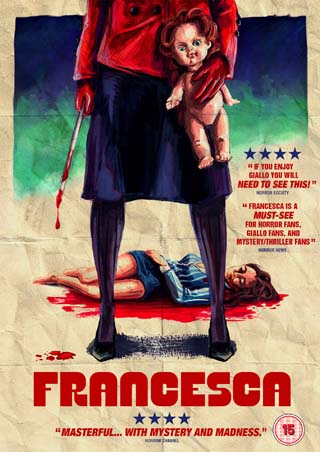 What's more, he's managed to make Francesca look as if it was made during the 1970s, the decade in which Argento produced his best works, including Suspiria, Deep Red, The Bird with the Crystal Plumage and Four Flies on Grey Velvet.
The fact that it was shot in Argentina rather than Rome must have made the task more difficult, but he's pulled it off superbly.
"Could easily pass as a forgotten piece by one of the genre's greats"
This is Onetti's second film, released in cinemas in 2015, and is a follow-up to 2013's Deep Sleep, which also owed much to his Italian hero. As an exercise in style, the movie is a resounding success, and could easily pass as a long-lost or forgotten piece by one of the genre's greats, but is it capable of standing on its own two feet as a gripping thriller?
It's hard to imagine it doing so. Instead, those unfamiliar with Argento would probably wonder why Onetti had bothered to make various choices rather than adopting a more straightforward approach to his story.
As a long-standing fan of Argento, it's difficult for me to appraise it as anything more than a homage. The plot focuses on the hunt for a killer who bumps off their victims in a variety of ways, all of which can be traced back to Dante's Divine Comedy. They also leave pennies on the corpse's eyes and the deaths may or may not be linked to the disappearance of the titular Francesca, a young girl, 15 years earlier.

"Doesn't outstay its welcome"
At the heart of the story is the detective in charge of the case, who is feeling the pressure as the body count rises. There are some rather wonderful touches, including the sight of someone reading a yellow paperback crime novel, known as a giallo in Italy – giallo is also the word used to describe the genre of films made by Argento and his contemporaries.
Sadly, the denouement fails to convince, and throws in a rather unnecessary nod to Psycho.
Nevertheless, with a run time of less than 90 minutes, Francesca doesn't outstay its welcome. It's also a family affair (Onetti's brother Nicolas is the producer and co-writer), and one that will delight Argento fans, but leave everyone else somewhat baffled.
6/10
'Francesca' is out now on DVD through Matchbox Films