The Middle Man (2021) – Film Review
Director: Bent Hamer
Cast: Pal Sverre Hagen, Paul Gross, Tuva Novotny
Certificate: 15
By Roger Crow
"A quirky indie comedy drama in the Coen brothers style". How many times has that phrase been used over the years to sum up an odd little movie which can't really be categorised and doesn't really work?
Truth is, not even the Coen brothers hit a bullseye every time, as the two thirds great, one third awful Hail, Caesar! proved. And to use a key phrase from that movie, "Would that it were so simple".
From the outset, The Middle Man screams Coen brothers wannabe, with its Fargo-style tone, beautifully shot scenes, and nowheresville location.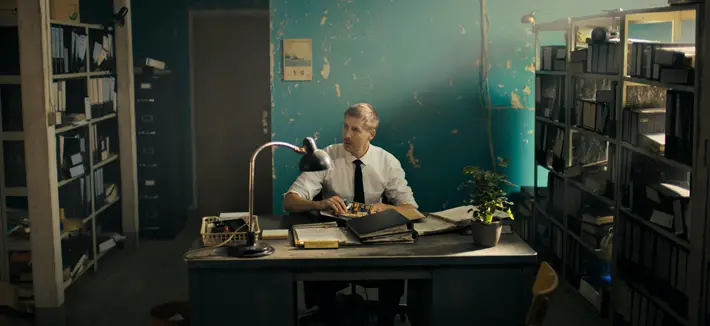 "Unusual yet likeable"
And yet, once you get past the immediate feel of Joel and Ethan, TMM thankfully turns out to be its own movie.
It centres on Frank Farrelli who lives in Karmack, USA with his mother following the tragic death of his dad. He's an unusual yet likeable fella who drives a car with flaking paint, and goes for a job as Middle Man, the guy who essentially explains bad news to people.
Frank's interview is something of a car crash, and yet provides valuable exposition about his history which comes in handy later.
Most people would hedge their bets after an interview, but he goes out and celebrates by buying half a T-bone steak. Yes, half, which generates a weird little moment of its own in the butchers'.
When, amazingly, our protagonist does land the job, he gets his car resprayed, has his own business cards, and is suddenly bedding an attractive woman who lives above The Grand Theatre, which coincidentally is the name of one of my favourite theatres in the UK. So yes, there's a bond of sorts for at least one viewer. Though I doubt I'm the only one who will be sucked in by this charming, strange oddity.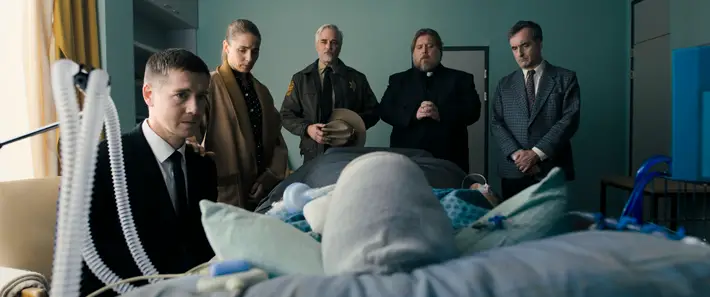 "Refreshing"
As our 'hero' deals with a bar room fracas, a mate suffers a tragedy, which has devastating repercussions. Meanwhile, another tragedy occurs involving a train and two women which has bizarre consequences. There's an inheritance, and an assault which escalates, and a revelation which sort of wraps things up. And a final shot which is one of the most beautiful of the year, visually at least. I'll leave you to make your own mind up about the context. It's one of those movies where you start to question what's real, and yet you hope the finale isn't some The Dark Knight Rises-style twist. Or maybe you will.
If you love Nordic noir-style offerings, then The Middle Man should be just the antidote you need to the generic comedy dramas turned out by Hollywood.
Directed by Bent Hamer, who also adapted the source novel, this German, Danish, Norwegian, Canadian co-production brings a refreshing Scandi feel to a US-set drama. It may linger with you for days to come or just leave you annoyed. Either way, it's well worth a look.
The Middle Man is in UK cinemas now