Volvo V90 Cross Country – Review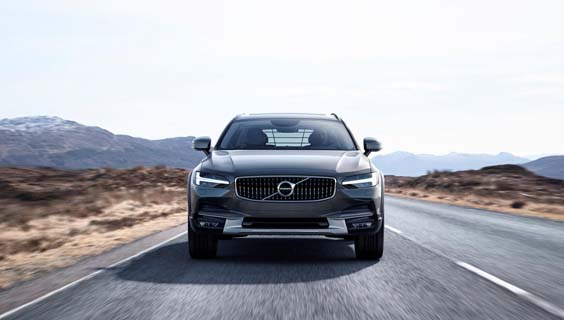 By Liam Bird
The concept of the premium go-anywhere estate car may no longer be anything new, but I bet if I were to ask you who came up with the idea you'd probably reply Audi. If you did, you'd be wrong.
The A6 All-road didn't come first. And before you say it… I know Subaru have been making rugged all-wheel drive estates for years,. But did you notice I said premium? Subaru can't lay claim to that quite yet I'm afraid, regardless of what their salesman in your local dealership might try to tell you. Have you seen their interiors?
It was actually the Swedish who devised the whole concept: Volvo to be exact, with their V70 XC. And now 20+ years or so since they first did it, they're at it again. This is the snappily titled Volvo V90 Cross Country.
When you consider that Sweden is a pretty unforgiving place come wintertime, and that the middle classes have been carrying their guns, Labradors, children, and their furniture around in Volvo estates since before Margot and Gerry discovered 'The Good Life' in the early 1970s, a large Volvo that won't get stuck in the mud at the local Gymkhana seems like the perfect idea. Scandi-wegian design is just the thing now too, Old Bean! Or so I'm reliably told.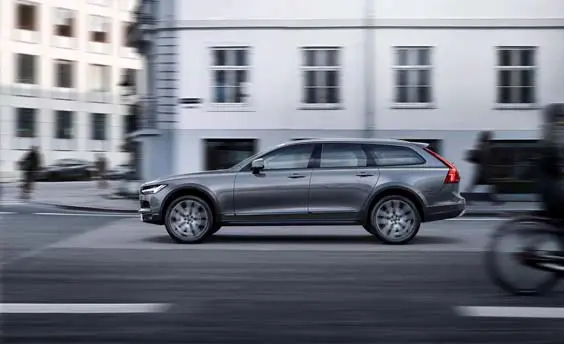 "Swift and grippy"
So, is the new V90 Cross Country really the perfect way to slip from one's country house to one's country club?
With its raised (by 65mm) ride height and rugged-looking body-cladding the V90 Cross Country is very much the, ahem, country estate. There's no petrol option, so power, like all diesel Volvos these days, comes from a 1,969cc turbo in either D4 or D5 trim. In fact the V90 is the only way you can get Volvo's D4 engine with all-wheel drive. Really though it's the D5 you want thanks to its extra performance as a result of "PowerPulse" technology which fires compressed air at the turbocharger for near instant acceleration. Coupled to the smooth shifting 8-speed automatic gearbox it pulls this rather large wagon along with aplomb.
Don't go thinking that the V90 Cross country is some kind of wolf in sheep's clothing though. Swift and grippy as it is, it's a rollier ride. As a result of that suspension lift and Volvo's decision to fit softer, more all-terrain orientated tyres it means the V90 is far better suited to cross-continental touring than it is a cross country sprint. There are no paddle-shifters either; keen drivers may feel a little lost come cornering time. You do get four selectable driving modes however: Eco, Comfort, Dynamic, all which are pretty self-explanatory, and Off-Road which holds first and second gears for longer whilst simultaneously softening the throttle response. This sends a portion of the torque to the rear wheels, and activates Hill Descent Control when you crest the top of a hill.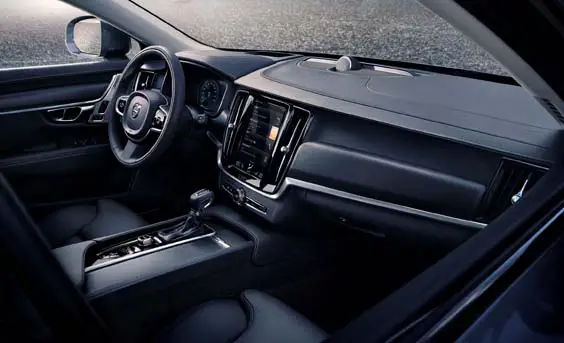 "Paragon of safety"
You sit slightly higher in the V90 Cross Country in super comfy and supportive leather-clad seats (why can't all manufacturers make seats as comfy as Volvo?) with a commanding, if not quite SUV-like, view of what's ahead. There's space aplenty. A six-footer can sit behind a six-footer easily and without complaint. Although should you carry a fifth passenger the transmission tunnel would probably bring about the odd niggle or two. The dog might think he's been short-changed a little too as the sloping rear hatch means Volvo's flag-ship load-lugger isn't quite as commodious as its forebears once were.
There'll be no complaints of road noise though, even at motorway speeds. The V90 cruises remarkably well and it's a very relaxing car in which to cover big distances.
It's also a very safe car in which to cover big miles. Volvo is the paragon of safety after all: they patented the 3-point seat belt no-less and let everyone else copy it, for free. So on top of a Euro NCAP 5-star safety rating you also get a host of sensors that can detect when you're about to crash or when you're about to run off the road and steer you back on to it or apply the brakes accordingly, as well as a host of other equipment you'd usually have to stump-up extra for elsewhere.
These include Volvo's Pilot Assist, also standard, which will steer the car and control its speed in traffic jams or on motorways, so long as the driver is ready to take control of the wheel again every 10 seconds or so. There's land departure assist, emergency braking, blind-spot monitoring, adaptive cruise control. ISOFIX etc etc. Plus, you can just sense as soon as you shut the V90's door that it's been built like a fortress.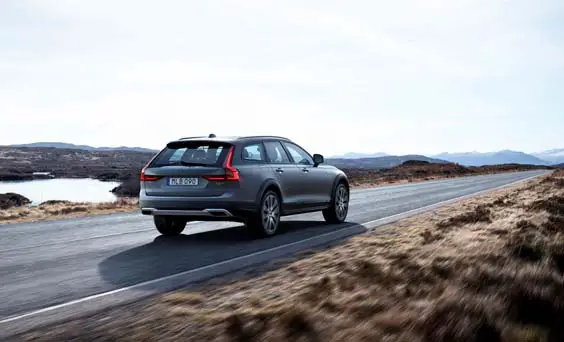 "Style and practicality"
It's not until you try and park it that realise just how big that fortress is. The door mirrors create quite a blind-spot, the turning circle is akin to that of an oil-tanker, and the sheer size of the V90 means you need to be accurate and careful when choosing your slot. Thankfully there's another host of sensors, a camera both front and rear and, should you spec it, Park Assist too, to stop you ruining the paintwork.
And the price? V90 Cross Countrys start at £39,785. Ours came in at £45,660 after options. You could buy many an SUV for that, (but everyone's got one of those these days). Or, you could buy an Audi A6 Allroad (although everyone who hasn't got an SUV seems to have Audi these days). But the fact remains the V90 combines style and practicality like few premium cars can. It'll go anywhere you'll ever really need to point it, and it'll never look out of place whilst doing so.
A go anywhere Volvo estate is still proof that sometimes the original remains the best option.
Volvo XC90 2.0 D5 AWD Momentum 4wd Auto
Engine: 1,969cc 4Cyl 16V turbo diesel
Transmission: 8 speed Auto, Four wheel drive.
Power: 190 bhp @ 4,250 rpm
Torque: 295 lbft @ 1750 – 2,500 rpm
0-62 MPH: 8.5 Sec
Max Speed: 130 mph
CO2: 138g/km
MPG: 54.3 combined
Price: from £39,785 (as tested £45,660)