Introducing: Team Picture
Atmospheric sextet, shimmering out of Leeds…
YOUR NAME: Josh.
BAND NAME: TEAM PICTURE.
WHAT DO YOU DO/PLAY?: I do sings, keys, and guitars.
HOW LONG HAVE YOU BEEN TOGETHER AS A BAND/PLAYING MUSIC?: Probably about five years this Autumn.
GIVE US 3 REASONS WHY WE SHOULD TRACK DOWN, LISTEN AND DISCOVER YOUR MUSIC?:
• I promise you we don't sound like any other Popular Band in the UK right now.
• We are with certainty the most polite five people to ever assemble in the same place at the same time.
• We will buy you Maccies (more on this later).
WHERE DO YOU SOUND BEST – FESTIVAL, CLUB, BEDROOM – OR SOMEWHERE ELSE?
You know when you're in the bog in a venue and you can hear the music coming through the wall. Then.
WHAT WAS YOUR FIRST…
RECORD? Big Wheel & Others by Cass McCombs.
CD? 'Sandstorm' by Darude (Legend Alert).
DOWNLOAD? Wow, probably like, a Rammstein song off Limewire or something… Remember Limewire?
SO, WHEN IT ALL GOES RIGHT AND YOU'VE GOT A HUGE QUEUE OF HANGERS-ON AND A RIDICULOUS MANSION, WHAT WILL BE YOUR BIGGEST INDULGENCE, MUSICAL OR OTHERWISE?
Exponentially more elaborate Cat Trees for my Cat. Also: Maccies.
SO, WHEN IT ALL GOES WRONG AND YOU'VE ACRIMONIOUSLY BROKEN UP CITING HUGE MUSICAL DIFFERENCES, WHAT DO YOU FALL BACK ON?
Maccies.
CITE SOME INTER-BAND MUSICAL DIFFERENCES…
Buckley hates jazz piano. It's not usually an issue though. Also he's vegan so he's not usually down with Maccies. The latter causes a lot of tension.
WHO ARE YORKSHIRE'S FINEST IN CULTURE, SPORT AND MUSIC?
Culture – I live with an artist/illustrator called Joel Burden who is a certified Legend. Go and look at my mate George Mitchell's art, too. Take a peek at Scott Hall Mills, which is a really inclusive and exciting arts space in Meanwood in Leeds. Also check out the poet Tom Branfoot, he's really good (I think he lives in Manchester now, unsure if that counts).
Sport – obviously Leeds United. Bielsa is God n' all that! Big up Guiseley United who our Music-Dad Scott supports, too.
Music – There's a band called VideO that we all love but I think they're on a bit of a hiatus. Check out Straight Girl if you like your Rave with a side of Grave. Also go and listen to Goldfishes, a band featuring some of the most talented but obscure musicians in the history of the Leeds Music Scene.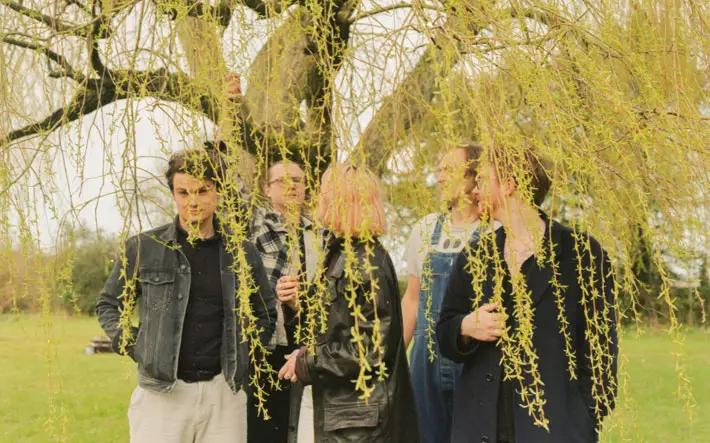 NAME YOUR SUPERGROUP – WHO'S PLAYING WHAT, WHO'S ON VOCALS AND WHO'S YOUR BEZ?
Ok, so we actually already did this the other day so I'm ready –
Assuming a fairly 'standard' band line-up –
Drums – Carla Azar (Autolux, SORONPRFRBS)
Bass – Mick Karn (Japan)
Guitar 1 – Kristin Hersh (Throwing Muses)
Guitar 2 – Dan Phillips (True Widow)
Vocals and Keys – Kate Bush
Bez Role – A trio of drag queens, preferably (if available) – Manila Luzon, Crystal Methyd, and Heidi N Closet, lipsyncing & vogueing to every one of this ridiculous band's songs.
GO SEE THIS FILM: Sound of Metal.
GO READ THIS BOOK: My Year of Rest & Relaxation by Ottessa Moshfegh.
GREAT LOST BAND/ARTIST: The United States of America, or Donny & Joe Emerson.
WOULDN'T BE CAUGHT DEAD SUPPORTING: Without a doubt, our arch-rivals and nemeses, GROUP PHOTOGRAPH.
LONDON, L.A OR LEEDS?: Leeds, easily.
AND FINALLY… AS YOU LEAVE THE STAGE, WHAT ARE YOUR PARTING WORDS?
Probably silence followed by a stream of nervous vomit.
For more info visit: facebook.com/teampictureband
images: Sam Joyce
PPL Momentum Accelerator funding supports exciting artists with a growing fanbase and who are working to establish a music industry team. The full PPL Momentum Music Fund is for artists with a team already in place and at a tipping point, ready to take the next step in their careers.  The next deadline for the PPL Momentum Music Fund support is 24th May 2021 at 6pm.  Applications can be made via the PRS Foundation website.