The Quality of Madness: A Life of Marcelo Bielsa by Tim Rich – Review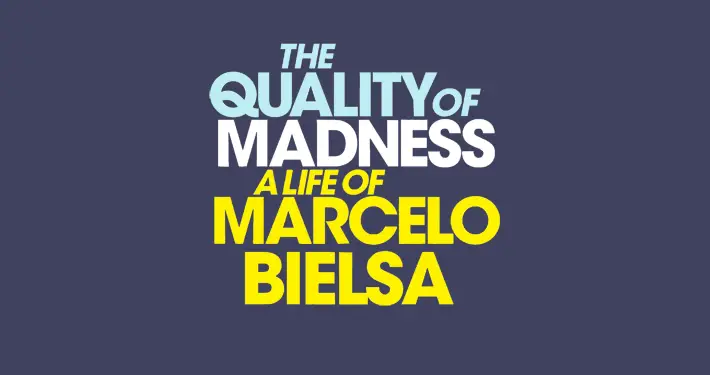 By Alex Mair
It is difficult to know at which moment Victor Orta realised that Leeds United, the club where he worked as director of football, had hired a perfectionist. But when the newly appointed head coach, Argentinian Marcelo Bielsa, insisted on changing the position of the plug sockets in the club's training ground, perhaps that was when the penny finally dropped.
Marcelo Bielsa, 'El Loco', the Godfather of modern football, arrived as the new manager of Leeds United on 25 June 2018, the same day England thrashed Panama 6-0 at the World Cup in Russia. When Bielsa was announced as the new manager of Leeds, his appointment was met with fascination. How could a manager known as much for his eccentricity as his fast-paced, frenetic style of football, possibly succeed as this then unfashionable club, not least a club which is proud of its 'northern' English identity.
The effect that he has had on Leeds United, and on the city's environs has been extraordinary. He has transformed a team floundering in mid table mediocrity in the Championship to Premiership heavyweights and fired the imagination of a whole region.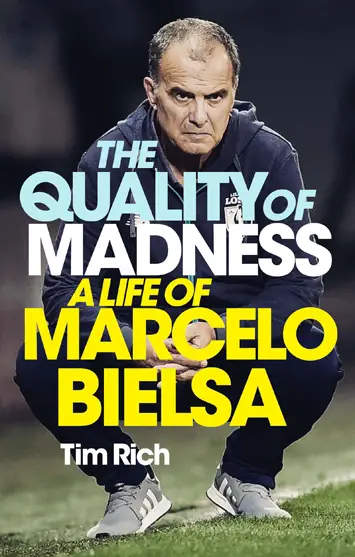 A Quality of Madness by football journalist and former cricket correspondent for the Sunderland Echo Tim Rich tells the story of Marcelo Bielsa's career, from his early success in Argentina through to his current rise with Leeds. The book is an attempt to untangle the man (or the manager) from the myth. To separate the 'El Loco' reputation from the humble, down-to-earth and obsessively systematic thinker behind the myth. The story itself, of how the Argentinian got there, has all the unexpected turns of a great football match; being littered with glory, controversy, unintentional comedy and not a little professional disaster.
"Sporting impresario"
Marcelo Alberto Bielsa Caldera was born in Rosario, Argentina, in 1958. After a moderately successful playing career for his hometown club Newell's Old Boys, he retired at 25 to study coaching – by 1992 he returned to Newell's as manager. Within a year he had transformed the fortunes of the club, becoming champions of Argentina in that first year.
But success has not always come so easily as that fairy tale first season with Newell's. At top flight French club Lille, the Bielsa 'magic' only really lasted for one game. Then the team collapsed. Before that Bielsa lasted two days at Lazio before chucking in the job. Such episodes have influenced the sceptical view that Bielsa is 'difficult' or simply cannot manage at the top level or is as one friend said to me a 'football genius, and leadership idiot'.
A Quality of Madness does well to unpick a lot of this. Rich presents a balanced and fair assessment. He makes a convincing case that these disastrous episodes are not necessarily the fault of Bielsa (the chapter on the Lille debacle, in particular, with its vivid description of the financial dodgy deals reads more like a real-life version of Wall Street).
The best chapter is on the 'spy gate' controversy. Here Rich carefully details what actually happened. In 2018, Bielsa sent a young intern to Derby County's training grounds to spy on Derby's pre-match training sessions. Once again Bielsa bore the brunt of the controversy, but Rich makes a convincing argument that sending one intern to an opposition training ground doesn't mean Leeds are guaranteed a victory on match day.
The book is a great read about a true sporting impresario and football fans and general readers alike will love it.
'The Quality of Madness: A Life of Marcelo Bielsa' by Tim Rich is published by Quercus, £20 hardback