Hard Rock Cafe @Home Burgers Recipe Box – Review
By @Roger Crow
After one of those weeks of too much work and not enough time, Friday at 5pm is the light at the end of the tunnel. It's long been that time when you reward yourself for surviving another few days at the coal face. Friday night dinner. Such a special time. And this week is extra special: a home delivery box full of goodies… from Hard Rock.
For years I've been Hard Rocking all over the world. A repeat offender in Orlando, and countless other glorious venues, from Seville, New York, Houston, Miami, Sydney. And each time it was an experience.
It's not just the fact I can spend ages pottering around the various restaurants soaking up the rare rock memorabilia, framed, signed, on the wall, while super efficient waiters and waitresses tend to our every culinary whim.
However, on a daily basis, there's a problem: I think the nearest HR restaurant is Manchester, 75 miles away, and as much as I adore that chain, it's a bit of a trek if you want a good burger. Okay, not just good, but terrific.
So when I heard they were doing deliveries, I jumped at the chance to try one out.
Not that I'm obsessed or anything, but I was tracking the box and counting the stops until the delivery driver dropped off those mouthwatering goodies. But surely this box of pre-packaged ingredients would lose a little something when prepared in the world's oldest and most broken oven?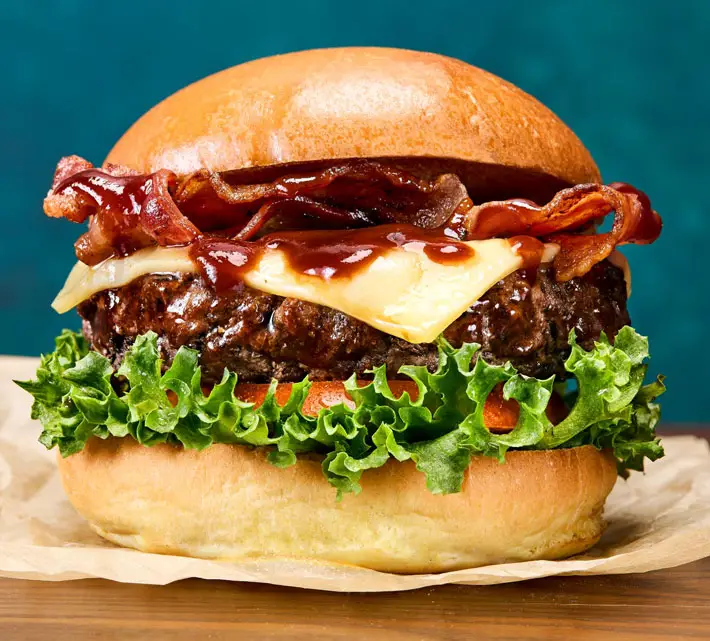 "Like building your favourite model kit"
Well, first things first. Calmly, I slice through the packaging, well aware of that Christmas morning vibe. "Oh Santa, you shouldn't have, but I'm so glad you did. I don't care if it is May."
Two impressive 7oz burgers, skin-on fries, seasoning, tomatoes, lettuce… (drooling), bacon and cheese.
Cooking the contents of the delivery box version is a lot like building your favourite model kit. And if you're a hardcore burger fan, this has an element of that. Yes, you can use the instructions, though I follow my instincts and carefully remove every element with the reverence they deserve.
With tin foil on the oven tray, I pop the fries in first; go and watch a bit of Pointless; return to the kitchen; realise I hadn't turned the oven on, and take a deep breath. So that's step one: don't get distracted by game shows first. This is one of the most important burgers you'll ever craft, and it takes priority over everything.
Fries in, and oven on, I eventually pop the burger in. Just the one as Mrs C is vegetarian so she makes do with a Quorn fillet.
While those beauties are cooking away, I retire for a while to answer more questions on TV. Obviously at the half-way mark, flip the burger, agitate the fries so they're cooked all over, and enjoy a tipple.
Now for the brioche bun. A few minutes before the cooked ingredients are ready, you can do that heated frying pan method where the bun cooks evenly, or you can take the easier option and pop them in the toaster. Using every bit of attention you can muster, watch those buns like a hawk; as you know, they will go from toasty to burnt in a nanosecond.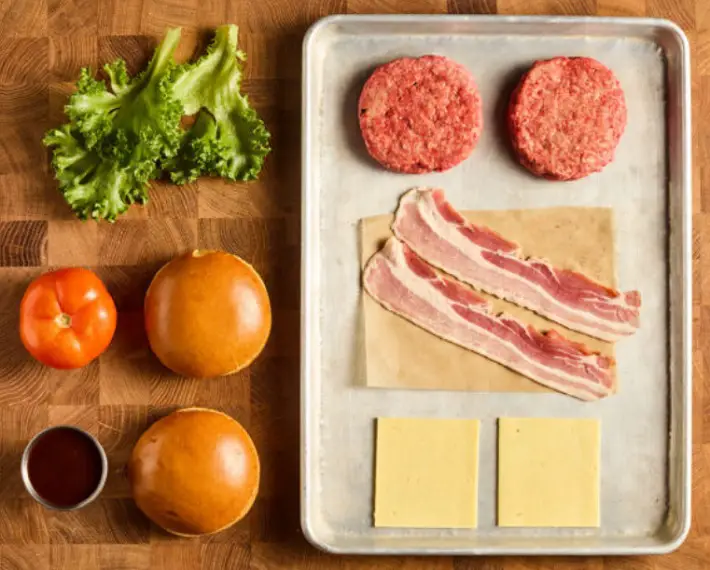 "Prepped with absolute reverence"
As a side note, watch the closing scenes of Jon Favreau's sublime comedy drama Chef, which shows you how to make the perfect grilled sandwich. That gives you an idea of how important it is to apply a forensic level of care to a well done (but not 'well done') bun or toasty.
Obviously you'll know when your burger is ready depending on how you like your meat. Mine just looks done, and that's good enough for me. It's not mooing, nor is it pre-charcoal.
Then it's just a case of construction. That perfectly toasted bun can be buttered, but I don't want to detract from the overall taste.
The beautiful slices of square cheddar cheese are so important. You want the world's best burger? You need the best cheese on Earth, rather than that cheap luminous stuff that is categorised as 'cheese' in fast food chains, but looks and tastes like industrial waste from a plastic factory.
The beautifully packaged bacon is also essential. Streaky, visually stunning like it was crafted by artisan butchers, I feel guilty cooking it. But like the rest of the relevant ingredients, it's prepped with absolute reverence until beautifully crispy.
So, burger, cheese, lettuce, bacon and that phenomenal Hard Rock BBQ sauce ensure you're half way to culinary paradise (by the dashboard light). With the skin-on fries also cooked to perfection and a generous sprinkling of salt and pepper (push it real good) seasoning applied, it's time to eat (to the beat).
If you want that complete Hard Rock experience, pop a DVD or Blu-ray of your favourite band on while responsibly chugging a beer and savouring every mouthful.
That first bite reminds me of seeing BB King at Hard Rock in Orlando a few years ago. A lot of preparation and build up, but when he played his beloved guitar Lucille, it was one of THOSE moments where years of skill and expertise wash over you. You marvel at the taste; the crisp lettuce, delicious cheese, yummy fries, and that burger. It strikes every chord on the tastebud register. I'd have liked pickles as an extra, and a veggie option for Mrs C would have been a bonus, but after a Manic Monday (and the rest of the working week was just a frantic), this is that gold medal for finishing a mid-May marathon.
"Singing with happiness"
I could have made a rubbish gag about this being an Oasis burger (you got a roll with it), but this is worth far more than that. It's the culinary equivalent of 'Bohemian Rhapsody': epic, ambitious, classic, bombastic and utterly wonderful. The key ingredient is made up from 100% UK & Irish beef, and sourced from family owned farms. It's a quite splendid product.
Even after I've finish the burger, I sit there for a while, my nerve endings singing with happiness; waves of post-burger happiness washing over me. It was like watching U2 at Roundhay Park in 1997, and yes, this also has the Edge over most of the competition.
I might not be able to exit through the gift shop and buy the obligatory tee shirt, but I do know that my own personal 'Hard Rock Howden' restaurant (number of customers: two) is a huge success.
There obviously are other similar home delivery burger box companies out there, and I'm sure they're very good. But I unashamedly love a global chain of restaurants that deliver a great dining experience with top quality food and service. They're my instant go-to eatery when I'm lucky enough to be in random countries doing the tourist thing. And oh how I miss those days.
This might be the HR DIY version, but I adored every second of it. And the fact the BBQ Bacon Cheeseburger meal for two is a mere £19.95 (or £39.95 for four) means I can afford to live like I'm on holiday every Friday night should I want to.
Thanks Hard Rock for recharging some very exhausted batteries. Outstanding.
Available to order now, the Hard Rock @Home can be ordered from plateaway.com
Steak burger meal for 2 – £19.95; steak burger meal for 4 – £39.95.
The Hard Rock @Home (steak burgers) for 2 contains:
2 x 7oz fresh steak burger patties
4 Bacon strips
Hard Rock BBQ sauce
4 Slices of Cheddar cheese
2 burger buns
HRC Seasoning pack
Lettuce
Tomato
French Fries