Beefeater The Brecks, Rotherham – Restaurant Review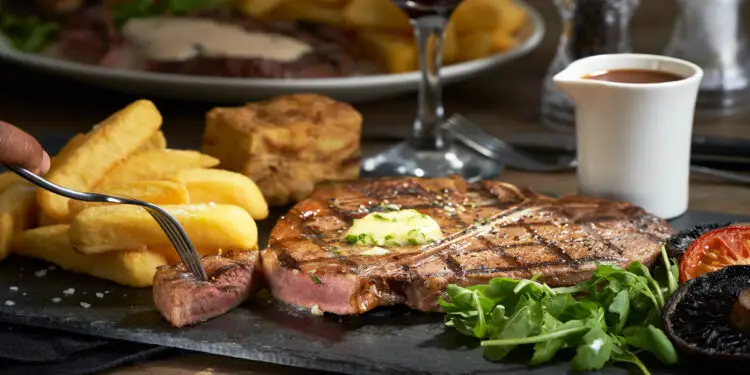 By Kirsty Reid
Despite being a well-established chain, I've never stepped foot in a Beefeater before. But, after browsing their menu online, I was enticed by picture-perfect grills, high-stacked burgers and delicious-looking desserts. Keen to know whether the real thing would live up to expectations, my partner, Kyle, and I decided to book a table. And we weren't disappointed…
It was a packed Saturday afternoon when we arrived at the Beefeater The Brecks for lunch. Despite being busy, it didn't feel at all crowded thanks to the ample seating on offer – some of which was more private than others.
With a warm and welcoming atmosphere, it's clear the Beefeater is a place for all occasions, from date nights and catch-ups to bigger celebrations. On our visit, a mix of couples and families lined the tables in the stylishly modern restaurant. The relaxed decor oozes comfort helping to create a relaxed vibe, while an open kitchen gives the added bonus of being able to see the chefs at work.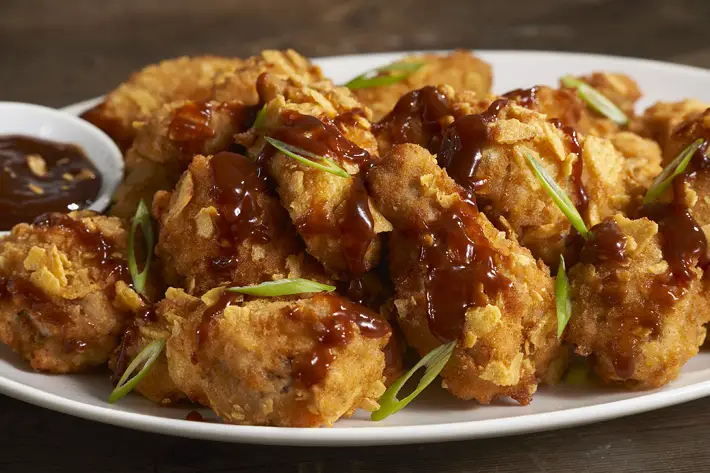 "Extensive"
After being shown to our table, it's not long before our friendly server, Alison, heads over to greet us and take our drinks order. From carefully selected wines to pair with your meal, to a range of spirits and mixers, there is plenty to choose from. I opted for a Light Rose Lemonade (£3.09), while Kyle settled on a refillable Diet Coke (£2.99) and a Sloe Gin with Ginger Ale (£5.39).
The food menu is even more extensive – from burgers and steaks, to fish and chips and pasta dishes – there's plenty of choice for everyone. They even offer a Sunday roast – something I'll certainly try on my next visit.
For my starter, I had the Cheesy Filled Mushrooms (£5.79). Served on ciabatta and loaded with cheddar and mozzarella, the mushrooms were beautifully presented and utterly delicious. Kyle enjoyed four Double Crunch Wings (£5.29), with peri peri sauce. They were generously sized and the double batter isn't something he's tasted before on wings. Having sampled some of the chicken myself, I found it to be tender and flavoursome, though the peri peri sauce was too fiery for my liking.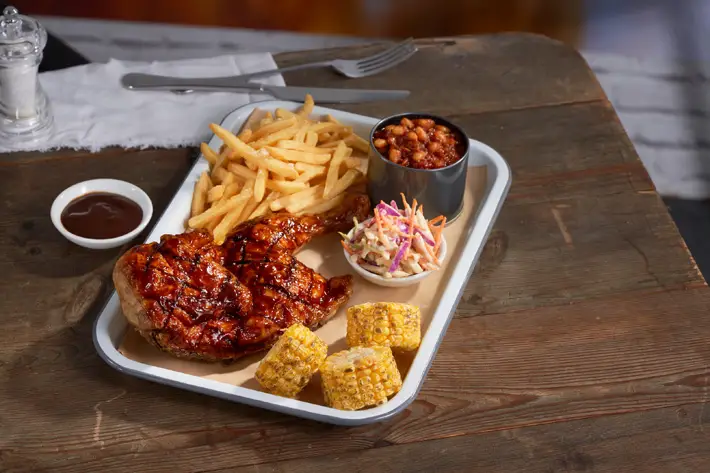 "Plentiful"
On to the mains. I opted for The Double Crunch Burger (£12.79) – chicken breast, layered with crispy oak-smoked streaky bacon and salad in a bun, served with skinny fries and chunky coleslaw. Talk about the works! The only problem I faced was how to tackle the beast. Stacked high in a brioche bun, this was no first-date burger. I decided to bite the bullet and get stuck in, we were dining at a grill after all.
The chicken was succulent and juicy, while the crispy bacon laced in Beefeater's signature BBQ sauce was smoky yet sweet. The skinny chips were plentiful – way too many for me to devour.
Kyle tucked into the Chick & Ribs (£15.49) – pork ribs and chargrilled chicken, served with skinny fries and chunky coleslaw.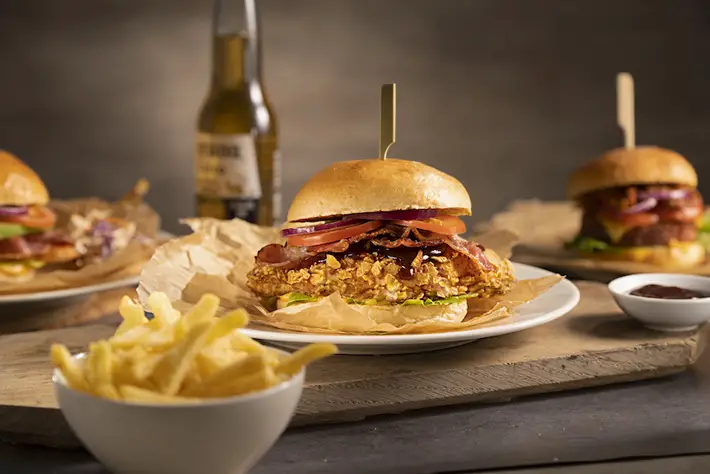 "Spoilt for choice"
The ribs, while only a half-track, had plenty of meat on and were not too fatty. The barbeque glaze paired well with the pork, and elevated the grilled chicken breast.
A side of Beer Battered Onion Rings (£2.99) complemented the mains, and we were (ITAL) almost (ITAL) too full to contemplate a dessert – until we saw what was on offer.
It's fair to say we were spoilt for choice – apple & blackberry crumble, New York cheesecake, chocolate brownie, sticky toffee pudding and ice cream sundae were just some of the options available.
I eventually settled on the Triple Chocolate Brownie (£5.79). With chunks of white, milk and Belgian dark chocolate I was in chocolate heaven! Served warm with chocolate flavoured sauce, vanilla ice cream and a wafer, the brownie was just the right amount of gooey.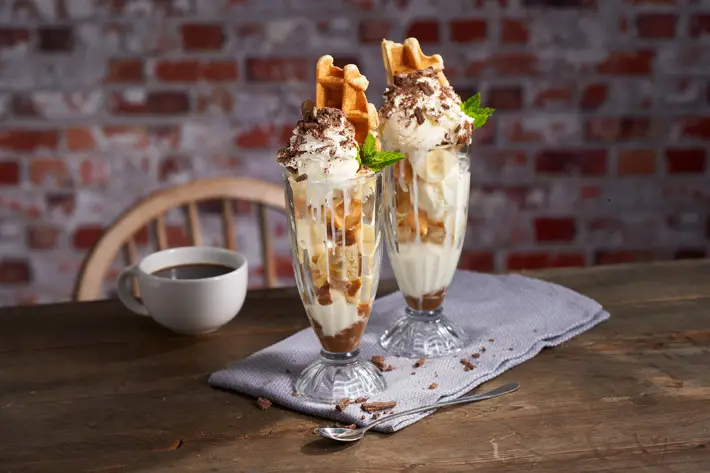 "Surprised"
Kyle opts for Waffles & Ice Cream (£4.99). Though my dessert was divine, I'll admit I did have pudding envy! Eyeing up his Belgian waffles drizzled in dark cherry compete with a scoop of vanilla ice cream, it wasn't long before I was sampling the goods, and they were delicious.
I was pleasantly surprised by our visit to the Beefeater – delicious food, excellent service and a welcoming atmosphere, what's not to love? I'll certainly be returning again – perhaps for a tempting Sunday roast.
Beefeater The Brecks, Wickersley Road, Rotherham, S Yorks, S65 3JB
Opening times:
Mon-Sat 11.30am – 11pm
Sun 12pm – 10.30pm
01709 543 216
beefeater.co.uk