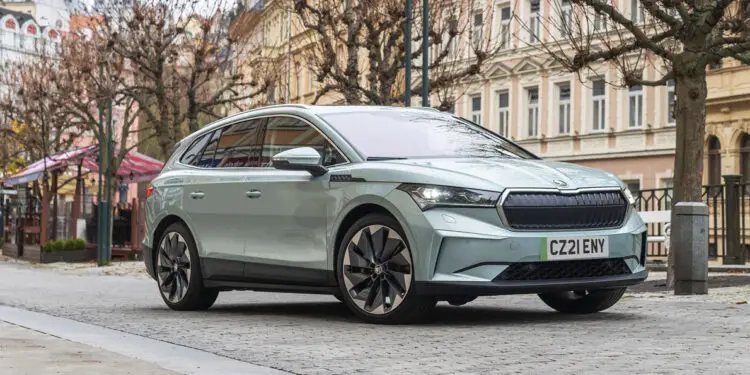 By Liam Bird
Saturday. A day of chores, and usually, the day on which I seem to do the most of my incidental mileage. You know, the stuff that seems to rack-up the miles without having any real destination; the kind of driving that fills your day without you actually straying that far. Perfect conditions perhaps to test a family-orientated all-electric car. Which in this case, just happened to be Skoda's new Enyaq.
First, a little morning's chauffeuring. My Mum asked if I'd take her to the butcher and the local supermarket. She doesn't drive – not exactly handy our here in The Far Unlit Unknown; pork chops, pasties, and parsnips require an 18-mile round-trip. The Enyaq's ride impressed her, as did the size of its boot, which she promptly filled. It still amazes me how much one near Octogenarian "needs" to bring home on a Saturday morning.
Next came a journey in the opposite direction. Over the border, and into mid-Wales. Mrs B's mother called. "Can you give me hand to move a wardrobe?" She's decorating. It turned out there were three wardrobes, not mention a request for a little re-programming of her central heating timer. From here, she lives approximately 24 miles away; we can usually be there in about half an hour. The mixture of A and B roads proving that although by no means a sports car (one look at it tells you that), the rear wheel drive Enyaq's isn't averse to being punted along with a certain sense of urgency. As urgent as something with 8.4 second 0-62mph time can be, that is.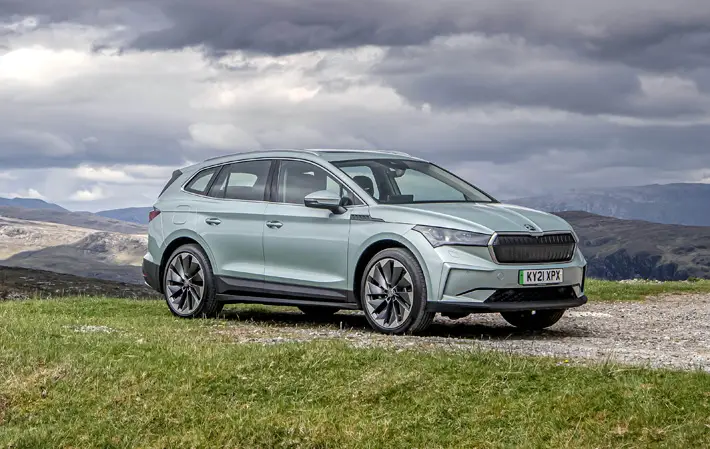 "Brighter"
Fridges stocked, bedroom furniture reinstated, and the threat of global warming reduced as Welsh hillside bungalows gently cooled from iron-smelting rivalling temperatures, it was at last approaching time for a little sustenance. The Ragleth Inn, fortunately, could fit us in. Another border crossing beckoned, so too another mix of the Marcher area's rolling hills and twisty back-roads. With an additional 26.4 miles added to the Enyaq's digital odometer, Mrs B and I sat down at our table for two. A quick check in the carpark beforehand, telling us there was approximately 90 miles of range left in the our 58kWh battery.
I usually always drive, thus I never, ever, drink. I've never seen the appeal. Besides, the 15 or so miles back to our house from the base of The Long Mynd make for a nice little gallop too – even if it is currently pitch black by 5 pm. Fortunately the Enyaq's has LED headlamps. Would it be unkind to say they're considerably brighter than some of the Ragleth's regulars?
Fed and watered, we would be home before 9 pm. I know! Exciting, eh? Nevertheless, that meant there would be ample time to plug the Enyaq in at our local BP charging station for a gentle overnight recharge (it's only a 7.5kW outlet) before strolling the last 500 yards or so home. The day's mileage totalled 83.4, hardly a grand tour. Nevertheless, as I was passing, and with less than 80 miles left "in the tank", and with charging points in these parts being extremely few and far between, I thought it best to top-up.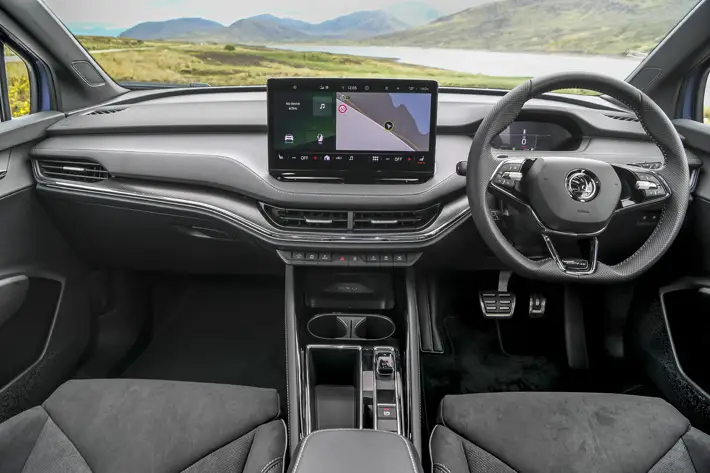 "Flagship"
"Hello. How can I help?" Asked BP's Chargemaster call centre.
"Your charging point isn't connecting to my car" I replied.
"Have you tried the other socket?
"Yes."
"O.K… Let's see… I'll try rebooting it from here. Let me know when the lights turn green again"
"Great. Thank you. Umm… Currently, they're red"
"It shouldn't take long, Sir"
"The lights are still red. Oh, hang on… Oh! Now the screen has gone blank"
"I'm sorry, Sir. I'll inform one of our engineers. The charging point doesn't seem to be responding."
You're telling me! Two days later and those lights are still red, not a green one in sight. The screen is still blank too. It's a good job I wasn't far from home, and what little range was left in the Enyaq allowed me to get to work on Monday morning and recharge there. Still, it meant no Sunday drive of Skoda's new electric flagship for me, or anyone else for that matter. Home charging at my place currently is not an option and installation of a charger isn't going to be easy.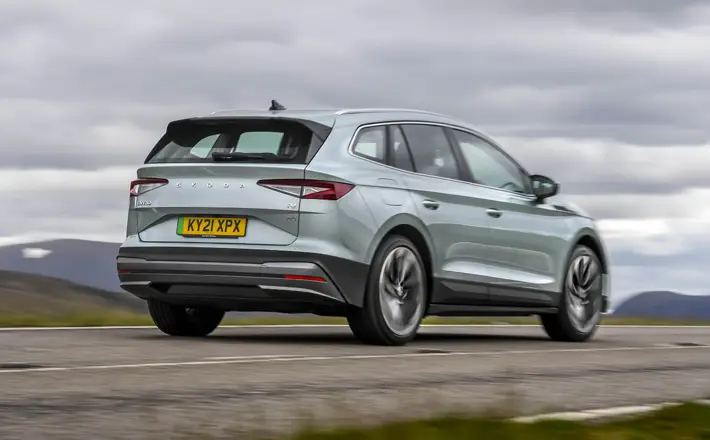 "Smooth"
Shame. I genuinely liked the Enyaq. It's quiet, refined even, and its interior is a far nicer place – a better trimmed place – to be than that of VW's similarly propelled ID.3. I like the Enyaq's 13" touchscreen display. I like that Skoda have put an umbrella in the driver's armrest. I like the fabric-covered dashboard, the keyless start, the wondrously smooth power delivery, the instant torque, the massive rear seat space, the driving position, those LED headlamps… I like the Enyaq a lot.
I'd even go as far as saying that the Skoda Enyaq is the best electric car I've driven so far. But…
I still don't like the fact that out here in The Sticks, where the fast charging network is still the stuff of science fiction, it takes over four hours to charge a family car up to a range of just 190 miles or so miles. It's too long, and that's simply not far enough.
If only there was an Enyaq with a diesel engine…
Skoda Enyaq iV 60 NAV
Battery Capacity: 58kWh
Transmission: Single Speed, rear-wheel drive
Motor Output (max): 132kw / 179PS / 176bhp
Motor Torque (max): 310Nm / 229 lbft
0-62mph: 8.4 sec
Max Speed: 99 mph
WLTP Combined range: 256 Miles
WLTP Consumption: 4.0miles/Kwh
Price: from £34,510 OTR (as tested £335,105).
Price inc. PICG: £32,605