Rosa's Thai, York – Restaurant Review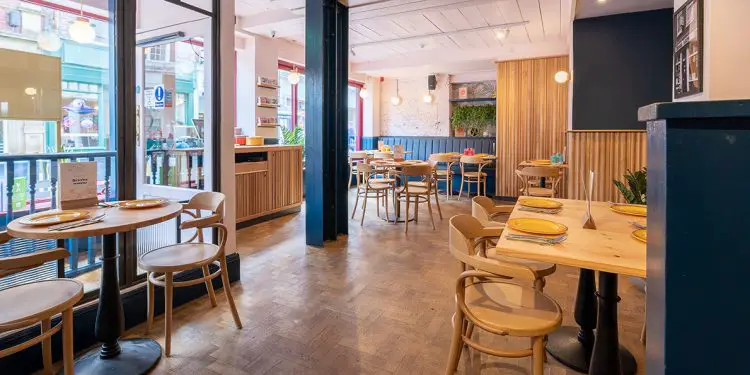 By Kirsty Reid, September 2023
Despite being slap-bang in the middle of York's city centre, I'm ashamed to admit I was unaware of Rosa's Thai existence until I was recently invited to try its new brunch menu.
Located on Coney Street, just a stone's throw from the Mansion House, Rosa's Thai is in a prime spot. So, how I've managed to overlook this gem is beyond me. But I'm here now, and I'm excited to see what's on offer…
With street seating and a courtyard, the authentic eatery has ample seating. Having arrived not long after opening hours, we're the first diners of the day and opt for a window seat indoors – a prime spot for people-watching. Promising authentic cuisine in a relaxed setting, Rosa's Thai does not disappoint.
What started out as a small café on London's Brick Lane has evolved into a chain of eateries in cities across the UK.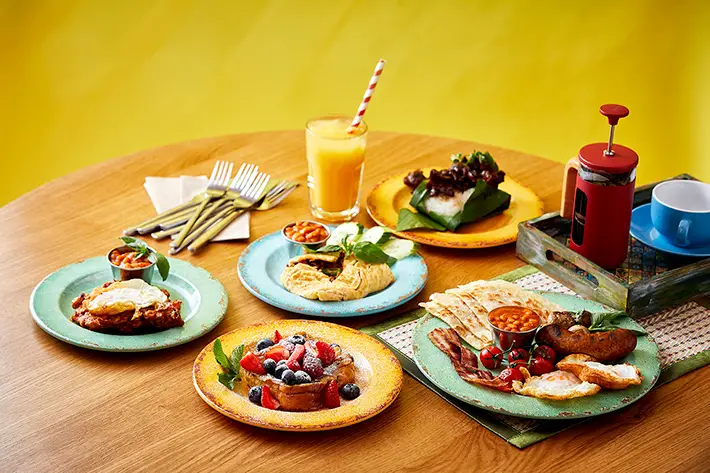 "Perfect fusion"
The York venue is a perfect fusion of rustic and contemporary. Oak timber beams are complemented by neutral décor with pops of colour throughout – blue wooden panelling, yellow tableware and greenery – all working together to create a light and airy vibe.
The drinks menu is vast, with bubble tea, Thai iced tea and coffee, soft drinks and boozy beverages on offer. I'm already planning my return visit just to sample the tempting tipples. But for 10am on a Saturday, tea seems like a sensible choice, so I opt for the Thai iced lemon tea (£3.50), while my partner, Kyle, settles on a Thai iced black coffee (£3.50).
After a few sips, I realise iced tea isn't for me. Kyle, on the other hand, loves his chilled beverage, finding it both sweet and smooth.
Turning our attention to the food menu, we are spoilt for choice. Rosa's Thai new brunch menu might be small, but it caters for a range of appetites. Savoury options dominate the menu – think eggs, sausages and bacon – with a sweet treat thrown in for good measure.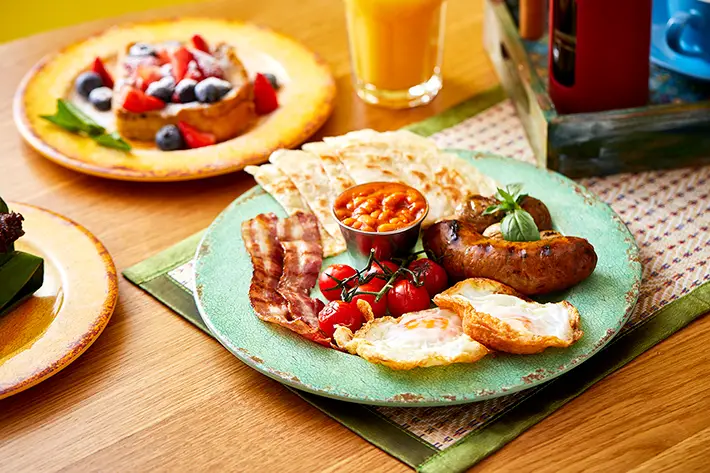 "The portions are generous"
As tempted as I was by the delicious-sounding 'Ferang' brioche and berries – French-toast brioche topped with blueberries and strawberries, drizzled with condensed milk – I plump a more traditional brunch and settle on the Thai fry-up (£9.50).
Kyle follows suit and picks another brunch staple – omelette. A chilli chicken and basil omelette (£7.50) to be precise. We also order a pork and rice parcel (£7.50) to share.
We're not waiting long for our meals to arrive, but we do have a short wait for knives. The portions are generous and each of the three dishes looks just as tantalising as the others.
My fry-up is made up of sausage, bacon, wok-fried eggs, mushrooms, baked beans and cherry tomatoes – most of which you'd find on a full English. Of course, the fry-up at Rosa's has a Thai twist. The spicy sausage has a warm kick, especially when dipped in the red curry beans. The delectable dish is a hit with both myself and my partner, who helps himself to some sausage and bacon. Though, neither of us are keen on the crispy roti bread that accompanies the breakfast.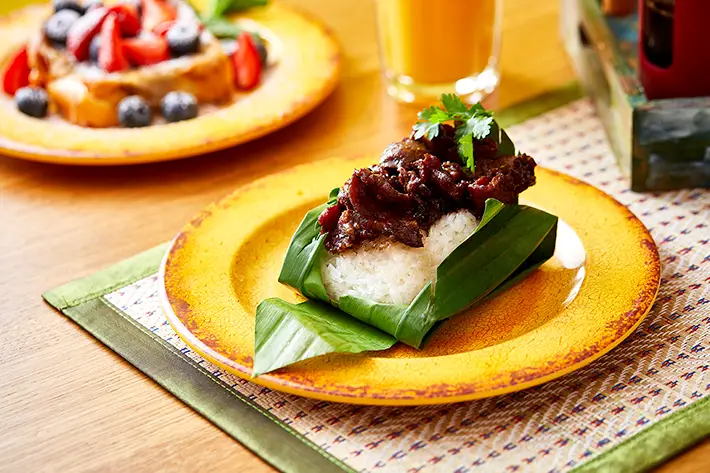 "Winner"
Kyle's omelette is also a winner. The chilli chicken and basil Thai classic really packs a punch, despite only getting one out of three on Rosa's chilli scale. Clearly Thai food has more of a kick to it than British staples. The chicken is cooked to perfection, tender and full of flavour. Served with a side of spicy red curry baked beans, a glass of water is certainly needed after this heated brunch!
The pork and rice parcel we ordered as a sharer is delicious. The chargrilled pork served on sticky rice feels more like a lunch than a brunch dish to me, but it's a crowd-pleaser either way. Served wrapped up in a banana leaf for added authenticity. It not only tastes amazing, but it looks it too.
I may have overlooked Rosa's in the past, but after sampling its brunch menu, it's made a lasting impression.
Rosa's Thai, York
Unit 1, 1-3 Coney Street, York YO1 9QL – 01904 590046
Opening times:
Mon-Thurs 12pm-9.30pm
Fri 12pm-10pm
Sat 11:30am-10pm
Sun 11:30am-9pm
Rosasthai.com
Images: Sarah Warne