Giggling Squid, Harrogate – Restaurant Review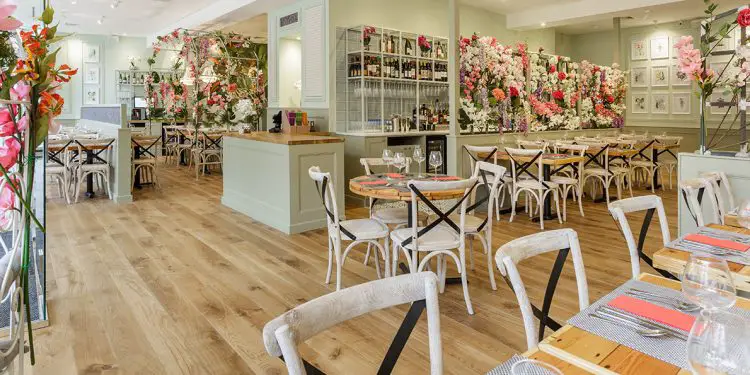 Harrogate is a part of Yorkshire that I haven't visited enough.  As you know if you've been, it's a fantastic town for shopping, drinks, and food. If you take a wander down the short, narrow John Street you're in a spot with an array of eateries, pubs, and wine bars on either side of it.  And if it's a warm evening, there's a really nice vibe down there.
Just towards the bottom of John Street, you'll find Giggling Squid. The Thai restaurant chain has a number of locations throughout the country, and they opened up in Harrogate earlier this year. You can't miss the place either, because as you at arrive, and even before you open the door, you see a place bursting with bold and bright botanicals. When you enter, the interior is light pastel colours, offering you a nice and fresh airy space to enjoy your experience. That is, if you don't want to eat alfresco.
We wandered into Giggling Squid and received a very cheery welcome from the team. Pleased to see us? It certainly seemed so. They confirmed our reservation and offered us a particular table for two in the window that we'd already clocked and talked about before we walked in.
"A special occasion"
Just to the right of the door as you enter Giggling Squid is a window table enclosed by a split birdcage, dressed in bright flowers – it's a thing throughout the restaurant. The feature certainly stands out, and cries for attention. We were asked if we'd like to sit there. "And have everyone who walked by look in at us?" I thought to myself for a split second. Sure. Why not! It seemed to make going for a nice meal a little bit more of a special occasion, and when we sat down, it did actually feel like a little happy place.
With menus in hand, and a bottle of house white on the table (a Thai Colombard Monsoon Valley, £19.95) we dilemma'd over the many options of food on offer. At Giggling Squid, you certainly get one extensive menu, and with that comes a choice for everyone. The Phuket Mussels jumped out at me, as did the Spring Rolls for my other half. But the dish that really took her fancy were the Golden Money Bags (£6.50).  With so many dishes to choose from, I asked our waiter what he'd choose if he were dining with us, and he pointed me straight in the direction of restaurant favourite, the Thai Salmon Nests (£6.95).  He even modelled the way in which you eat them, so my decision was made on that action alone.
For our main courses, as much as the Chubby Cheek Pork sounded incredible, as did the Stir-Fry dishes, my partner opted for the Sticky Chicken (£11.50).  I was a bit more decisive this time, ordering the Crying Beef  (£16.50).
We topped up our wine glasses, we munched our way through some very nice Thai prawn crackers, and waited for our food.
"Every bite unpacked lovely flavours"
We visited Giggling Squid quite early on a Wednesday evening.  There were only a few diners in when we arrived but that soon changed Tables soon began filling up with couples, friends, family groups and birthday celebrations going on around us. We also noticed that there's no steps for entry either, meaning that anyone can come to Giggling Squid and enjoy themselves. Service here is lovely from start to finish, and the speed at which our food arrived was also impressive. Not only that, the starters looked fantastic too.
My Thai Salmon Nests came as a plate of four. Each stack of salmon was centred within a betel leaf, with shredded coconut, lime, lemongrass and a salty-sweet dressing.  As instructed by our waiter, I just popped the whole thing into my mouth and began to devour it. With a mild slice of chilli on top, the combination of everything made for a very tasty and refreshing beginning to our meal. A very nice eat, that was far from heavy on the stomach.
Over the other side of the table, my partner was equally as delighted with her first course.  The Golden Money Bags were parcels of joyous crispy pastry, containing Thai Spiced Chicken, herbs and veg. It arrived with a homemade sweet chilli sauce to dip in to on the side. "Oh, that's a much better choice than a spring roll!" she exclaimed in delight, with her mouth still half full. She was enthusing about these little bags, describing them as very tender, with every bite unpacking lovely flavours and satisfaction.
The portions of both starters were generous, and we'd certainly enjoyed what Giggling Squid had served up for us.
"A must-try"
Where we initially thought we might be in for a quiet evening, the restaurant soon filled up.  And the atmosphere was great too.  Giggling Squid has a fine reputation, and the Harrogate restaurant's popularity seems to support that.
We were about halfway through our delicious bottle of wine (a fruity number) when our mains were brought to our table. And as my dish passed though the restaurant, heads turned. My Crying Beef was sizzling as it arrived in front of me. It looked delightful, and as juicy as you'd want it to be. It had been cooked perfectly to my liking (medium rare), and the very end slices were cooked to a crisp.  This gave me a tasty variation in texture, and whatever bite I had was sensational. The sauce accompanying my main course was sweet, and it had a lovely aroma too. I had sticky rice on the side (£3.25), and Giggling Squid had really impressed me and my tastebuds with this one.
My partner's Sticky Chicken looked great as well, and again there was lots of it.  But unfortunately, it was a dish that didn't quite hit the mark.  Although it had flavour, it was quite dry and the element of stickiness wasn't really there. Bite in to it, and the chicken was tender and the dish pleasant, but expectations were a bit different to what was served up. It was a small blip, and I tried some myself and I liked it. But I'm not a fan of something too gooey anyway.
Alongside her chicken, at £5.95 she tried the Ruby Noodles. Now these are special. They're naturally-red beetroot noodles with beansprouts, sweetheart cabbage and cooked in the house stir fry sauce. They had a nice subtle flavour, were moist, and also added a pop of colour to the plate.  A really good side, they're a must-try when you come here.
"Really refreshing"
As we were enjoying our evening, we decided to capture the moment by taking a couple of photos with the flowers on the cages behind us. One thing I can say is that Giggling Squid is a very instagrammable place, and the backdrops do frame a nice photo. Well, it did for my partner anyway…not so much for me!  But, I digress…
We'd finished our main courses and were ready to stay longer. So, without much persuasion at all, we decided to we'd treat ourselves to a third course. So, over came the dessert menus and where my other half perhaps came off second best in the main course stakes, she was the clear winner here!
For £8.50, she went for the Sweet Heavens Above Trio, which was a plate that contained salted caramel soufflé, mini melting heart chocolate and a Pineapple & Coconut Finger. And I chose the Pineapple, Coconut & Mekhong sorbet for £4.95. Now, my choice was nice. The menu describes it as a Thai ice-cream Pina Colada, and that's exactly how it tasted. It contained a little bit of Thai rum, and was a really refreshing way to end my meal. But her choice put mine right in the shade.
"Wonderful time"
The Sweet Heavens Trio sat pretty front of my partner, and you couldn't but help want to try and pinch it. Here, we had a colourful presentation winner, and all three puddings tasted sensational too. The salted caramel soufflé was the favourite of the three, it's sweetness and it's smoothness helping it be the standout sweet. The pineapple and coconut finger closely followed that, by again being sweet, cool and fresh.
We're we satisfied? You bet we were. And we'll be back to Giggling Squid next time we're over in Harrogate. Not only did we have a wonderful time, we were well looked after by lovely people, and ate some very tasty food.  Our evening here was well worth writing home about, and we came away full and very happy.
Giggling Squid, 1 – 2 John St, Harrogate, HG1 1JZ
Mon-Sun: 12pm – 10.30pm
www.gigglingsquid.com
01423 802669