The Crown Hotel, Harrogate – Review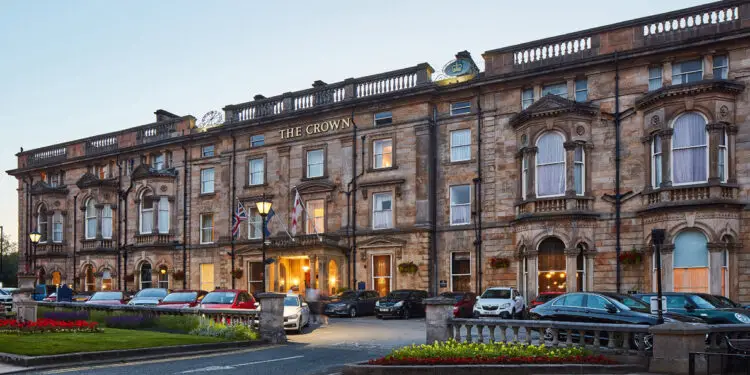 By Charlotte Oliver, March 2022
The Crown Hotel sits regally by Montpellier Gardens in Harrogate's historic and very picturesque heart. It is only a short stroll to all of the most popular places for which the town is famous, such as the Turkish Baths, Betty's Tearooms, a multitude of independent shops as well as high-end chain-stores and a choice of beautifully-manicured green spaces.
The building itself is magnificent – grandly proportioned and constructed of the attractive sandstone that is typical of the area. It also has a fascinating history that includes such august visitors as Lord Byron, Elgar and, rumour has it, The Beatles. Clearly very popular still, when we arrived there was no parking available within the hotel's bijou car park, nor in its first suggestion of alternative parking. We quite soon found a space in the nearby multi-storey (£12 for 24 hours) and were able to join the queue to check-in at the hotel's reception, alongside such varied groups of guests as those attending a forensic scientists' convention and people staying for a wedding reception. This is clearly a hotel that works hard to keep its rooms full.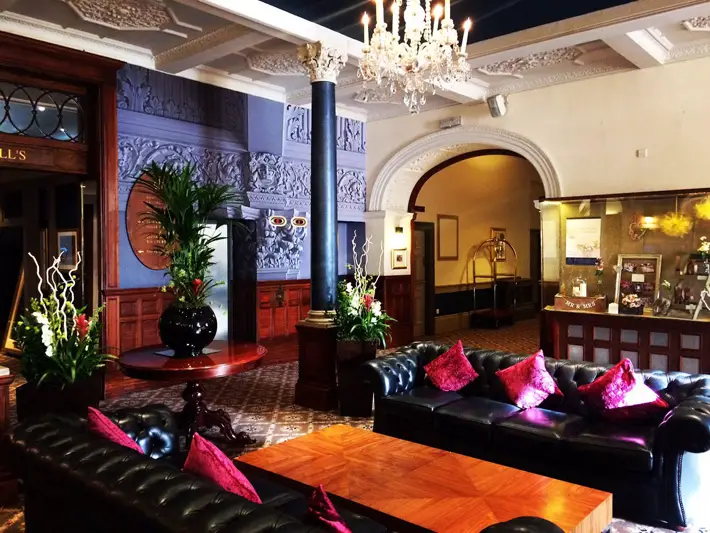 "Thoughtful touches"
Our Executive Double room was one of those occupying pride of place, facing out over the hotel's gorgeous frontage and the Montpellier Gardens. Hugely spacious with a similarly large bathroom, the room had enormous windows that even opened slightly to allow fresh air inside – a huge plus in my book. The paintwork, however, was in need of refreshing and the veneer was wearing off various pieces of furniture. The colour palette was a dull beige and grey without any pops of colour or imagination. That said, there were various very thoughtful touches to the room such as a welcome card and chocolates, some nice toiletries, excellent bed linen, thick bathrobes and Yorkshire tea (full marks for that!).
After making the most of the hotel's central location and enjoying some of its shopping and aperitif opportunities, we decided to see if we could move our table for dinner half an hour earlier, a request that was met without any fuss by a member of the dining room staff despite how busy she obviously was.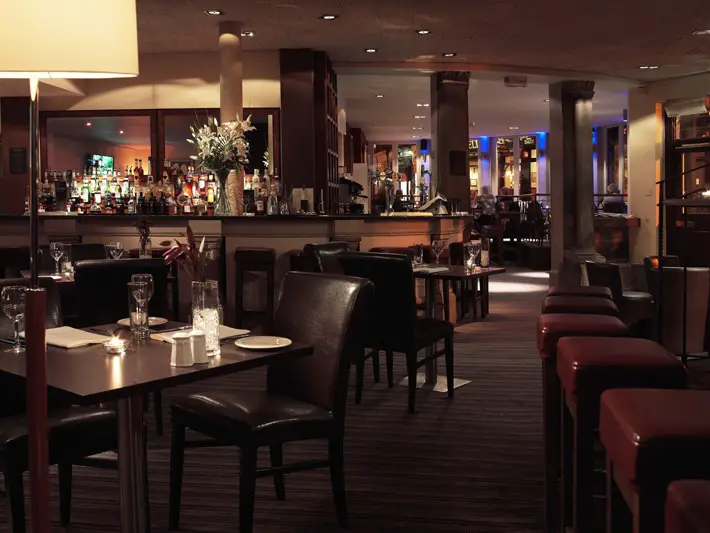 "Good-humoured"
We dined in the Churchill Suite, an incredibly ornate room straight from the pages of a Jane Austen novel, with a stunning plasterwork ceiling, stained glass windows and gorgeous panelled walls. Unfortunately, though, it felt a bit unloved, with paper napkins stuffed under various tables to level them and not nearly enough members of staff (just two, in fact, one of whom seemed to be present only in body rather than spirit). The woman doing all the work was good-humoured and helpful, but trying to wait on at least eight tables meant that it was inevitable that our drinks arrived well after our first course and that the cleanliness of our cutlery had been overlooked.
My starter of smoked salmon and cream cheese was pleasant as was my husband's chicken liver paté, though his accompanying sourdough was more like the end of a standard shop-bought loaf. From a choice of mains that included pan-fried salmon, pan-fried chicken and fish and chips, we both plumped for steak, which was very tasty. The chips too were a triumph; fat, crispy and fluffy inside. They went some way to making up for the peppercorn sauce that tasted inexplicably perfumed and therefore inedible. After requesting mayonnaise to go with my meal, I was informed they did not have any which seemed surprising for a four star hotel. Yet again though, the Crown pulled it back, with a pudding of chocolate brownie with ice cream that was so good, I accidentally ate it all despite being already full. Similarly, my husband's crème bruleé was apparently too delicious to share.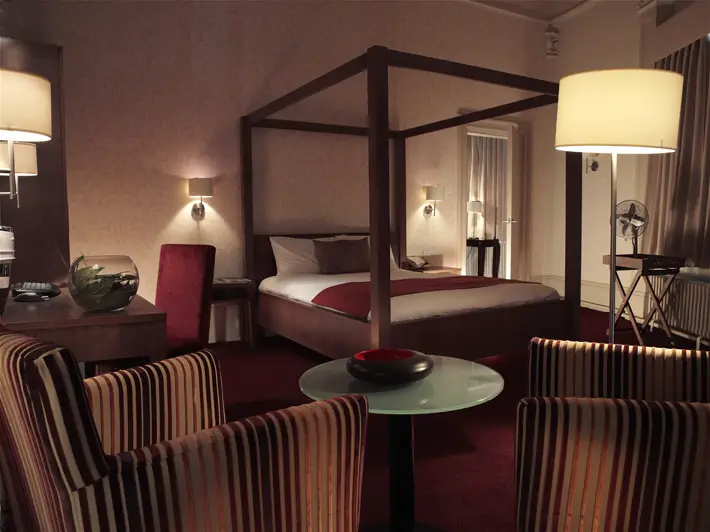 "Piping hot"
Back in our room, we decided to have a cup of tea, and waited only two minutes before a very obliging member of staff knocked on the door with the de-caffeinated tea bag that I had hesitantly phoned Reception to request.
After a comfortable night only slightly disturbed by the revelry of the wedding reception (or was it the forensic scientists?), we went down to breakfast, again in the Churchill Suite. This was a buffet and offered everything from a Full English to a Continental. We embraced the geographical range and found that the tureens had somehow kept everything piping hot without over-cooking it, so guilty pleasures like hash browns and fried eggs were really good. Special mention must go to the mushrooms, which were fresh and delicious, and to the croissants that could have been delivered fresh from Paris that morning.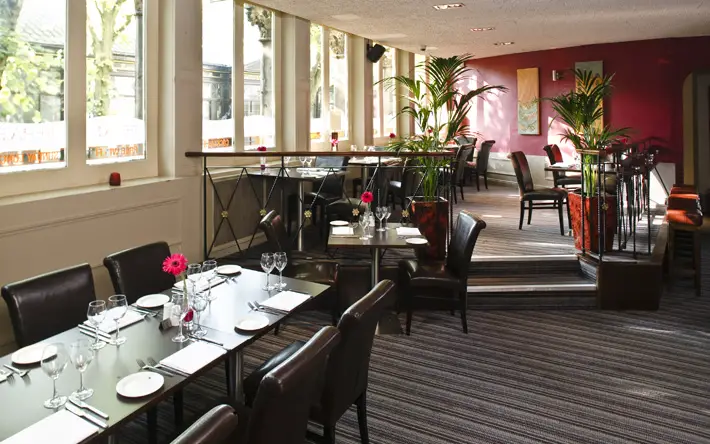 "Original architectural features"
However far from its glorious past the hotel may have drifted for economic reasons, the staff are a credit and it still has some hallmarks of its original high quality; it is solidly built, the hallways are wide, the water pressure is impressive and many of its wonderful original architectural features are still in evidence. It is admittedly shabby in parts, lacking in any attempt at interior design since its heyday and seems to be very under-staffed/under-managed (though this could well be the continued effects of COVID) but give me the Crown over a purpose-built, identikit budget hotel chain any day; we genuinely had a good stay.
Prices start from £85 bed & breakfast based on two people sharing a double room.
crownhotelharrogate.com