The History of The Crown Hotel, Harrogate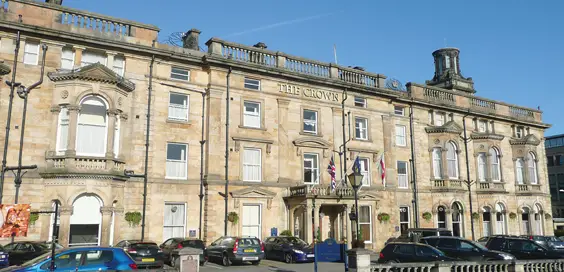 By Malcolm Neesam
This glorious Victorian exercise of Italian Renaissance in sandstone has a long and distinguished history that reaches back to the early 1600s when visitors first began to drink the waters of the world's strongest known Sulphur Well.
The name 'Crown' may have been adopted around the time of Charles II's restoration of the monarchy in 1660, when a much smaller inn overlooked the Sulphur Well to the west. Since then, the Crown thrived, reaching 'gigantic proportions' by the time Lord Byron and his 'string of horses, dogs and mistresses' were guests in 1806.
"More like a miniature village"
The Crown is also the most likely place were famed authoress Maria Edgeworth stayed in 1826, when she enjoyed the company of the great scientist Sir Humphrey Davy. At this time, the Crown presented a long row of disparate buildings of Georgian appearance, the main dining room being more or less where the present one is placed.
The Crown was more like a miniature village than a hotel, as it had its own farm where food was produced, workshops, a smithy, a laundry, extensive stables and a team of blacksmiths, carpenters, masons and bakers.
In 1828, the York Herald reported, 'Fancy Ball at Harrogate… the spacious ballroom, at the Crown Hotel, was thrown open to upwards of 200 fashionables, amongst whom were not a few whose rank, beauty, taste, and correctness of costume had attracted notice in the brilliant festival of the preceding week. It were difficult to select objects for particular remark, where so much was to be admired.'
"Edwardian perfection"
In 1847, the central section of the Crown was rebuilt in a chaste neoclassical design, almost certainly the work of architect Isaac Thomas Shutt. Then, in 1870,the Crown estate – which then ran up as far as Parliament Street – was acquired by George Dawson, who employed J. H. Hirst of Bristol as his architect.
The Crown's Georgian wings were removed and replaced by Hirst with a powerful pair of Italian Renaissance replacements that gave the building great character and nobility. Dawson also planned a tower and new shops in Crown Place and Crescent Road, all of which were built after Dawson's death in 1889.
When Elgar stayed at the Crown in 1912, it was probably at the peak of its Edwardian perfection. After being sequestered by the government in 1939, the Crown reopened to visitors in 1958.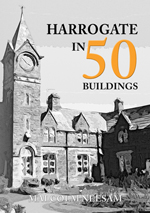 Article taken from 'Harrogate in 50 Buildings' by Malcolm Neesam, published by Amberley Publishing, £14.99 paperback, ISBN: 9781445681115