Odd Couple (1979) – Film Review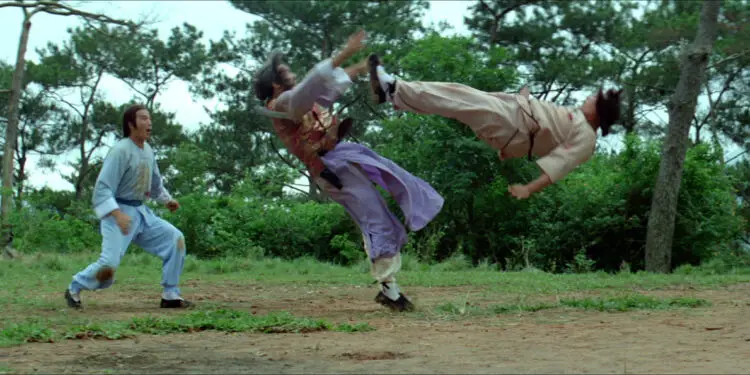 Director: Lau Kar-wing
Cast: Sammo Hung, Lau Kar-wing, Bryan "Beardy" Leung Kar-yan
Certificate: 12
By Roger Crow
Considered by some to be one the greatest classical weapons movies ever made, Odd Couple sadly features little of the wit of the namesake Jack Lemmon/Walter Matthau movie. If only.
Sammo Hung, Lau Kar-wing and Bryan "Beardy" Leung Kar-yan star in a tale of rivalry and vengeance.
"Ravishing"
The plot: two ageing masters of the spear and sword engage in an epic mountaintop battle every decade, but the outcome usually ends in a draw. Realising that neither will ever outclass the other, they each agree to take on a younger student and train them to champion their cause, thus putting an end to their longstanding rivalry.
This visually ravishing version looks great on Blu-ray, converted from a 2K restoration.
The gags are pretty broad, and there are plenty of pratfalls amid the impressive swordplay. Just a pity the supporting cast just stand around wondering what's for dinner. (Never have supporting players looked so bored when the centre stage action is so thrilling).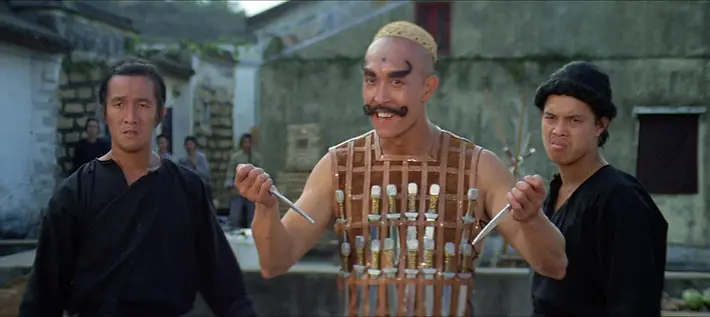 "A lot of fun"
Extras include a terrific commentary with Frank Djeng and Bobby Samuels, which offers a fascinating insight into the movie's production.
The English dubbed version isn't bad, but actions speak louder than words and those battles are something to behold.
On the whole it's a lot of fun with some stupid comedy and great visual gags. Just a shame the attitude towards women in at least one cringeworthy scene leaves a lot to be desired.
SPECIAL BLU-RAY EDITION FEATURES:
Limited Edition O-Card slipcase featuring new artwork by Darren Wheeling
Original Cantonese mono audio
Optional English dubbed audio
Optional English Subtitles
Brand new feature length audio commentary by Asian film expert Frank Djeng (NY Asian Film Festival) and martial artist / actor Robert "Bobby" Samuels
Brand new feature length audio commentary by action cinema experts Mike Leeder & Arne Venema
Archival interview with director Lau Kar-wing
Archival interview with Bryan "Beardy" Leung Kar-yan
Trailers
A Limited-Edition collector's booklet featuring new writing by James Oliver
Odd Couple is released on Blu-ray by Eureka, £22.99