You Be Chef Recipe Box – Review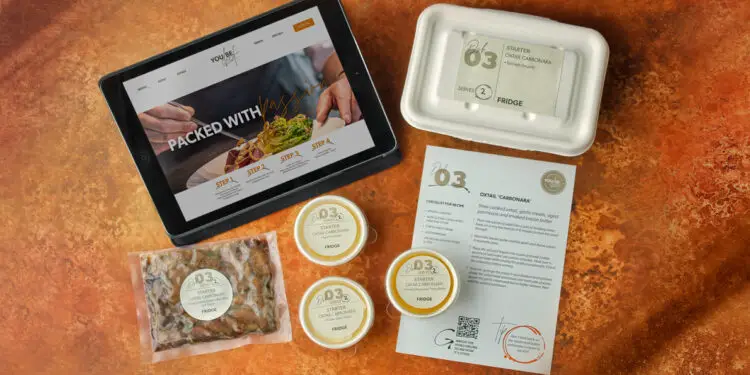 By Roger Crow
Some of my favourite memories of the last two years have been home meal kits. You know the sort of thing: order your dishes online; it arrives on a specific date, and you pop culinary tab A into mouthwatering slot B.
The latest organisation to leave my tatstebuds tingling is Michelin culinary experience company You Be Chef.
According to the official line: "Michelin Star chef Robert Thompson has created a premium take on the 'Makeaway' meal kit trend, providing foodies with the inspiration and knowledge required to achieve moments of luxury in their own homes, whilst also putting the fight against food waste at the heart of the culinary experience."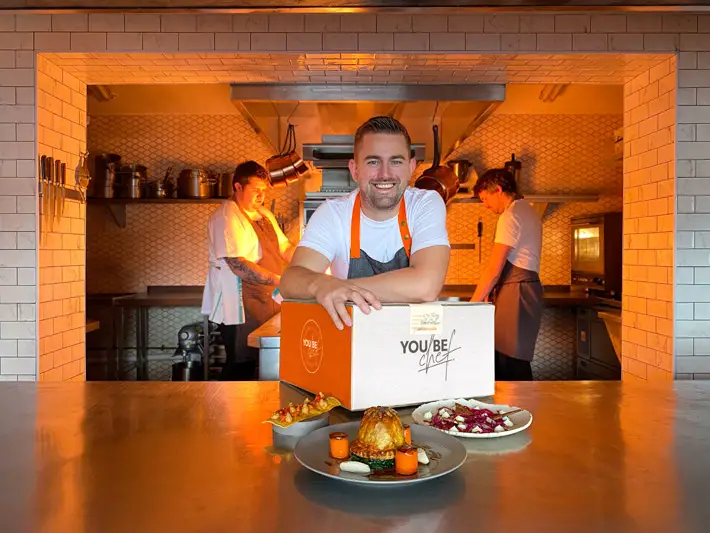 "Culinary magic"
Okay, so that's the corporate blurb, but does it live up to the hype?
Well, ordering is simple enough. Just choose your meals at the website; arrange a date for delivery, then make sure you're around to collect that box full of tasty goodies.
The weekly changing menus can be ordered up to four weeks in advance, and is a lot easier than travelling to the Isle of Wight to find the sustainably sourced produce.
So, step one: I head to the You Be Chef site and select three courses for two people.
The experts behind the scenes then prepare our meal, using fresh ingredients from local suppliers or, perhaps more interestingly, "team-foraging days where food is hand-picked".
Step two: when those ingredients arrive, it's like Christmas. The instructions are simple to follow. Pop the odd ingredient in the freezer, or others in the fridge. Then by dinner time, it's just a case of thawing or bringing stuff up to room temperature and working the culinary magic I've acquired after years of popping things in the world's worst oven.
"Plumptious helpings"
I've ordered a Seaweed Focaccia with Whipped Yuzu Butter, because it sounds fantastic and my love of said bread has become a thing in recent months. As our oven is way past its best, it takes longer for the bread to bake in its eco paper, but it's well worth the wait.
The Salad Lyonnaise is also a treat. A couple of crispy poached eggs in panko breadcrumbs and sautéed potatoes in banana shallot marmalade also cook away in the oven. The instructions suggest five to six minutes, so I give it around 15 minutes, and they're all terrific. Chances are you have an oven that works, so best to stick to the suggested timing. The endive salad is served with whole grain mustard dressing, and the result is smiles all round.
I'm guessing the starter will take 10 mins to scoff/savour, so I pop the two plumptious helpings of Native Lobster and Crayfish Ravioli (made with saffron pasta) in a pan of boiling water for the duration and set the timer.
While we're tucking into the most gorgeous eggs, moreish potatoes and salad, the main bubbles away.
"Plate up and enjoy"
The focaccia and butter is equally delicious, though I use two thirds for the starter as we all know the perils of filling up on bread before the main.
Sure enough, the relaxed starter takes 10 minutes to scoff/savour, and when we're mopping up the runny yoke with bread, the alarm goes off.
The ravioli, cooked in salted boiling water with a little olive oil, is perfect. I throw the package of fricassee baby gem lettuce and veg in a pan, and let that cook while heating up the lobster bisque in another pan.
With all the ingredients at the right temperature, it's time to plate up and enjoy.
Rachel is very fussy when it comes to fish, so she's not a huge fan of the ravioli. Myself, on the other hand, cannot get enough of it. The mix of flavours and delicious ingredients are a fish lover's dream. The pasta is beautifully crafted, and together with the accompanying goodies, I'm in culinary heaven.
"Happy customers"
As it's a Friday night and my brain is addled from a week of work, when it comes to dessert, Banoffee Trifle with a Miso Caramel, I spend a while staring at the beautifully prepared menu card. "Preheat oven to 190 degrees"?
Is it one of those weird things which suggests it's a trifle but really isn't?
Deciding it's a mis-print, I add the banana purée and vanilla cream to the dish, which is presented in elegant glass dishes with matching lids. Bitter chocolate shards added at the last minute balance things out.
I'm not a huge fan, mostly because I'm not a lover of bananas, but Rachel is in her element. She polishes every bit from the bowl, so between us we are two very happy customers.
The result is a glorious meal with fabulous ingredients, (mostly) easy to follow menu cards, and there's also the option of using a QR code for tips and ideas.
It's such a simple, tasty mix of goodies that, even if the vegetarian options seem a little limited, I'll happily go back for seconds.
You Be Chef recipe boxes are under £50 per person
The Weekly Changing Menu can be viewed here