Wild and Game BBQ Pack – Review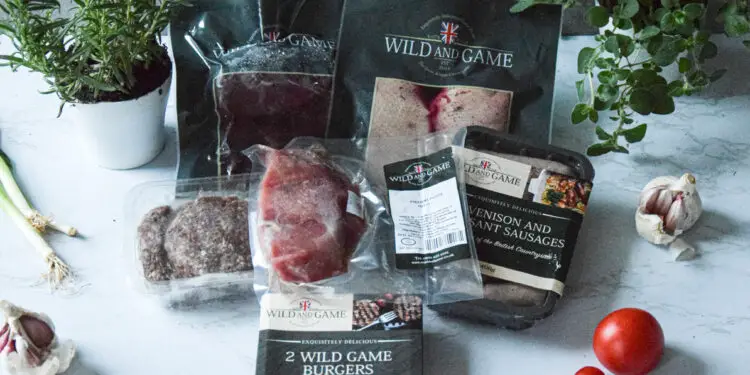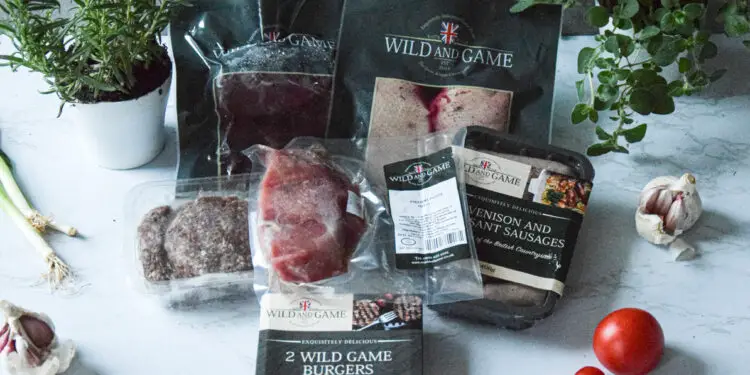 By @Roger Crow
"I'm not a pheasant plucker,
Or a pheasant plucker's son.
But having it for dinner is very pleasant.
So I'll sit here eating pheasant,
'Til the pheasant eating's done."
I've taken some liberties with that 1899 tongue-twister, but when it comes to sampling something very different, at least for me, I have no complaints. Okay, said meat doesn't really go with pasta and baked beans. It's a far more substantial food than that. It needs to be in a pie, preferably while wearing a ruff (the diner not the pie). Or in a curry, where spices and the game meat really get a chance to sing together in harmony.
But that's the joy of cooking. Finding out what works and what doesn't.
I've let the pheasant defrost completely, and then cooked it in the oven. It's always great to try new experiences, even if I don't do the meat justice on my first go. Thankfully Wild and Game have given me a recipe for Pheasant Dopiaza, and suddenly my mouth is watering. That's definitely a more formidable idea for the future.
I have such an amazing stash of produce, it keeps me fed for days. Which brings us to their bangers.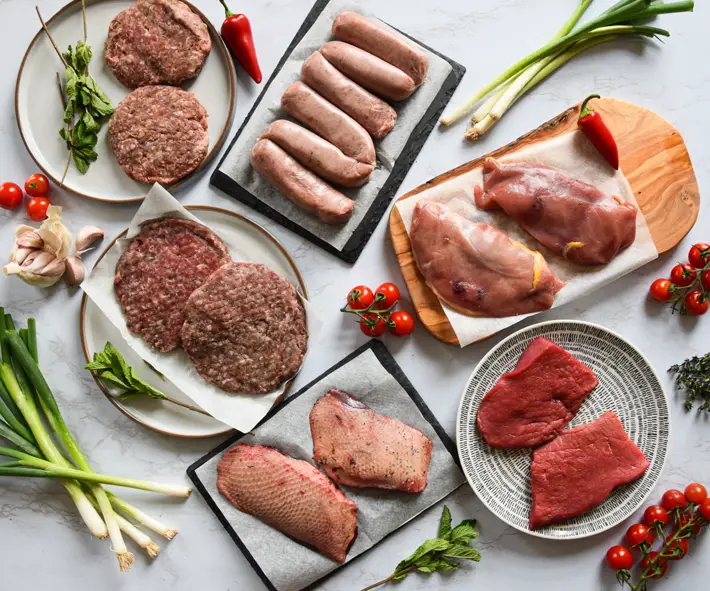 "Superb"
We love our sausages, and bangers and mash is one of those comfort food dishes which can be either the stuff of joy, or just an okay dish.
Now as I'm always game (sorry) for new culinary experiences, the idea of 'Venison and Pheasant Sausages' has me intrigued. It's an intriguing mix, but do they work?
Well, I crank up the oven and plonk three in for 45 mins. Obviously yours may take less time, so just keep an eye on them, obviously. With root veg mash zapped in the microwave and good old baked beans (which I don't have with every dish I might add), I'm intrigued until that first banger bite. Remarkably there's not a bit of gristle, and the casings are superb. Not those rubbish sausage casings that taste like semi-edible plastic, but I'm genuinely impressed. The two flavours work beautifully well together.
A few days later I cook the rest of them for Sunday breakfast. Split down the middle with a little sauce; a fried egg on toast and fresh coffee, they are superb.
Will the rest of the goodies from Wild and Game also tick those mouthwatering boxes?
Well, thankfully the 'Veinson and Wild Boar Burgers' are also great. In fact they're better than that. Years of making do with generic burgers, and I should have been scoffing these beautifully crafted artisan offerings all along. The taste is exceptional; a little gamey, obviously, (it would be strange if they weren't) but not so strong it overwhelms.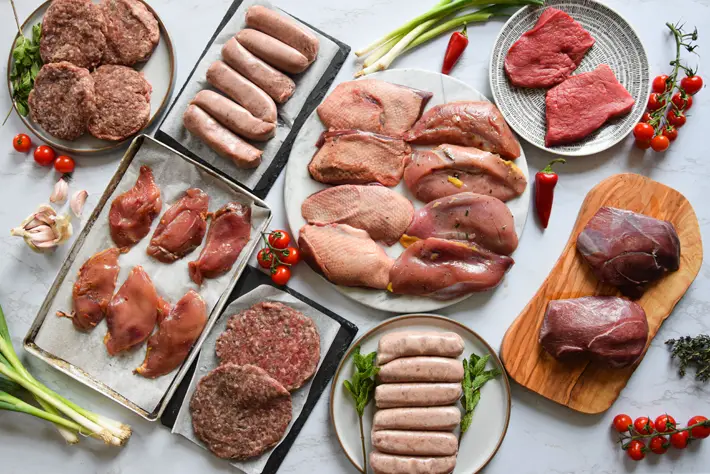 "Impressed"
Again, there's no gristle to contend with, which is always a bonus, and they cook like a dream. Just stick them in the oven for a while; flip them over at the half way mark, and you'll know when the time is right to serve up.
I'm seriously impressed. The problem is once you've tried them, going back to basic hamburgers will feel like a bit of a comedown.
For the Venison Steak I try to be a little more daring. This is quality meat so it deserves even amateur chefs like me to be a lot more extravagant.
I flash fry the steak in olive oil and sea salt; cut into strips, and then dip into an egg wash, flour and panko breadcrumbs. When the oil is just the right temperature in the pan, cook until golden brown. Then it's just a case of draining the excess oil with paper towel and serving with noodles. The gamey steak is brilliantly balanced with the panko breadcrumbs, and again, if you're bored of the usual dishes, it definitely breathes new life into dinner time.
So, if like me you're a little bored with the usual bangers, burgers, steaks and more, then kudos to Wild and Game for ticking so many culinary boxes. For the burgers and bangers alone, I know where I need to go when I'm a bit fed up of the usual supermarket taste.
BBQ Pack 1, price: £35
x Venison Steaks
1 x Game Burger 4oz 2 Pack
1 x Premium Venison And Pheasant Sausages – 400g x 6
1 x Vacuum Pack of 2 Pheasant Breasts
1 x Venison and Wild Boar Burgers 4oz 2 pack
1 x Mallard Breast x2
Available from wildandgame.co.uk