Introducing: Sinead Campbell & Postculture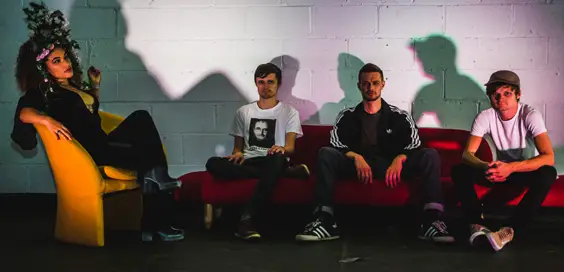 Fast rising Yorkshire music talents combine: Two for one in't bad, right?
YOUR NAMES: Sinead, Tom, Jonny & Matt.
BAND NAME: Sinead Campbell & Postculture.
WHAT DO YOU DO/PLAY?
S: Vocals.
T: Guitar and various electronic devices.
J: Drums.
M: Bass.
HOW LONG HAVE YOU BEEN TOGETHER AS A BAND/PLAYING MUSIC?
We started the collaboration in 2018, although we have all been playing for many years!
GIVE US 3 REASONS WHY WE SHOULD TRACK DOWN, LISTEN AND DISCOVER YOUR MUSIC?
T: 1) So our efforts to craft music people *enjoy* hasn't been in vain.
2) So our decision not to become world-class darts players doesn't forever haunt us.
3) Because you're an awesome person with superlative musical taste.
WHERE DO YOU SOUND BEST – FESTIVAL, CLUB, BEDROOM – OR SOMEWHERE ELSE?
J: We sound great in our small cramped practice space. But I'm sure we'd also sound amazing on the Glastonbury main stage (if you're reading this Michael Eavis).
S: We'd definitely sound great in some magical realm of fairies and unicorns! And definitely from the technology over in the Pleiades star system. The possibilities are endless!
"Working on being peaceful"
WHAT WAS YOUR FIRST RECORD?
J: I think It was AC/DC, Back in Black in 2004. My Dad's colleague gave me a few Led Zeppelin and Black Sabbath records and I though the big sleeves were so cool that I got into it really young. Back when everything was still affordable.
CD? Red Hot Chili Peppers, 'By The Way', in 2003 (as a kid I absolutely loved Flea).
M: LP was RemarkableUnremarkable by ExP. CD was Will Smith, Big Willie Style. Download? Metallica on Napster (Lars Ulrich hadn't told us it was wrong at that point).
Sinead: Britney Spears and Eminem… 90's child!
SO, WHEN IT ALL GOES RIGHT AND YOU'VE GOT A MANSION AND A SUPERMODEL GIRL/BOYFRIEND, WHAT WILL BE YOUR BIGGEST MUSICAL INDULGENCE?
S: A live performance in outer space, lived streamed to planet earth (and other local planets).
T: A solo record alongside the London Philharmonic: It'll be a self-funded rock opera (hypocritically) decrying the fickleness of fame.
M: Barnyard Freestyle: The Opera.
SO, WHEN IT ALL GOES WRONG AND YOU'VE ACRIMONIOUSLY BROKEN UP CITING HUGE MUSICAL DIFFERENCES, WHAT DO YOU FALL BACK ON?
T: A self-performed rock opera decrying the fickleness of fame.
CITE SOME INTER-BAND MUSICAL DIFFERENCES…
T: The other's refusal to accept all music should sound like Autechre.
J: It takes the other two longer than me to realise I'm always right.
M: I can't stand Jonny. He's a truly horrible person.
S: I am working on being peaceful… 'Om Shanti'.
WHO ARE YORKSHIRE'S FINEST IN CULTURE, SPORT AND MUSIC?
T: Culture = Hyde Park P.icturehouse. Sport = Johnny Bairstow (sorry, Joe Root). Music = Warp Records.
M: Sport = Leeds United, Gawthorpe coal race, Scott Waites (Honley's greatest darts player).
"I can't wait to get back into bed"
NAME YOUR SUPERGROUP – WHO'S PLAYING WHAT AND WHO'S ON VOCALS?
T: Roger Daltrey, vocals. Roger Hodgson: keys/vocals. Roger Waters: bass/vocals. Roger McGuinn, guitar/vocals. Roger Taylor: drums/vocals.
J: The Extraordinary Phil Collins Funk Band: Phil Collins – Drums, Vocals, Keyboards, charisma. Robert Fripp – lead guitar. Andy Rourke – bass. Steve Wicked – rhythm guitar / hype man. Stevie Wonder – Harmonica. Bez – percussion.
GO SEE THIS FILM: Zardoz.
GO READ THIS BOOK: Naomi Klein, The Shock Doctrine (sorry in advamce!)
GREAT LOST BAND/ARTIST: The folk who did that song. You remember – the one that everyone knew… erm… What were they called again?
WOULDN'T BE CAUGHT DEAD SUPPORTING: The aforementioned 'Band of Rogers'.
LONDON, L.A OR LEEDS?: LEEDS, LEEDS, LEEDS!!!!!! ALL LEEDS AREN'T WE? M.O.T. (Sinead rolls eyes, football doesn't make me feel at peace).
AND FINALLY… AS YOU LEAVE THE STAGE, WHAT ARE YOUR PARTING WORDS.
T: To the audience an appreciative grin and a bow. To myself: 'Don't lose any equipment'.
J: I can't wait to get back into bed.
M: We nare Postculture. Find us on't internet!
S: We'll meet again! Sending love and light… goes into some weird mantra spell.
For more info visit: sineadcampbell.com and postculturemusic.com