Sheffield experimental collective pushing boundaries and genres…
YOUR NAMES: Michael Curran (Copiusbeats) & Bert Rogers.
BAND NAME: Ill Tribe.
HOW LONG HAVE YOU BEEN TOGETHER/PLAYING MUSIC? Roughly three years as a band. Known each other for about a decade now though I guess?
GIVE US 3 REASONS WHY WE SHOULD TRACK DOWN, LISTEN AND DISCOVER YOUR MUSIC?
Bert: First reason, because we're awesome! Haha, only joking with ya! First reason I'd have to say is there's currently nothing else like it out there at the moment I feel. We both feel like we're bringing something unique to the fold and creating something boundary pushing and exciting. We wholeheartedly believe in the diversity of our music and sound and hope people relate and respond to our debut album.
Mike: "So when the words fail… Music Speaks!" Yeah agreed, we are awesome! Haha! Nah, second reason for me is that we want people to discover something refreshing and interesting ultimately. The album and our direction / approach in general goes against all the rules of what a band should be. We WANT to be different, we WANT to have a bunch of sounds and styles and to not just limit ourselves to a standard formula or 'how a band should be'. 'Music is meant to be no set stamp so make it what you want to' is my approach as a producer has always been of the opinion of – 'let's head out to the deep end and see if you can swim a little bit', ultimately that's where the really exciting stuff starts to happen and in doing that, having that mindset collectively I think we've created a beast.
Third reason: Yeah, we just enjoy creating and playing music together so much and want you to come on a journey with us. The whole album has been designed as a journey and hope that people get that, we hope they enjoy it, vibe to it, buy it, share it and discover potentially something really cool and interesting – something with depth that blows most pop out of the water.
WHERE DO YOU SOUND BEST – FESTIVAL, CLUB, BEDROOM – OR SOMEWHERE ELSE?
M: Tricky one, because of the current crisis we're gonna sound better down your radio wires at the moment but in general of course we're gonna say Festivals! We LOVE playing live and want to get sweaty jumping around the stage like idiots and vibing with the fans. We miss that. So much. Festies – get in touch!
B: Get us cranked up on the vinyl. Nothing quite beats an amazing sounding record at its full capacity. Goosebumps central. But yeah festivals too!
WHAT WAS YOUR FIRST RECORD?
B: 'Papa's Got a Brand New Pig  Bag' – what a tune!
M: Ha! that is a tune. Gonna go revisit that, good suggestion. I'm going to have to say Fleetwood Mac, Rumours. As a lad we were always around great music, you know. My parents had good taste and we all felt like we owned that Rumours album. Maybe it owned us! Something happened way back then anyway which influenced my whole musical career and it always comes back around so I'm going to say that.
SO, WHEN IT ALL GOES RIGHT AND YOU'VE GOT A BOTTOMLESS PIT OF MONEY AND LONG QUEUE OF HANGERS-ON, WHAT WILL BE YOUR BIGGEST MUSICAL INDULGENCE
B: I'd like a really nice canoe.
M: Totally want my own proper home studio and a mini ramp in my back garden so I can finally kill my skateboarding career.
CITE SOME INTER-BAND MUSICAL DIFFERENCES…
B: I'm in tune.
M: I'm normally the sober one. Haha! To be fair we love the same things and it's hard to find something we completely disagree on. A boring answer but we actually work really well together. Sorry guys!
WHO ARE YORKSHIRE'S FINEST IN CULTURE, SPORT AND MUSIC?
B: Jessica Ennis all day long but the athletics squad from Yorkshire Great Britain in recent years have been incredible.
M: Music wise it's a tough one really – Loads of great things are happening right now despite the current pandemic and our local community radio stations and hosts are heroes really. They all deserve a shout out to be honest. Where would we be without music?!?
I'm lucky enough to be involved with Sheffield Live! Gumbo FM and Reform Radio and every volunteer across the board (community wise) has been doing a sterling job of keeping the music coming during really difficult times. Gumbo FM in Sheffield are embarking on something special right now. Big shout to Jase and Philip. Much love! If I could single out some heads though to heap praise on I'd have to say Adam and Mike at Rite Trax; two absolute legends who do some much for the community itself it goes beyond words. The scene owes them so much for their input over the last few years, not only in Sheffield, but in Manchester too.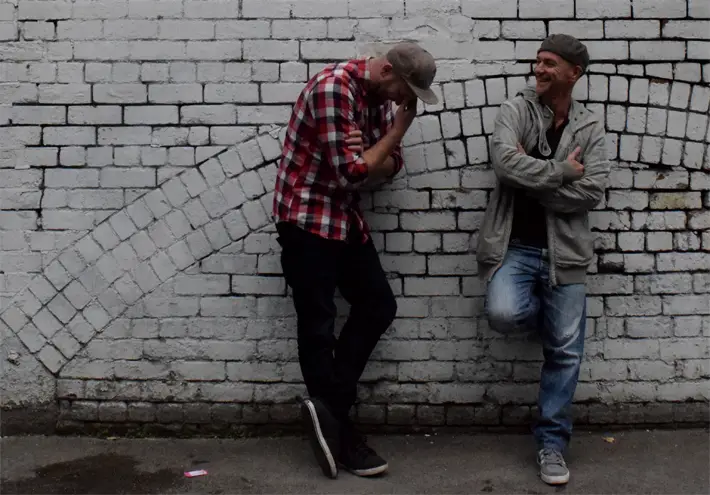 NAME YOUR SUPERGROUP – WHO'S PLAYING WHAT, WHO'S ON VOCALS AND WHO'S YOUR BEZ?
B: Hendrix on Guitar, Me on Percussion, James Brown on vocals, Darren Campbell on Bass, David Brent as me Bez!
M: Brent as Bez!! Hahaha for me it's gotta be Questlove from The Roots on Drums, John Frusciante on Guitar, Thom Yorke and Damian Marley on vocals and Mike Skinner as my Bez. I'll be on production of course!
GO SEE THIS FILM:
B: Eraserhead by David Lynch.
M: I've always loved films and I'm torn to choose just one. I have always loved anything with Denzel in.. I'm going to go for Man on Fire, that is just awesome.
GO READ THIS BOOK:
B: Shantaram (Gregory David Roberts).
M: Mr Nice by Howard Marks. That guy was a legend. Met him once. Back in the hazy days ya know…
GREAT LOST BAND/ARTIST:
B: Jeff Buckley.
M: Bob. 100%, Without a doubt.
WOULDN'T BE CAUGHT DEAD SUPPORTING:
B: Westlife.
M: Any mumble rap artist.
LONDON, L.A OR LEEDS?:
B: None!
M: I'd have to agree… Sheffield!
AND FINALLY… AS YOU LEAVE THE STAGE, WHAT ARE YOUR PARTING WORDS?
Thank you Wembley, Good night! Probably something along the lines of 'Cheers all, come buy some merch and see you at the bar for a pint and a chin wag. Let's talk music!'
For more info visit: facebook.com/illtribeband