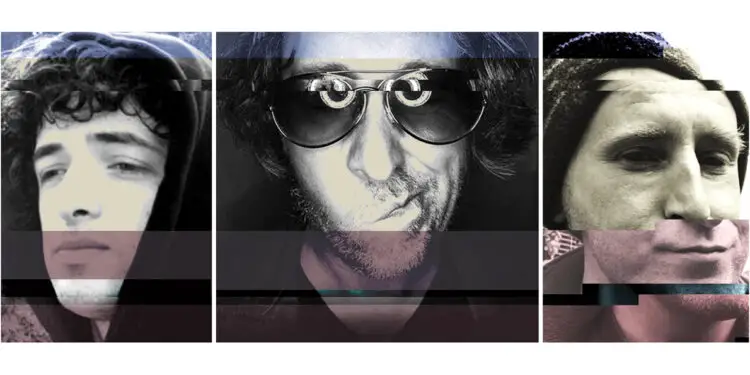 Modern indietronica, from Sheffield…
YOUR NAMES: Rob C / Tom T / Rob G.
BAND NAME: The 23's (the Twenty Threes).
WHAT DO YOU DO/PLAY? Rob C (Vocals/Guitar/Synths/Drums). Tom T (Vocals/Guitar/Synths/Drums). Rob G (Vocals/Guitar/Synths).
HOW LONG HAVE YOU BEEN TOGETHER AS A BAND/PLAYING MUSIC?
The band started late 2018. We had a few rehearsals and meetings and production meetings as pretty early on everything came together and we started writing with the idea of doing an album. Starting up just prior to lockdowns put a bit of a spanner in the works, but we aren't put off easily, so we started meeting through video calls and through group text chat, and sending ideas and recordings over to Tom who is the producer/musician, a leader of the project. We found that a good work around to continue the project, and we are glad we did, as the end result is great.
GIVE US 3 REASONS WHY WE SHOULD TRACK DOWN, LISTEN AND DISCOVER YOUR MUSIC?
We all believe strongly in what we are doing. Although there have been complications, we felt we were onto something. The very early demos we felt were strong. We have all been in various bands previously in and around the Yorkshire area, but we feel this has a different sound and feel to anything we have done before or is around currently, and we have a great bunch of songs for people to experience. Our first single which is out now is about Hiroshima and the effects of that, and how horrific and world-changing it was. We are not sure if anyone has covered subject matter like this, but we feel the song is powerful and has a strong message that things were definately not the same after that event and it should never have happened or happen again ever.
WHERE DO YOU SOUND BEST – FESTIVAL, CLUB, BEDROOM – OR SOMEWHERE ELSE?
We sound best on a hi-hi and headphones. Tom T has a great ear for production and is always doing things that are out there, fresh and modern while also bringing in vibes and textures from the past four decades. As a band we all feel lucky to have his production skills on board, and his crazy ideas, although he tends to say he isn't as good as we think he is, but we feel he really does bring out the best in all of us as a group. But don't tell him that! We don't want him to have a large ego! ha ha! But he is the ideas man for sure when it comes to a lot of our sound exploration!
WHAT WAS YOUR FIRST…
RECORD: Rob C – 'Remember You're a Womble' Single by The Wombles, but first serious album Sgt Pepper by The Beatles.
Tom T – Police – Greatest Hits.
Rob G – Oasis – Definitely Maybe.
CD?
Rob C – Jimi Hendrix – Axis Bold as Love.
Tom T – Kraftwerk – Electric Cafe.
Rob G – Weezer – Blue Album.
DOWNLOAD?
Rob C – Radiohead – In Rainbows.
Tom T – R.E.M. – Green.
Rob G – Never downloaded!
SO, WHEN IT ALL GOES RIGHT AND YOU'VE GOT A HUGE QUEUE OF HANGERS-ON AND A RIDICULOUS MANSION, WHAT WILL BE YOUR BIGGEST INDULGENCE, MUSICAL OR OTHERWISE?
Rob C – A gluten-free diet.
Tom T – Very clean underpants.
Rob G – Tom's insults.
SO, WHEN IT ALL GOES WRONG AND YOU'VE ACRIMONIOUSLY BROKEN UP CITING HUGE MUSICAL DIFFERENCES, WHAT DO YOU FALL BACK ON?
Rob C – A chiropractor.
Tom T – The settee.
Rob G – Back in 'Anger' over Tom's insults.
WHO ARE YORKSHIRE'S FINEST IN CULTURE, SPORT AND MUSIC?
We don't really follow sports so much, although Rob G does, we think, or maybe not? Maybe we should have asked him? But musically Yorkshire's finest are Arctic Monkeys, Astrels, Jody Wildgoose, Steve Edwards, A.Wake, Scritti Politi, Human League, Lazy Dollies, Heaven 17, Freezer, Size of a Planet, Hugh Ruiz, Slo-Mo, Ryan Taylor, Pulp, Marmalade Sun, ABC, Blameless: The list is very long! That'll do for now!
NAME YOUR SUPERGROUP – WHO'S PLAYING WHAT, WHO'S ON VOCALS AND WHO'S YOUR BEZ?
George Formby – Banjo & Lead Vocals
Arthur Askey – Spoons
Les Dawson – Piano
Sooty – Drums
Norman Wisdom – Bez.
GO SEE THIS FILM:
Rob C – Looper.
Tom T – War Games.
Rob G – The Warriors.
GO READ THIS BOOK:
Rob C – I Don't ever find time to read books, but Sugarman is the best music documentary I have seen, if that was a book, that!
Tom T – Haynes Ford Escort MK1 manual.
Rob G – What's the Storey by Iain Robertson.
GREAT LOST BAND/ARTIST:
Rob C – Slo-Mo.
Tom T – Sweeping Up After Eric.
Rob G – Symposium.
WOULDN'T BE CAUGHT DEAD SUPPORTING:
Rob C – I support anyone that can be bothered to give it a go!
Tom T – The M1 fly over London La to Leeds via Sheffield.
Rob G – New Radicals.
LONDON, L.A OR LEEDS?:
Rob C – Leeds.
Tom T – L.A.
Rob G – London.
AND FINALLY…AS YOU LEAVE THE STAGE, WHAT ARE YOUR PARTING WORDS?
Rob C – Thanks for all the fish.
Tom T – Don't eat yellow snow.
Rob G – When's the next one.
For more info visit: the23s.co.uk