Charley's [Big-Hearted] Aunt (1940) – Film Review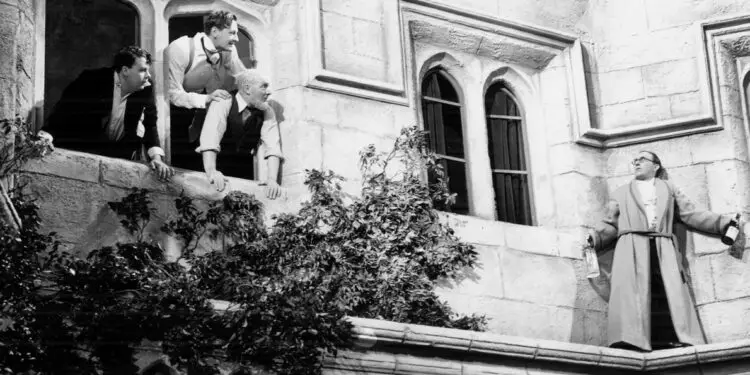 Director: Walter Forde
Cast: Arthur Askey, Richard Murdoch, Graham Moffatt
Certificate: U
By Sarah Morgan
He may have been a huge star during his heyday, but it's fair to say that Arthur Askey is now an acquired taste.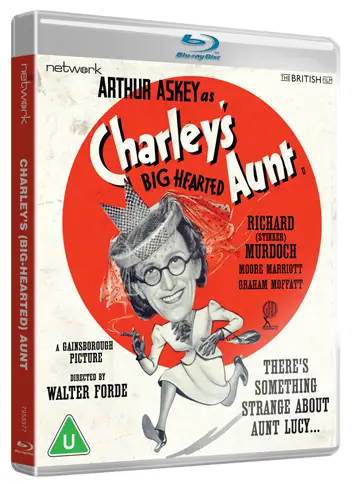 If you're already a fan, then there you'll love Charley's (Big-Hearted) Aunt. If you're not, it's hard to imagine you'll become one after sitting through its lame set of jokes. The film's saving grace is, however, that it's only a little over an hour long, so it's not too torturous.
"Errant trio"
Askey – who was 40 at the time the film was made and so a little long in the tooth to play a student – tackles the lead role of Arthur; his regular sidekick Richard Murdoch and Will Hay regular Graham Moffatt co-star as his fellow Oxford University pupils Stinker and Albert.
The latter has a wealthy Aunt Lucy, so when the trio are in danger of being 'sent down', Arthur concocts a plan to pose as her to impress the Dean in the hope he can be persuaded to save their necks.
However, it seems that Aunt Lucy has closer ties to a certain member of the faculty than anyone thought, which means the scheme won't work out quite as the errant trio had hoped.
No doubt listeners to Askey and Murdoch's much-loved radio show 'Band Waggon' will have lapped up this film, which may even have offered a little light relief to cinemagoers during the early months of the Second World War. Askey even manages to get his catchphrases "aye-thang-you" and "hello playmates!" into the first few scenes to keep his audience happy.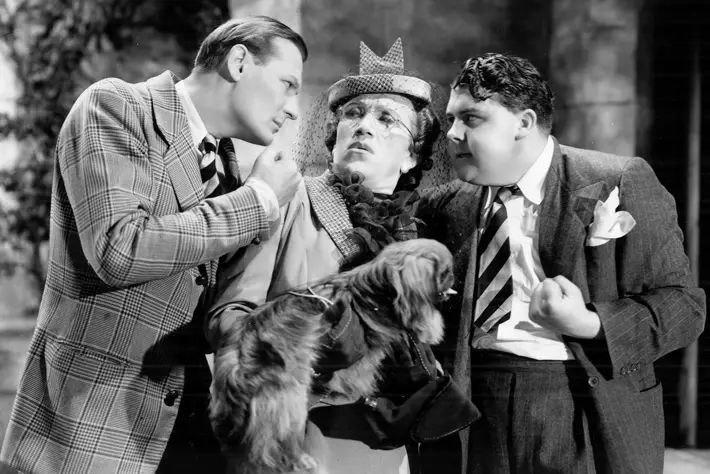 "Much-loved"
Unfortunately, the plot itself is hackneyed beyond belief, and is a poor take on Brandon Thomas's much-loved theatrical farce Charley's Aunt. Watching it makes you realise why Askey isn't considered alongside some of his contemporaries, including George Formby, as a British comedic great – he simply isn't funny.
Perhaps the one intriguing part of the film is an early appearance by Phyllis Calvert, who would go on to bigger and better things in The Man in Grey and (no sniggering at the back) Fanny by Gaslight.
The disc includes a number of Askey-related special features, including an interview with Russell Harty from 1970 and a couple of appearances on TV panel show Joker's Wild, during which Askey's gags fall flat – thankfully, the far funnier Les Dawson is on hand to show him how it should be done.
SPECIAL FEATURES:
• 1973 Arthur Askey interview
• 1969 edition of Frost on Saturday featuring Stinker Murdoch
• Two editions of Jokers Wild from 1970 featuring Arthur Askey
• Image gallery
• Limited edition booklet written by Steve Rogers
Charley's (Big-Hearted) Aunt is released on Blu-ray by Network, £17.99