It's In the Air (1938) – Film Review
Director: Anthony Kimmins
Cast: George Formby, Polly Ward, Jack Hobbs
Certificate: U
by @Roger Crow
Back in the day, the BBC used to show a string of vintage black and white movies. My lasting memory of struggling with maths homework was getting sidetracked by George Formby's various antics on a Thursday night circa 1979.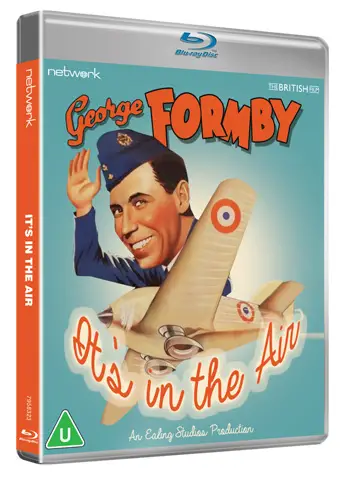 Of course everything changed when major TV companies had the notion that old black and white movies would squander those all important ratings, so they bombarded us with consumer series and travel shows, while one canny channel jumped on many a monochrome classic, and became one of the UK's most popular stations as a result.
However, if you fancy an old George Formby classic without intermissions advertising beds, then Network have come up trumps with a string of new releases.
"Treat for cineastes"
It's in the Air sees hapless George Brown's dreams of flying continually thwarted.
He's even rejected for a job as an Air Raid Warden, so sneakily tries on his brother-in-law's RAF despatch rider uniform. Finding an urgent communiqué in its pockets, he decides to deliver it himself… and ends up with his head in the clouds – though not in the way he'd expected.
With a fine supporting cast including Polly Ward, Jack Hobbs, Garry Marsh and Hal Gordon, this High Definition transfer from original film elements is screened in in its original theatrical aspect ratio.
Which is a treat for cineastes, obviously.
As someone who's had 'When I'm Cleaning Windows' on hard rotation during the bleakest of winters, this lightweight pre-war comedy is another gem from one of Lancashire's best loved sons.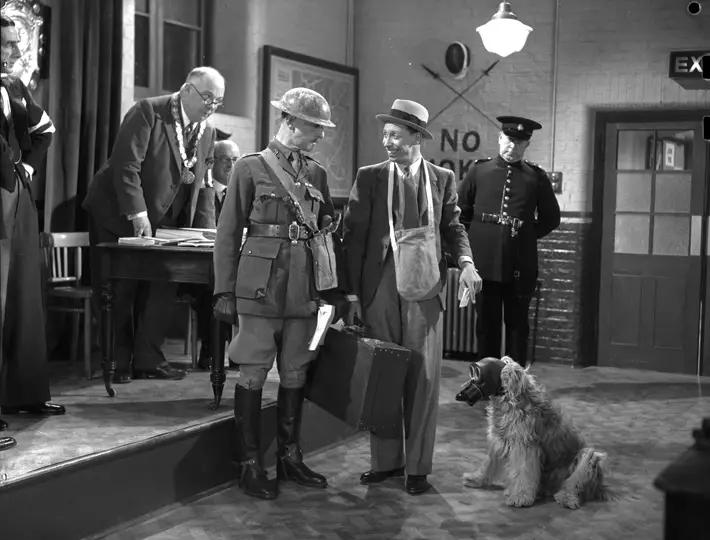 "Light and harmless"
It features plenty of classic George moments: cheeky grins; jaunty uke-inspired songs ('They Can't Fool Me', and the title track being standouts); a lovely heroine and a bit of action on a motorcycle. There's also a spot of selfless heroism as George tries to save his leading lady from machine gun fire, much to the hilarity of RAF flyboys. And the finale is an aerial joy.
Behind the scenes, Formby regular Ronald Neame lensed the fun a few years before turning to directing. (He went on to helm classics such as The Poseidon Adventure and The Odessa File).
Writer/director Anthony Kimmins keeps the whole thing ticking over, and while It's in the Air goes nowhere fast, it matters little. It's as light and harmless as an assault with a helium balloon, and aviation enthusiasts will drool over the biplanes.
At 87 mins it's just the right length, and looks pretty good considering the age. Oh, and there's an adorable dog who will melt the coldest heart. What more do you need for a great family film?
It's in the Air is released on Blu-ray by Network, £11.50