24 Hours in Seven Dials, London – Travel Review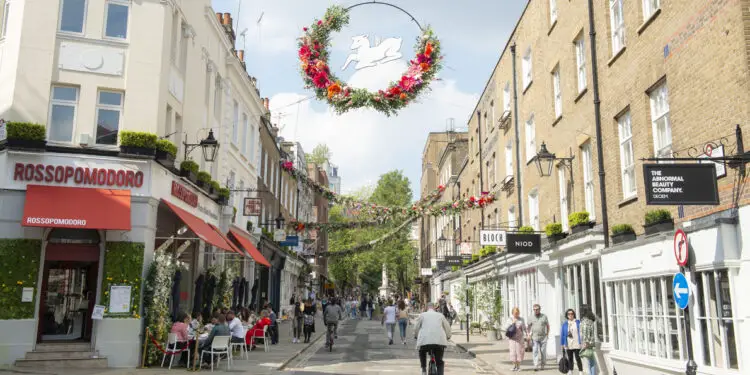 By @Roger Crow
If I had to choose the perfect location for a quick stay, it would be surrounded by theatres, cinemas, good coffee outlets and ideally one of the world's greatest collectibles shops. And all within walking distance.
So when I set up base at Radisson Blu Edwardian in London's Seven Dials it turns out to be all that and more.
It's a 10-minute walk from Trafalgar Square, or if you're coming from King's Cross, jump on the Tube to Covent Garden or Tottenham Court Road and follow your phone map. (I do not miss the days of my 'London A to Z' when the location was always buried in the spine of the page).
"Wonderfully bold"
Head for the iconic Sundial Pillar, the hub of the area, and you'll see the Union Jack flags flapping in the breeze. Check-in is smooth and efficient. Truth is I checked in online while I was in Yorkshire, so when I arrived I collected my keys; told front desk what time I wanted breakfast, and then found my room on the seventh floor.
Once over the threshold it's a beautifully elegant space with all the bits and bobs you need for a great stay. The 'George Michael step' as I dub it (Gotta get up to get down) is an odd distraction before you enter, but the rest of the room is a joy. There's a spacious bathroom with shower that takes a while to adjust to, and a loo, which really needed a soft-close seat, because hey, it's 2021, and even I have one.
The light-up showbiz mirror reflects the fact I'm in the heart of the West End. Or at least a major organ of it. Oh, and there's a wonderfully bold Union Jack fridge. Talk about Cool Britannia.
Naturally there's a coffee maker, one of those posh ones advertised by Hollywood royalty which looks super elegant, but I Google an instructions manual to see where the espresso pod goes. It's one of those statements that says: "We may be expensive, but we're also enigmatic, so we're not going to emboss an arrow on the SLIDING panel which accepts the pods. We're going to assume you knew that because you're as smart as George Clooney."
"Speed and efficiency"
While enjoying a cuppa, I take the weight off and adjust to hotel life again.
As hostelries go, this is terrific. Even the air con which malfunctioned an hour after check-in was fixed while I went for a potter around the surrounding area. When I returned there was no trace there had been a problem. All hotels have the odd glitch, but the speed and efficiency with which they are fixed is one of the strengths of a great establishment.
There's a flat screen TV as standard, and Covid measures are paramount, so the remote is in a plastic bag, as are all the coffee and tea cups. Strangely no USB ports that I could see, so best to have plugs with you.
My London trip, the first in 21 months, is a little like that espresso machine. It takes a while to figure out where you slot in, but once acclimatised to the brave new world, you're rewarded with a rush of "life caffeine". The stuff that reminds you that there is more to our waking hours than just earning a wage.
"Small coincidences"
Dinner is pizza at 'Homeslice', part of Neal's Yard, a few minutes walk from my temporary front door. You could order a whole pizza if peckish, but two slices is perfect as I soak up the alfresco ambience. My gaze keeps returning to that blue plaque on the wall. In 2019 I mocked up a similar one for Eric Idle, not that he asked for it. I took snapshots of it by the postbox where he used to send mail when he lived in the Midlands in 1962. Eric thanked me on social media for doing so; it even made him laugh.
I also smile as I regard the official plaque in honour of "Monty Python, film maker, lived here, 1976 – 1987." It was Terry Gilliam's old animation and editing area where some of my favourite moments were crafted. Life is full of small coincidences.
Anyway, the mushroom with sweet soy glaze pizza, is excellent, and the margherita also goes down nicely, especially with a margarita. Cayenne pepper around the rim? Well that's a new one on me, but it works a treat.
As it's Monday, many theatres are 'dark', so alternative entertainment is called for.
"Super comfortable"
I head to Shaftesbury Avenue and enjoy the wonder of Donnie Darko on the big screen. I'm gobsmacked by the cheap price (around £8).
Obviously London is rather different these days. Yes, it's still busy with tourists, but it's like the rest of the world: most of us joined some masked vigilante squad in the hope of fighting the same invisible enemy. Everywhere you go are those ubiquitous QR codes for checking in, and occasionally checking out the menu. (Paper versions are frowned on in many places because of the fear of you know what).
Following a super comfortable night, breakfast at the on-site Monmouth Kitchen restaurant next morning is a joy. Waiters Mario and Tiago ensure I have everything I need, from orange juice and coffee to yoghurt, toast and a great full English.
It sets me up for the day, or at least until lunchtime. First I visit a few of the 95 shops in the Seven Dials area, including the Nappa Dori leather goods company, which makes beautifully crafted bags, stationery and other attractive offerings such as wooden staplers. You can even get a cracking Masala Chai made behind the counter and served in an earthenware pot.
"Great gallery"
Nice to see they also sell DIY candle kits, which are great fun and rather therapeutic. I could, er wax lyrical about why, but that's another story for another time.
Near my hotel is L'Estrange clothes company, which is all about the simplicity of a classic wardrobe. Music to my ears because I don't want to waste time thinking about 'What goes with what and in what season'. I just want a classic set of togs, a bit like Jeff Goldblum's scientist character in The Fly, but obviously without the icky post-metamorphosis scenes. They also do mail order if you can't make it to the Smoke.
Thanks to St John Bakery back at Neal's Yard, I grab a cracking croissant and coffee before heading to The Art of Banksy Exhibition on Earlham Street. There I soak up the collected offerings, screenprints and more of the urban graffiti legend. Check your bags into the cloakroom and navigate round the block to get them back after you've seen the show, but it's well worth it. I could explain how Banksy is the welcome antidote to the onslaught of empty commercialism that assaults us every day, but chances are you knew that anyway. Like theatre, and cool shops, I love a great gallery when I'm on a flying visit, and this ticks that box admirably.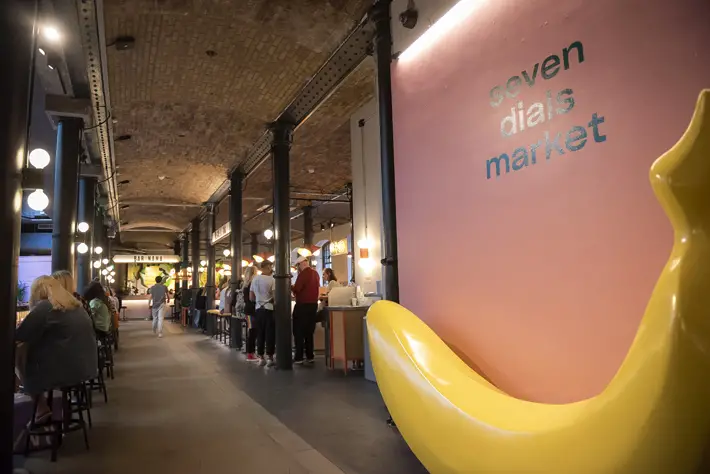 "Delicious mix"
Lunch at the indoor Seven Dials Market is also a joy, not least because of a guided tour of the local eateries, which have all been nurtured from concept to final product. It's encouraging to see so much positivity in the area that once made its fortune from bananas. There's even a huge fruity model as a reminder.
Sam at 'Bad Boy Pizza' preps me a terrific deep-fried burrata – a cheesy, saucy snack, while Shivani at the neighbouring 'Smoke and Bones' crafts an equally delicious mix of potato tots, spicy meat with marrowbone, beef and all the trimmings. The whole eating area has that liquid nitrogen-cool appeal of street food chic, and together with a local beer and finished off with a phenomenal doughnut, I'm in Cheshire Cat mode throughout.
Twenty four hours in Seven Dials isn't a huge amount of time, but given the calibre of goodies on the doorstep, it's worth paying extra to stay in the area. Like that Union Jack fridge in my temporary home, it's got such a chilled vibe, and everything is so handy that I can't wait to return and try out what I missed, such as the Donmar, where Sam Mendes honed his skills before helming classics such as Skyfall.
Next time I'll need to bring a bigger suitcase to carry even more glorious merch back to Yorkshire.
To learn more about Seven Dials, visit sevendials.co.uk or check our their Instagram @7dialslondon