Black Widow (2021) – Film Review
Director: Cate Shortland
Cast: Scarlett Johansson, Florence Pugh, Rachel Weisz
Certificate: 12A
By @Roger Crow
Just when I thought I couldn't love Scarlett Johansson more, there's a scene in Black Widow where she recites lines from Moonraker. I can only assume because director Cate Shortland was born two days before me, it's a generational thing, or that she has very good taste.
Either way, my grin gets even broader. And things keep improving throughout my trip to one of York's shiniest new cinemas.
I'm sat in a proper mainstream multiplex for the first time since the spring of 2020, and it's like a little piece of heaven. It's not just the new car smell I've missed or the popcorn in the foyer, but the full-on adverts for pending films. Those super comfy reclining seats are a definite bonus too.
And then there's the film itself, the movie I've been waiting more than a decade for.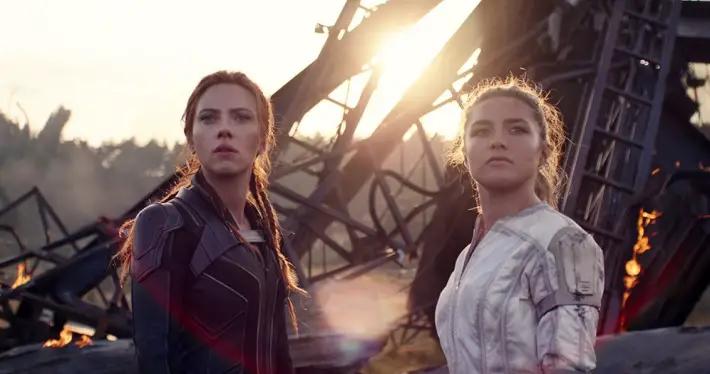 "Sisterly bonding"
When Scarlett made her debut in 2010's Iron Man 2, she was one of the best things in a very troubled movie. Aside from being the sort of personal assistant you'd expect for Tony Stark (super smart and incredibly alluring), her Black Widow alter ego was everything fans of the comics wanted. A kick-ass heroine with a deadpan sense of humour.
Of course before her standalone movie could be made there was the matter of that Infinity War to get out of the way. And if you've seen Avengers: Endgame, you'll know things didn't end too well for Natasha Romanoff. So, given that we know her outcome, how good could her solo movie be? Well, surprisingly, the answer is very good.
We open with scenes of sisterly bonding as a blue-haired young Natasha and her younger blonde sibling Yelena play like a couple of everyday kids. But it soon transpires that their parents (David Harbour and Rachel Weisz) are fugitives, and we're treated to one of those edge-of-the-seat action scenes with bangs, crashes and feats of daring that remind us why the big screen is so worth shelling out a few quid for.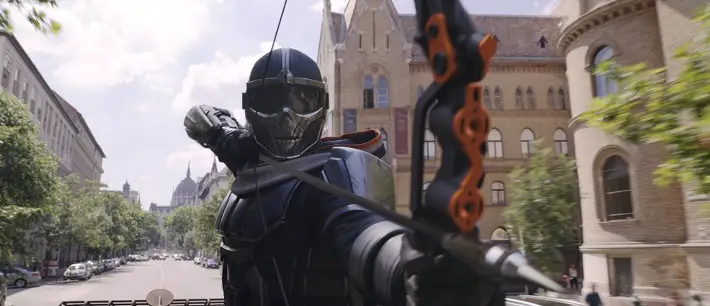 "Dynamic"
The head bad guy, Dreykov, is played Ray Winstone with all the menace of an EastEnd gangster bearing a grudge against humanity. It might be a big budget comic book movie, but Ray is on top form here as the fearsome antagonist. The grown-up Natasha and Yelena, superbly portrayed by Florence Pugh, with a hint of Killing Eve's Villanelle, are the backbone of the movie. Their bickering sibling relationship is screen gold, not least because the younger sister sends up Natasha's hero pose landing. It's meta funny, and helps alleviate the tension when things get rather dark. And there are times Black Widow alludes to some extreme practices, fleshing out a storyline from years ago.
The fact this exposition takes place after one of the best prison breakout scenes of recent years is all the more surprising.
There's not a weak link in the acting chain, with OT Fagbenle (so good in one of the best Dr Who eps) also on top form as Natasha's fixer, Mason, the guy who obtains heavy transport when needed. A 'Q' to Romanoff's Bond if you like. And while Natasha's broken family dynamic plays like scenes from The Incredibles (Harbour squeezing into his superhero suit is pure Mr Incredible), it's still great entertainment.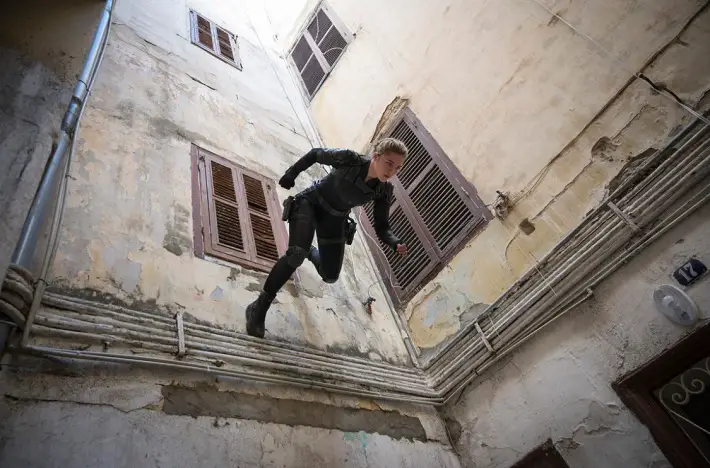 "Glorious score"
Whether by accident or design, there's another nod to Moonraker in that stunning free-fall finale, which is best seen on the biggest screen possible. (I saw five minutes in Imax at the same Cineworld, the second biggest in the UK apparently, so I won't need much persuading to watch the whole thing again in that format).
Lorne Balfe's score is everything you want from a high octane blockbuster, and the effects provided by thousands of technicians are pretty special. I was in a trance-like state watching those closing titles as that glorious score played out. Yes, it had been that long since I'd seen a great big screen blockbuster that even end credits were a treat.
My fear was that Black Widow would be as dull as Red Sparrow, which covers similar ground, without the superheroes, but it's far better than I could have hoped for.
If you love great action cinema with a solid cast and thrilling set pieces, then mask up, shell out and enjoy. It's worth every penny.
Black Widow is in cinemas now