Hell Night (1981) – Film Review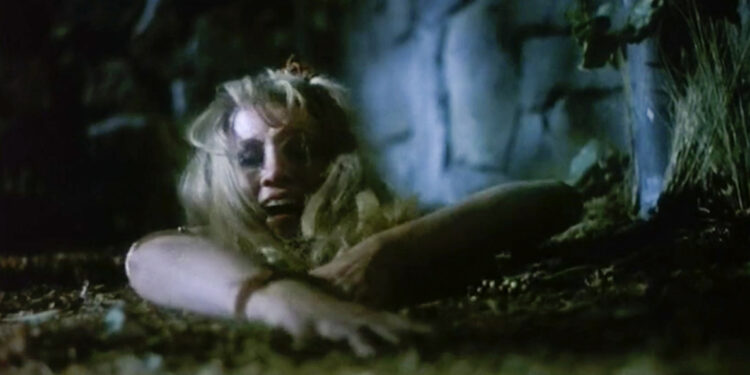 Director: Tom DeSimone
Cast: Linda Blair, Vincent Van Patten, Peter Barton
Certificate: 15
By Sarah Morgan
Think of Linda Blair and what springs to mind? Probably her (literally) head-turning antics in The Exorcist.
The role of Regan in William Friedkin's seminal horror movie has cast a huge shadow on her career. In the years since, she's appeared in many chillers, including the much-maligned Exorcist II: The Heretic.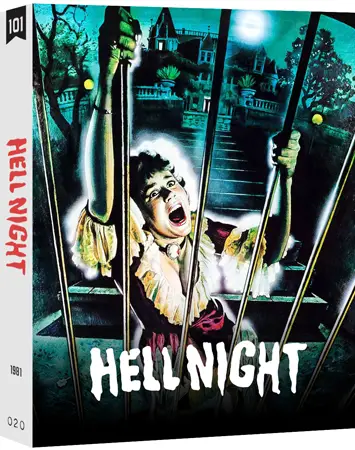 None of them have proved as successful as the first film in the franchise, although several now have cult followings, including Hell Night, which is receiving a Blu-ray release. Perhaps its popularity is down, at least in part, to the fact that it mixes horror with another staple of American teen movies – the frat house.
"Gory turn"
The tale begins at a party hosted by Peter Bennett (Kevin Brophy), the supposedly smooth-talking (his chat-up lines are ludicrously cheesy but, somehow, seem to work) leader of the Alpha Sigma Rho fraternity. The bash acts as a prelude to the evening's main event – the initiation of four new members, who must prove their loyalty by spending a night in the nearby Garth Manor.
The gothic mansion was abandoned 12 years ago by the Garth family after its patriarch murdered his wife and children – although rumour has it that one was left alive.
As the night progresses, smart and intelligent Marti (Blair), handsome rich kid Jeff (Peter Barton), surfer dude Seth (Vincent Van Patten) and party girl Denise (Suki Goodwin) are terrorised by a series of stunts pulled off by Bennett and his pals.
However, matters take a nasty, violent and gory turn when the remaining member of the Garth clan reappears – and he isn't happy about finding newcomers in his house…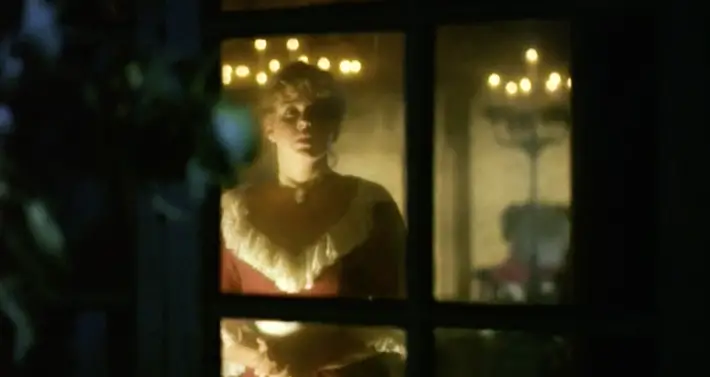 "Thrills and spills"
There isn't really anything groundbreaking about Hell Night – we've seen it all before in countless other slasher pics. Nevertheless, it's perhaps better made than most productions of its kind; it's certainly worth noting some nice atmospheric flourishes from cinematographer Mac Ahlberg and director Tom DeSimone, who cut his teeth making adult movies in the early 1970s before moving into the mainstream.
Special mention should be made of Kimberly Crest, a Californian mansion where much of the exterior scenes were shot. If it looks familiar, you may have seen Fleetwood Mac's 'Big Love' video, which was also filmed there.
All-in-all, Hell Night isn't a masterpiece, but there are enough thrills and spills to keep horror fans happy – not to mention an astounding number of special features detailing the cast and crews' careers.
Special Features:
• Transfer from a 4K scan of the best surviving archival 35mm film print with minor SD inserts to replace missing footage
• Limited edition booklet: Includes The Scare Blair Bunch: Hell Night, Linda Blair and the Rise of the American Sorority Slasher by Andrew Graves and Haunted Houses on Film by Barry Forshaw
• Linda Blair: The Beauty of Horror
• Hell Nights with Tom DeSimone
• Peter Barton: Facing Fear
• Producing Hell with Bruce Cohn Curtis
• Writing Hell with Randy Feldman
• Vincent Van Patten and Suki Goodwin in conversation
• Kevin Brophy and Jenny Neumann in conversation
• Gothic Design in Hell Night
• Anatomy of the Death Scenes
• On Location at Kimberly Crest
• Theatrical Trailer
• TV Spots
• Radio Spot
• Photo Gallery
Hell Night is released on Blu-ray by 101 Films, £16.99