The Proposition (2005) – Film Review
Director: John Hillcoat
Cast: Ray Winstone, Guy Pearce, Emily Watson
Certificate: 18
By Sarah Morgan
According to Nick Cave, when he rang Guy Pearce to see if he'd be interested in starring in an Australia-set western he'd written, the former Neighbours actor thought it was a prank.
Well, you would, wouldn't you?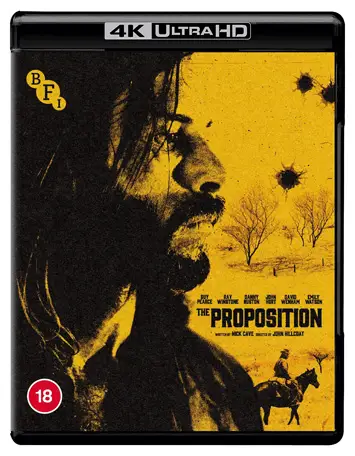 Thankfully, Cave must have convinced him it wasn't, because Pearce delivers arguably the finest performance of his career in a stylish and offbeat take on the genre.
"Hunt down"
There is, of course, a long history of musicians appearing in movies, from Elvis Presley to David Bowie and beyond. But few have penned screenplays. However, Cave did so on the urging of his friend, director John Hillcoat, with whom he'd previously worked on the film Ghosts… of the Civil Dead in 1988.
Australia has also been the setting for several westerns over the decades, the vast open spaces of the Outback providing an alternative to the American West. Dubbed meat pie westerns by critics, few, if any, have been as grisly or gripping as Cave and Hillcoat's collaboration.
Pearce plays Charlie Burns, an Irish immigrant who has settled in 1880s Australia with his brothers Mikey and Arthur. They're part of a bloodthirsty gang led by the latter, the unhinged eldest sibling.
When Mikey and Charlie are captured by the police, their chief, Captain Stanley, offers Charlie the proposition of the title – to hunt down and kill Arthur in return for his and Mikey's freedom. If he chooses not to, Mikey will be executed.
What takes place is a nightmarish journey through wild country, in which we meet people who are as rough and untamed as the landscape they call home.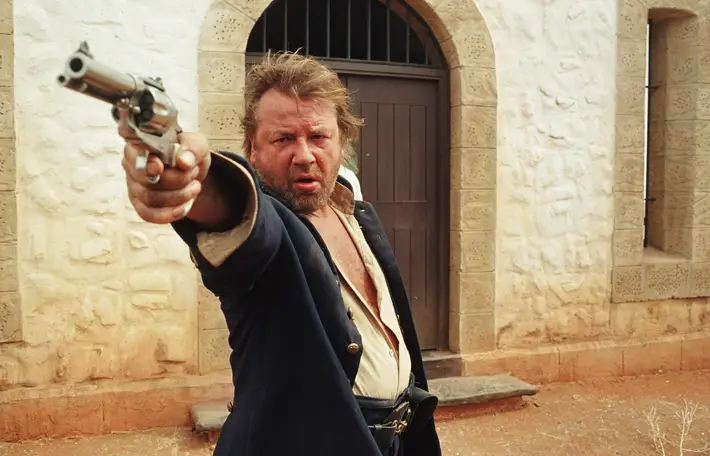 "Stunning and terrifying"
Cave's characters are well-drawn and disturbing, brought to life by a fantastic cast. John Hurt pops up as an assassin who is also on Arthur's trail, the demented Arthur is played with a quiet menace by Danny Huston, and Emily Watson portrays Stanley's gentle, nurturing wife Martha.
But perhaps the biggest surprise is Ray Winstone as Stanley. He's clearly a man brutalised by his surroundings and the job he has been hired to do – namely bring law and order to a place that is resisting civilisation.
Winstone captures the character's sensitive side in his dealings with his beloved wife, while also revealing his more brutal side at work; we're perhaps not used to seeing the actor be so nuanced.
As well as gleaning great work from his actors, Hillcoat captures the landscape in all its glory as well as showing its bleak side – it is a place both stunning and terrifying, much like the people who inhabit it.
Cave and Hillcoat reteamed for the 2012 crime drama Lawless, but The Proposition remains their masterpiece – and it's hard to imagine anything surpassing it.
Extras:
• 2-disc set limited 5,000 copies
• Newly remastered and presented in High Definition
• Audio commentary with John Hillcoat and Nick Cave (2006)
• Newly recorded audio commentary by Alexandra Heller-Nicholas and Josh Nelson
• John Hillcoat and Nick Cave in Conversation (2021, 53 mins): a newly recorded conversation between director John Hillcoat and screenwriter Nick Cave as they look back on The Proposition
• The Making of The Proposition (2005, 27 mins): behind-the-scenes documentary
• Inside The Proposition (2005, 43 mins): a series of featurettes looking at the film's pre-production
• Shooting The Proposition (2005, 24 mins): featurettes on the production and the challenges faced during filming
• B-roll footage (2005, 20 mins): behind-the-scenes footage shot during the filming of The Proposition
• Interview with Guy Pearce (2006, 14 mins): the actor on his approach to the role of Charlie Burns
• Interview with Danny Huston (2006, 8 mins): the actor recalls his work on the film
• Stills galleries
• Original theatrical and teaser trailers
• 2022 trailer
• Eighty-page book featuring new writing and recollections by John Hillcoat, Cat Villiers and Leah Purcell, plus essays by Andrew Graves, composer Warren Ellis, Professor Catriona Elder and Dr Stephen Morgan
• Double-sided poster featuring new artwork by Matt Needle and the original UK poster
The Proposition is released on 4K Ultra HD (UHD & Blu-ray) by the BFI, £29.99