The Overlanders (1946) – Film Review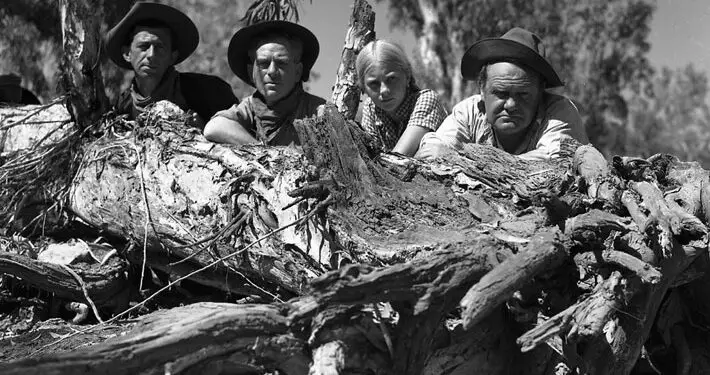 Director: Harry Watt
Cast: Chips Rafferty, John Nugent Hayward, Daphne Campbell
Certificate: U
By Sarah Morgan
Ever heard of a meat pie western? No, me neither – until I started researching The Overlanders. Spaghetti westerns? I'm all over those, especially if they star a certain Clinton Eastwood Jr. But meat pie? They sound like they might be Yorkshire-based – come to think of it, I'd love to see a western set in God's own county – but apparently they're a term given to Australian entries in the genre.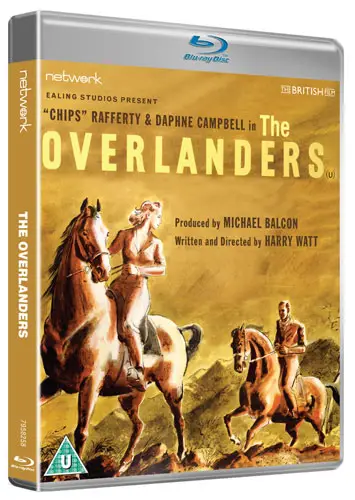 They can be called kangaroo westerns too, apparently, but I think I prefer meat pie, and it does seem more fitting for The Overlanders – I can't remember seeing a single joey throughout the film, but there are plenty of cows being driven across the country to be turned into beef for hungry city-dwellers.
"Pitfalls"
It's perhaps one of the most unusual productions from Ealing, the studio now synonymous with quirky 1950s British comedies. But, shortly after the Second World War, its head honcho, Michael Balcon, decided it would be a good idea to shoot Down Under after the Australian government voiced fears that its nation hadn't been properly recognised for the role it played during the conflict.
Balcon sent writer-director Harry Watt to Australia to find a possible subject, and he hit on this one.
Set during 1942, just as the Japanese army seems on the verge of invasion, cattle-drover (or cowboy, if you prefer) Dan McAlpine is one of several men told to evacuate the Northern Territories. But Dan fears for the future of the herd in his care, and rather than slaughtering them, and therefore wasting a potentially valuable source of meat, he proposes driving them thousands of miles across difficult terrain.
Joining him are two Aboriginal stockmen, a family they meet en route and a couple of fellow drovers. But it's a tough journey, with pitfalls such as stampedes, crocodiles, heat and drought standing in their way of success.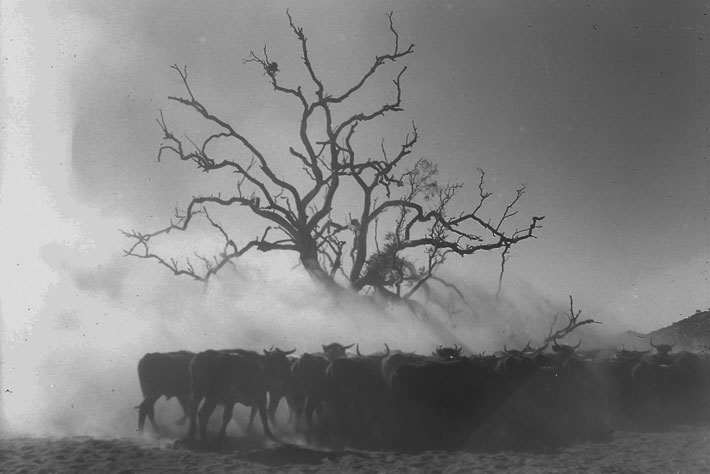 "Hugely entertaining"
It's a beautifully shot movie. In fact, there's a stills gallery included on the disc, and you would swear, if you didn't know differently, that the pictures within it had been taken during the filming of a John Ford western, rather than from a movie made by a director who's been pretty much forgotten.
Chips Rafferty, who plays Dan, went on to become one of Australia's best known and most beloved actors, but the rest of the cast is made up of unknowns and non-thespians. Nevertheless, they do the production proud.
The Overlanders is a curiosity piece, but it's also a hugely entertaining time capsule. And after watching it, you'll always remember what a meat pie western is.
Extras:
• Extensive image gallery
The Overlanders is released on Blu-ray by Network, £17.99