Crowne Plaza London, Albert Embankment – Hotel Review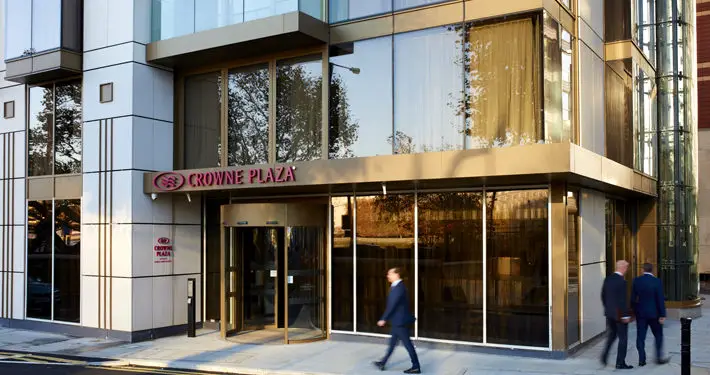 By @Roger Crow
When I've spent most of the day travelling, all I want is to kick my shoes off, have a decent cuppa and crash out in front of a TV. After a week of trekking around Spain, soaking up the sun and culture, what better way to round off a big wedding anniversary than in a spot of London luxury?
My partner and I have just flown back from Seville; spent two hours on a coach from Stansted, and after enduring a crowded Tube at rush hour, we made our way to an establishment I've been looking forward to all week: the Crowne Plaza London, Albert Embankment.
A short walk from the back of MI5 and with a glorious view of Big Ben, I'm glad to escape from the hustle and bustle of commuters and into the wondrous bubble of hotel life. When it welcomed its first customers in May 2018, this was the first luxury hotel to open in the Albert Embankment area.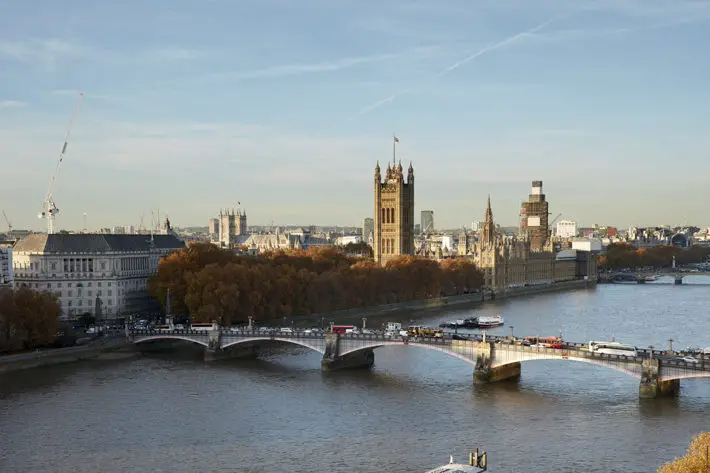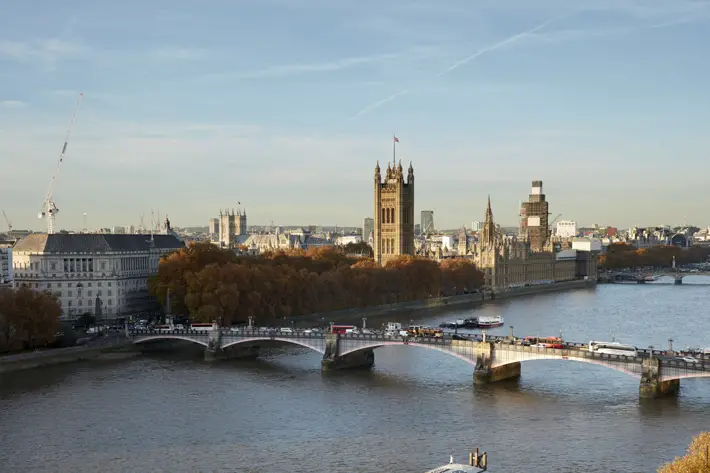 It's very handy for those who may need to visit the nearby American Embassy, to renew travel visas for example, or like us, weary travellers who are in town for a few days, or hours.
Check-in is fast and efficient, and within no time we're whisked via lift to the 12th floor, where our stylish room awaits. And it's a view to die for with Parliament on the horizon and the Thames like a visual magnet.
Our home for 16 hours has everything we hoped for, from posh coffee-maker; kettle; assorted teas and one of those beds you sink into. There's obviously a mini bar too, and a welcome array of cheeses and fruits.
The colour scheme mixes muted tones with maroon and rust hues. Very stylish. The 40-inch plasma TV is stunning, and the WiFi will have you online in no time. Should you have trouble sleeping, a pillow spray helps ease that problem. It's always the little touches that impress me most.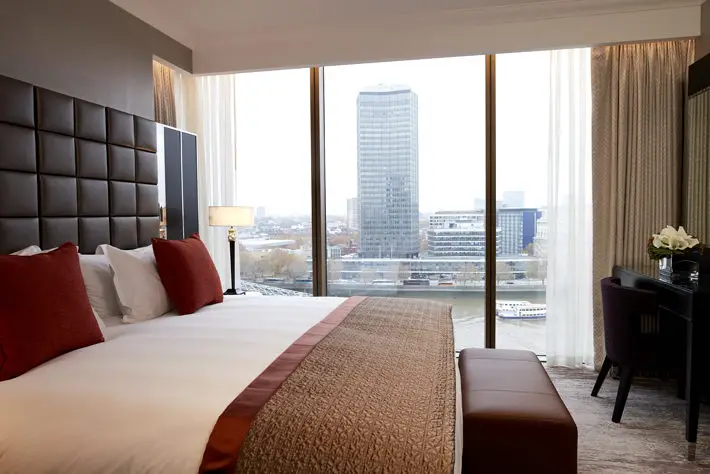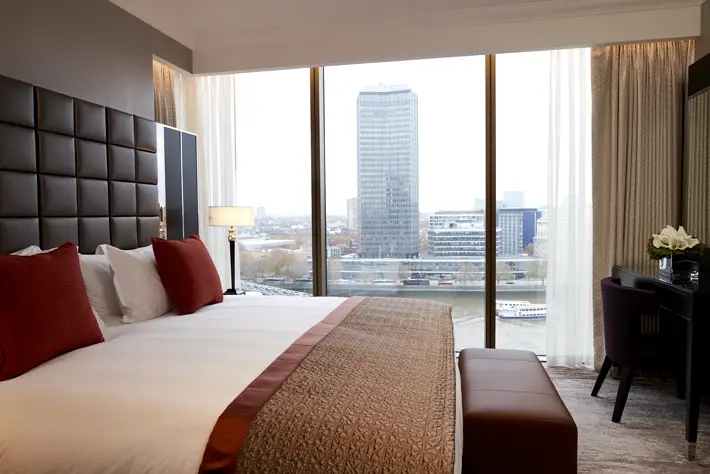 "Spotless"
There's enough time to soak up that view, enjoy a coffee and revel in the glorious shower before dinner. Actually that bathroom is far too good to skip over. It's spotless, and contains an actual bath (not always a given in many hotels), while the easy-to-use shower contains the overhead waterfall facility and the standard shower head. There's none of that faffing around with heat settings ranging from too hot to too cold in a heartbeat. It's so simple I wish more hotel showers were this good.
Night lights ensure you can nip to the loo in your (provided) fluffy robe and slippers without waking your partner. And then there's the toilet. Not something I've spent a lot of time assessing in any hotel review over the years. This one looks like it has beamed in from Captain Kirk's quarters with a range of settings, including a heated-seat mode. This is one of the greatest hotel loos ever. I'll not go into too many details, but let's just say it will leave any resident flush with admiration. (Sorry/not sorry).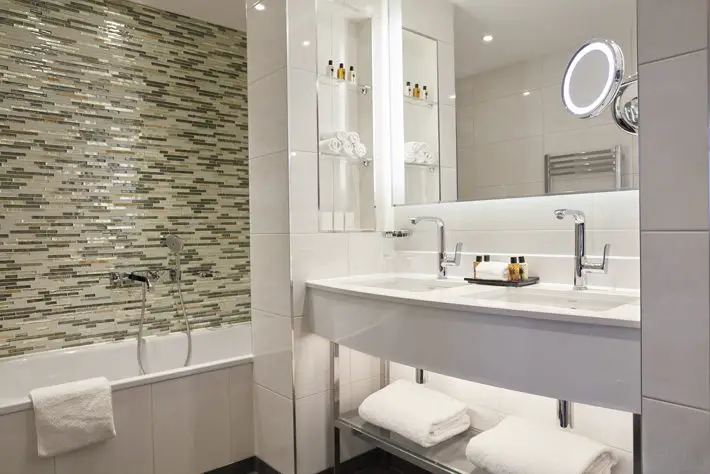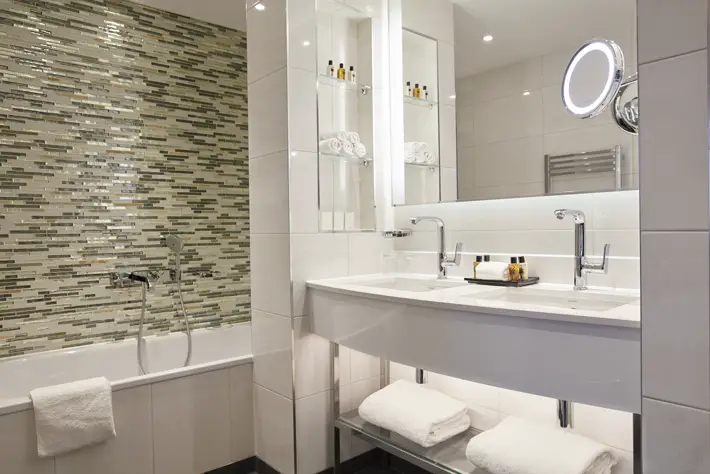 So, having freshened up, and donned something more presentable, it's time for dinner at POTUS. The hotel's impressive restaurant prides itself on quality food and service, and there's no complaints from us as we settle in.
Our host is charming and knows the menu inside out, though as I've already had a sneak peek at it online, the clam chowder, and green Thai curry with chicken is a must for me. And when it arrives the food does not disappoint. The chowder is one of the best I've tasted, and the bread and butter goes down a treat. The main is equally moreish. Beautifully tender chicken in a sauce that's not too spicy; excellent rice, and sides of sweet potato fries and baby carrots ensure I'm in culinary heaven.
Rachel's goat's cheese starter with carrots also goes down very well, while beer-battered hake with chunky chips and peas is an ideal main. "The best fish and chips I've probably ever had," is the verdict, and having tried a sample, I find it hard to disagree.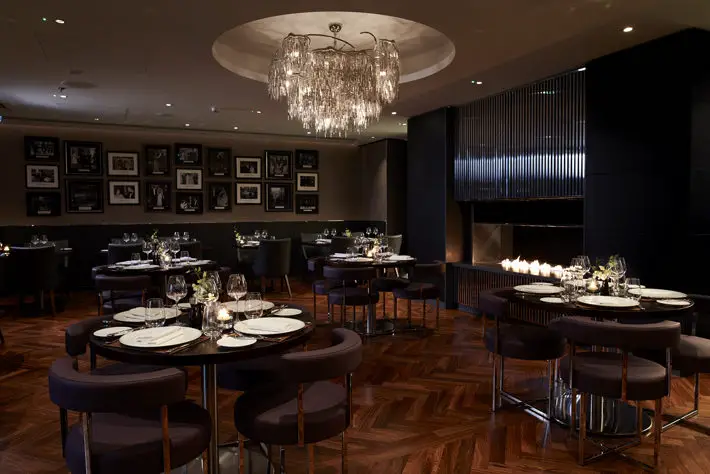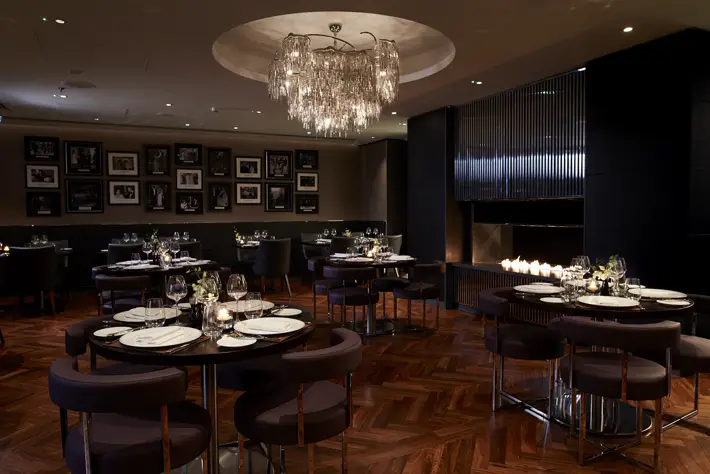 "Very tasteful"
We have a great couple of hours chatting to our host about food, wine and my "tactical portion control", aka leaving enough room for dessert. Talking of which, Rachel's banoffee bomb is a masterpiece of mouthwatering theatre, disintegrating before our eyes, in more ways than one.
My tiramisu (in the shape of a cocoa-dusted coffee bean) with a sphere of vanilla ice cream and orange gel is a nice twist on the old Italian staple. It's not what you'd expect from the usual dessert, and is beautifully presented, as are all the dishes.
The wine is also excellent, from the Viu 1, a full bodied Malbec 2013 palate-tickler to the recommended 2018 California white Zinfandel, Another Story. "Hugely juicy!" raves one review. And I can see why.
The good news is the prices aren't so steep you need oxygen. (I picked up one of the hotel's reward cards to get a percentage off rooms and food next time I'm passing. Normally I don't bother with such things, but this is just the sort of place I'd take friends when we're in town).
It could have been a formal dinner in an elegant dining room, but it's so much more. The decor is very tasteful, and as it's an American-themed eatery, there's little wonder the portraits of US presidents on one wall are a focal point. Defeated by a little too much food, we retire for the evening.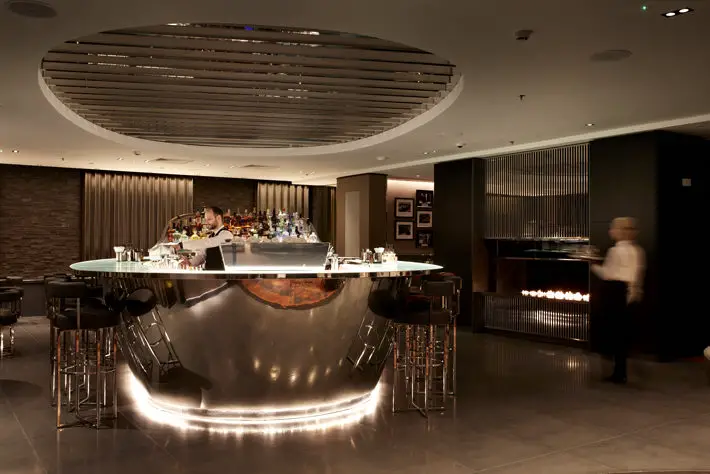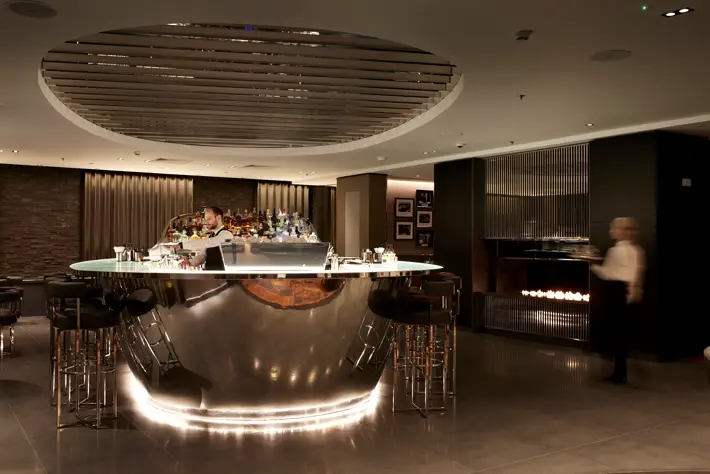 After a wonderful night's sleep in our luxurious king-sized bed, I soak up that incredible dawn view of the Thames before we enjoy breakfast in one of the business-like club rooms. Cereal, apple juice, cappuccino and salmon croissants set us up for the day, and the POTUS theme continues with caricatures of US presidents dominating one wall.
Once packed, check-out proves as fast and efficient as when we arrived. As we'd never explored Albert Embankment, it proves a great experience staying at one of its finest, and newest hotels.
London hostelries are forever fascinating, whether in the heart of the West End like our stay a week earlier, or here in a far 'quieter' neck of the woods. (If any part of the capital can be called quiet).
"London is a bad habit one hates to lose," wrote one anonymous scribe. I'm constantly amazed at how that "bad habit" is continuously fuelled by hotels and sights which linger in the heart long after I close my own front door.
This jewel in London's Crowne (yes, with an e) has thankfully done little to help my habit. I can't wait to return.
Crowne Plaza London, Albert Embankment, Lambeth, London SE1 7SP
Rooms start from £175 per night
020 3146 0370
crowneplazalondonalbertembankment.co.uk