Monty Python's Flying Circus, Series 3 – Review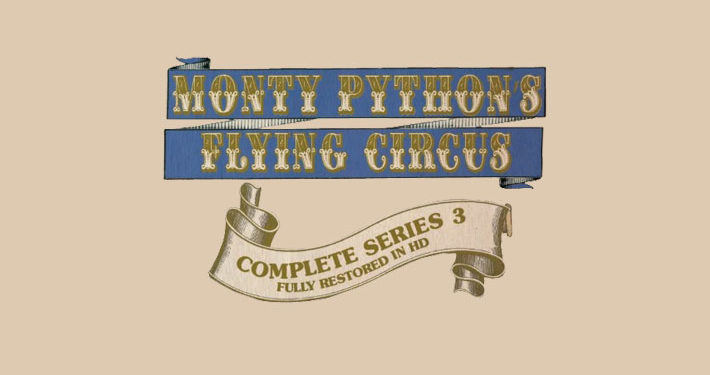 By James Robinson
By the time the third series of Monty Python's Flying Circus was first broadcast in 1972 the troupe were well on their way to becoming, if not household names, then certainly cult heroes. The show was no longer hidden away in the late night opt-out slot of its initial run, instead finding itself in the more accessible 10:15pm slot on BBC1 (with occasional repeats at the family-friendly time of 8:30).
Yet despite heading further into the mainstream, the show did not lose its anarchic spirit. If anything this is the most subversive series of Python's initial run, the boundaries of good taste frequently being stretched alongside the conventions of the era's television.
"Insane and ambitious"
This brought with it increasing battles with the BBC censor, with some cuts – particularly a hilariously vulgar punch-line in the famous Summarise Proust sketch – becoming notorious amongst fans during the following decades. Fortunately this new Blu-ray set, in common with its predecessors, restores every item to how nature intended, delivered with pin-sharp picture quality and the most generous helping of out-takes and previously unseen material yet.
This is arguably the strongest of the Python team's original run. There is less reliance on pop culture parodies and a greater emphasis on surrealism: this is the most antic and bizarre series by far, featuring some of Terry Gilliam's most insane and ambitious animations, including one memorable sequence in which two detectives search for a criminal's head inside his own body.
A greater percentage of sketches are on film too, lending the series a less stylistically dated look than its predecessors. In this way Series 3 is arguably a good place for newbies to get into the Python canon (if they can overlook the team's shaggy haircuts and very 1970s suits).
"Bizarre adventures"
That said, the series' tendency to be wilder and more daring does also introduce, for the first time, certain elements that don't quite stand the test of time: there's a lot more gratuitous nudity than previously, and the team do sometimes, regrettably, fall back on crude stereotypes for a cheap laugh.
Nevertheless, this run is packed with iconic sketches, including John Cleese's frustrating encounter at a Cheese Shop and the fantastic take-down of pompous travel reporter Alan Whicker.
One episode, The Cycling Tour, breaks with the show's usual format and follows the bizarre adventures of Michael Palin's hapless tourist as he crashes his bike around the Cornwall countryside, a drive towards a narrative structure would continue into the fourth series and the Pythons' subsequent forays into film, not to mention Palin's solo show Ripping Yarns.
'Monty Python's Flying Circus – The Complete Series 3' is out on Deluxe Edition Blu-ray DigiPak (£39.99) & standard DVD (£14.99) via Network