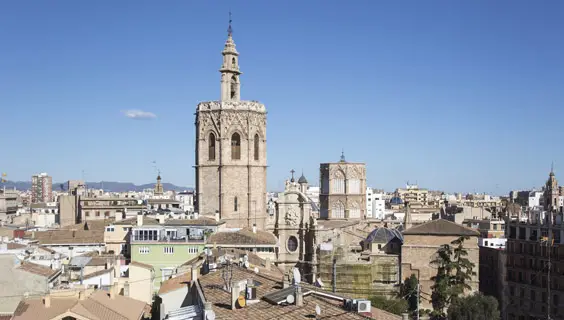 By Paul Howard
Valencia is the third largest Spanish city after Madrid and Barçelona. Perhaps it's a little overshadowed by them but, as a newbie, I found it both magnificent in appearance and confident in manner.
Arriving by air, the airport is just 9km from the heart of the old town (Ciutat Vella). If you're flying, then try to get a window seat on the plane. As the approach turns over the Mediterranean it gives a birds-eye view of the coast and the city set against a mountainous backdrop. A perfect appetiser for what's in store.
Spring and autumn are the best times to visit. Then, the colours and activities are at their peaks. Spring is when the Las Fallas fiesta brings some two-million visitors into town, with 24/7 activities and spectacular fireworks. Summer is scorching, ideal if you prefer the 4km of excellent beaches. I went just before Christmas, when temperatures were still a balmy 20°C. The Valèncianos were swaddled in their winter clothing but I found a t-shirt and a light sweater were enough, even at night.
"Mixes Catalan with a smattering of Moorish"
If you like Barça, or perhaps Rome, then I guarantee you'll fall in love with València. It's just as buzzy and exciting, but on a more manageable scale. My first week there has left me indelibly marked.
The Romans founded València as a place of retirement for soldiers. But it soon grew into a large port; historically on the silk route from the Orient, exporting vast quantities of wine, produce and industrial goods around the Med. It's dual-language too; Spanish and Valèncian, which mixes Catalan with a smattering of Moorish, reflecting an often turbulent past.
The River Túria once flowed through the heart of the city. However, after one catastrophic flood too many it was diverted around the city edge. Now the old river bed is the Jardí del Túria. It's a beguiling park and garden, a green ribbon cutting through the city and an excellent way to navigate and explore. Getting around, whether on foot or by bike, is easy. The integrated bus, tram and metro are useful for exploring beyond the confines of the old town.
"Unmissable group of neo-futurist buildings"
The coastal end of the Jardí is where you'll find the jaw-dropping Ciutat de les Arts I les Ciències, the City of Arts and Sciences. It's one of the jewels in València's crown and is now designated one of the Twelve Treasures of Spain. If you have time for only one thing, make this it.
It's an unmissable group of neo-futurist buildings. These are mostly by architect Santiago Calatrava; a local boy now of world renown. It includes a science museum, a cinema/planetarium, Opera House, gardens, restaurants and an oceanographic park, all linked by walkways, trees, pools and the bridge known locally as El Jamonero. Set against a bright azure sky, it's dazzling from any angle – a photographers' dream assignment.
But the old town also has charms aplenty. Try the Plaça del Ajuntament, (City Hall Square) at night, with its bustling boutiques and neon-lit flower stalls. Around the corner is El Corte Ingles, the destination of choice for retail therapy until late.
"A visual and atmospheric delight"
The Cathedral makes for a more peaceful visit and contains, for believers, the Holy Grail. My favourite place was the enormous Mercado Central, a focal point for bars and restaurants. The market is in Modernista style, all glass with iron flounces. Inside, explore miles of stalls selling every kind of fresh produce, including seafood, vegetables, fruit, hams and snails. There are excellent wine stalls too, plus bars and tapas.
Eating and drinking are both brilliant and inexpensive here. Spend time lingering over lunch and eat your evening meal late. For people-watching, beer and gin until 3am, try the terrace at Cafe Negrito in the Barrio di Carmen. Meanwhile, Bodega Casa Montaña is a bohemian wine bar and restaurant down by the old fishing village of El Cabanyal that has 20,000 bottles of wine in the cellar, more on tap and authentic local food. It's a visual and atmospheric delight too. Nothing seems to have changed since it opened in 1836.
As for the food, this is the home of Paella, which comes in many variations. But Valencianos don't live by rice alone. I had excellent Gazpacho Manchego with snails and rabbit, but the range of tapas, seafood, meats and cheeses offered are glorious. And do try Horchata, a delicious cold drink made from tiger nuts and a local speciality. ¡Buen provecho!
images courtesy of Visit Valencia