Eshott Hall, Northumberland – Hotel Review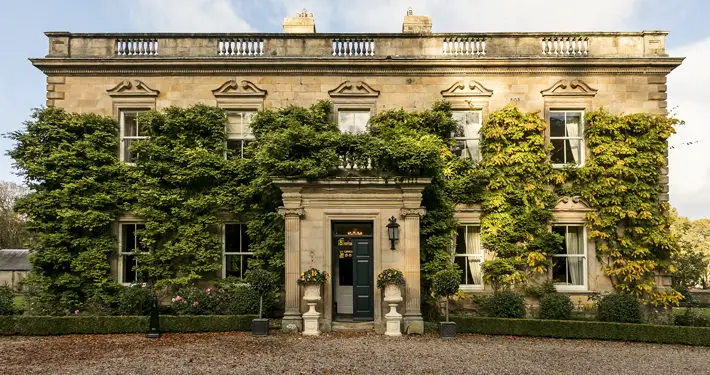 By James Robinson
With its unspoiled coastline and rugged scenery, Northumberland can lay claim to being one of the most beautiful regions of Britain. It is no wonder that the county won Tourist Destination of the Year 2017: this is the perfect location for a relaxing countryside mini-break, with plenty of picturesque towns to visit and sweeping moorland to explore.
Eshott Hall, a stately home-turned-charming country house hotel just 20 miles north of Newcastle, is the perfect choice of accommodation to add that integral touch of luxury to your visit.
Although conveniently located just off the A1, as soon as you turn onto the winding, tree-lined driveway that leads up to the hotel you feel the stresses of the urban sprawl immediately disappear behind you. Attractive woodland gives way to immaculately designed gardens and a magnificent 17th Century mansion straight out of Brideshead Revisited.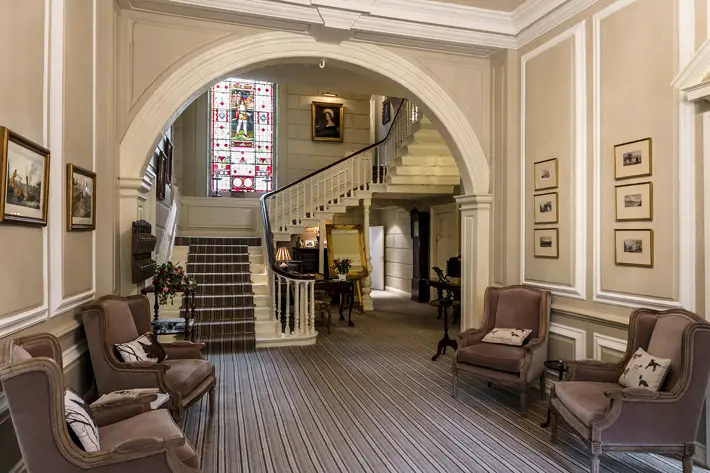 The interior of Eshott Hall maintains the old-school country house feel. The reception area is dominated by a grand staircase, overlooked by a stunning stained-glass window. The entrance hall leads into a handful of quaint rooms in which to relax, including a morning room, library/bar and two intimate dining rooms. The hotel also features a stylish ballroom, complete with private bar that would bring effortless pizzazz to any wedding or major occasion.
Our spacious room – The Italian Room – was delightfully bright and airy, with three bay windows looking out onto the hotel gardens. The dark wood furniture, intricately carved wooden bed and an ornate marble fireplace all caught the eye, but what immediately stood out was the huge roll top bath standing before the fire. Almost deep enough to dive into, it lent the room a neat touch of decadence.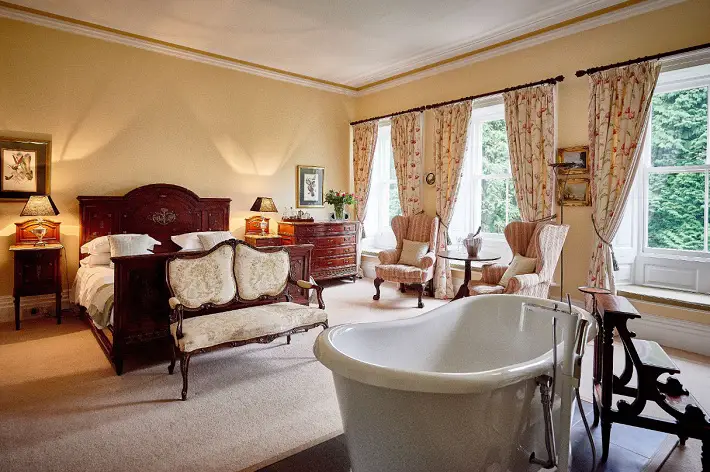 "Ripe for exploration"
The bathroom, which was decorated in chic black tiles, also featured a roomy shower and came complete with complimentary toiletries by Elemis.
Tea and coffee facilities were provided too, including a caffetiere with real ground coffee and fresh milk.
Eshott Hall's grounds are ripe for exploration. We were provided with a map of both a long and short walk to explore the hotel's environs, which include an attractive walled garden and tennis court. The trail also led us into the gorgeous village of Eshott itself.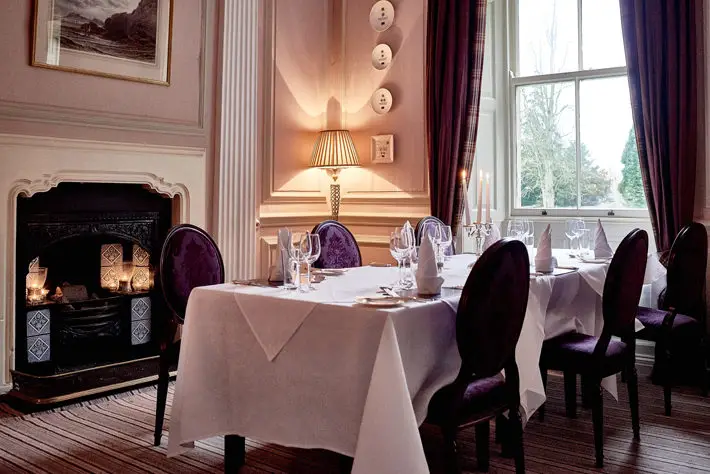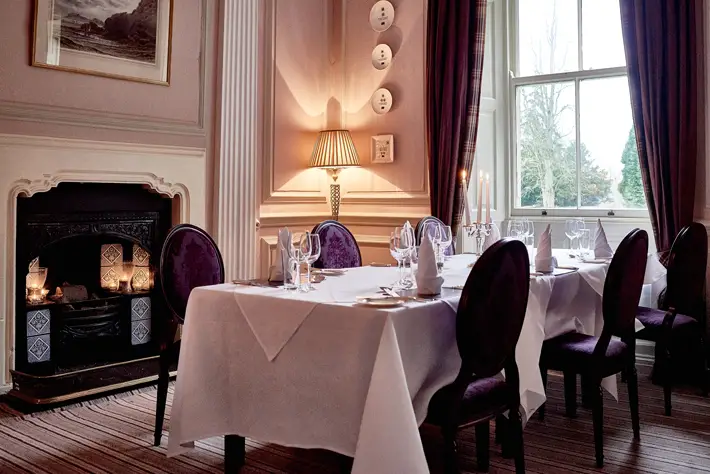 Back in time for dinner, we enjoyed a glass of wine in the deep chairs of the morning room, and a quick game of chess on the hotel's elegant glass set. I somehow managed to lose this game, perhaps distracted by the floor-to-ceiling bookshelves of the bar. Thankfully, by this time the canapés had arrived, including smoked salmon blinis and – my personal favourite – sausage & black pudding sausage rolls.
The dining rooms are cosy and understated, while the quality of the food is where Eshott Hall truly excels. The menu, by Head Chef Mark Willis and Sous Chef Frankie Shields, is sophisticated without being pretentious. I had a starter of wood pigeon followed by truffle-stuffed guinea fowl; my partner opted for battered monkfish followed by venison faggots with artichoke and a beetroot crisp. Our meals were all made from locally sourced ingredients and artfully presented in the manner of the highest quality restaurants.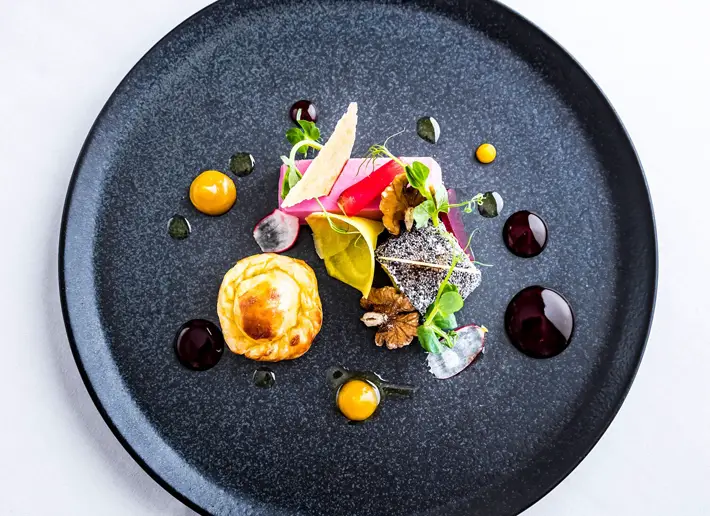 "Modern comforts"
Breakfast was of the same high standard. Alongside the buffet, piled high with cereals, fruit and pastries, the cooked options included a full English breakfast and a particularly delicious smoked salmon that paid testament to the county's renowned fishing villages.
In keeping with the hotel's luxurious but relaxed style, the staff are incredibly attentive, friendly and helpful; there is never any sense that any request would be deemed too much trouble. The hotel also provides for all modern comforts without losing its delicious Agatha Christie feel. Our room came with a discreet TV, and the hotel provides free Wi-Fi with a good strong signal throughout.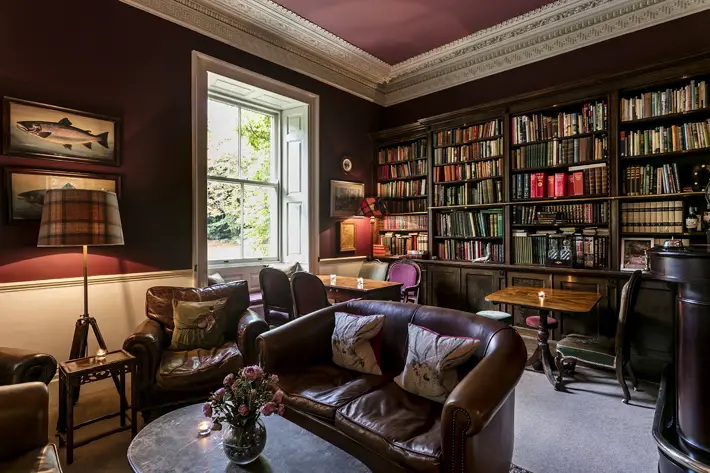 Although you could easily spend a weekend there without ever leaving the grounds, Eshott Hall is perfectly situated to explore the stunning Northumberland countryside. It is a short fifteen minute drive to the breathtaking Druridge Bay and around a 20 minute drive to the attractive market towns of Morpeth and Alnwick, home to Warkworth Castle and Alnwick Castle respectively.
For bibliophiles, Alnwick is also home to the famous Barter Books, a converted train station that is now one of the largest second-hand bookshops in Britain.
There is so much to explore in this incredible region, and Eshott Hall is a grand – in every sense of the word – venue from which to do so.
Eshott Hall, Morpeth, Northumberland, NE65 9EN
B+B from £120 (inc's full English breakfast)
Midweek DBB (includes three-course dinner, coffee and petit fours, full English breakfast) from £159 per room
01670 787454
eshotthall.co.uk