Tips on Shopping for Perfume Online
Finding your new signature scent can be a difficult task when you don't have time to head to your local shopping centre. With COVID-19 resulting in many – if not all – beauty stores being closed, you're left with little option but to go without testing the product and choosing one straight from the web instead. Nobody wants to end up splurging on a luxury perfume only to give it a spritz and realise that it isn't quite for them.
Never fear – we've put together a guide to make shopping for perfume easier than ever. Instead of rushing your choice, simply utilise our tips on shopping for perfume online to find the right choice without having to leave the comfort of your home.
Packaging makes that all important first impression
While the saying 'it's what's on the inside that counts' still rings true with perfumes, the packaging can certainly give you an idea if it suits your preferences. For example, Marc Jacobs Daisy is in an elegant, stylish box and bottle, featuring ornamental flowers. The gold, white and black theme reflects a luxurious, everyday perfume, making it a top choice for those who want something opulent but casual. You can gather a lot of information about a product from the packaging, so keep this in mind when shopping online.
Hit the right note
Perfumes are made up of a blend of different scents, which are referred to as notes. The top note is the most prominent scent and the first one you will smell – but is also the first to fade. Middle notes, on the other hand, are often referred to as the heart of the perfume while the base note is the most powerful and is the longest lasting of the three. If you love a particular scent, ensure it's the base note for maximum effect.
Choose your fragrance family
Do you prefer floral scents, or something a little more woody? Learning the terms and knowing the type of perfume you're looking for can help narrow down your search and stop you from feeling overwhelmed by the choice. There are eight main unique families of fragrance:
Woody – often described as earthy, masculine and herby with hints of spice.
Fresh – crisp, energetic and easy to wear, fresh scents are a great choice for an everyday perfume.
Floral – sweet and feminine, floral notes are a highly popular choice for many women. This includes the likes of roses and lavender.
Oriental – spicy, warm, powerful and seductive, making for the perfect evening perfume.
Fruity – just as the name suggests, this fragrance family takes inspiration from fruits such as berries, apples and peaches.
Fougere – fern-like, green and natural, including hints of geranium and bergamot.
Citrus – zesty scents with hints of tangerine, lime or lemon.
Chypre – musky, mossy and warm.
Gourmand – rich caramel, coffee and chocolate scents.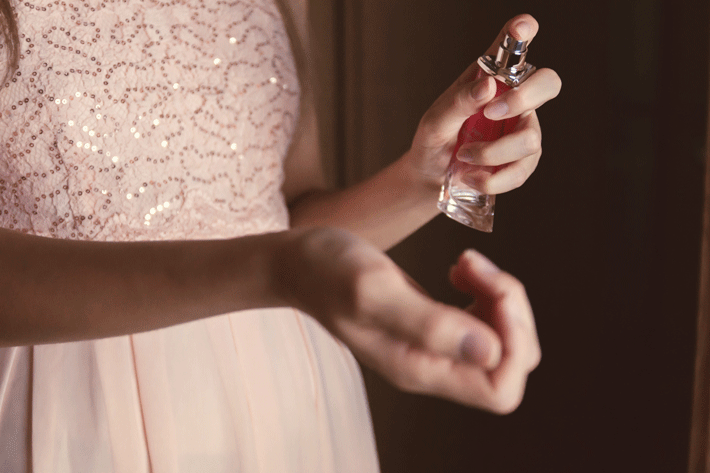 What's your style?
As well as the different types of scent, you also need to understand the different types of perfume too.
You've likely seen the below terms before when shopping for perfume, but you might not be clear as to what the difference is. It does actually have an impact as to how long your perfume lasts and the concentration of the scent itself.
Aftershave – for use after shaving and to help your skin feel refreshed however, the scent won't last as long.
Eau de Parfum – lasts an average of five to six hours on the skin, providing a rich scent.
Eau de Toilette – typically lasts about four hours, making it a great option for everyday wear.
Parfum – the most concentrated type available, this perfume should last the longest out of all of the listed options and can be smelt all day.
Cologne – a lightweight option that can be smelt for around two hours before needing to be topped up.
The stronger the concentration, the longer the scent lasts and the more expensive it is likely to be.
Always check reviews
Reading reviews is a great way to understand how the perfume notes translate, giving you an insight into the longevity, quality and scent from regular wearers. While it's important to consider that everyone has different preferences, reading a few reviews is great if you can't go out and sample the perfume yourself.
Next time you're picking up a present for a loved one or rewarding yourself with a new perfume, make sure to get the best out of your search by using our tips.