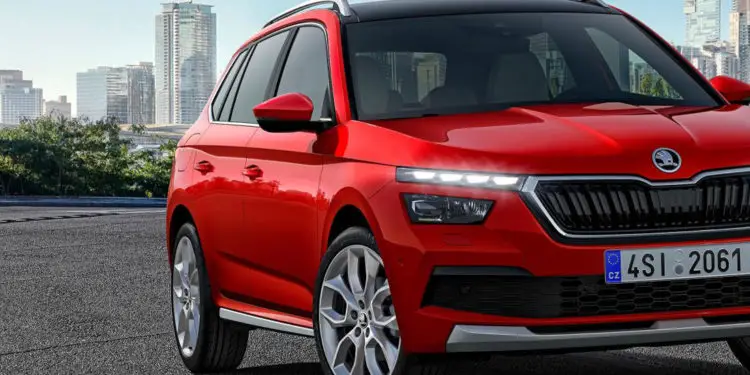 By Liam Bird
It's not that long ago since Skoda didn't have a single SUV in their line-up. And then along came something they called the Yeti, a car so versatile and one that won such critical acclaim that CAR Magazine – surely the most revered of the automotive monthlies – once wrote of it "If Carlsberg made cars…"
I'll readily admit I was, indeed I still am, a Yeti fan. I've recently bought my second one.
Alas, the Yeti is no longer with us, production ceased in 2017. Skoda then went on to launch not one, but two cars – one larger than the other – as replacements (and no-doubt in a bid to exploit the ever expanding demand for SUVs). Their flagship Kodiaq is a seven-seater, whilst the smaller but equally pleasing Karoq seats five. And, as you'd expect of the modern-day VW-owned, Czech manufacturer, both cars offer practicality and family friendly attributes in abundance.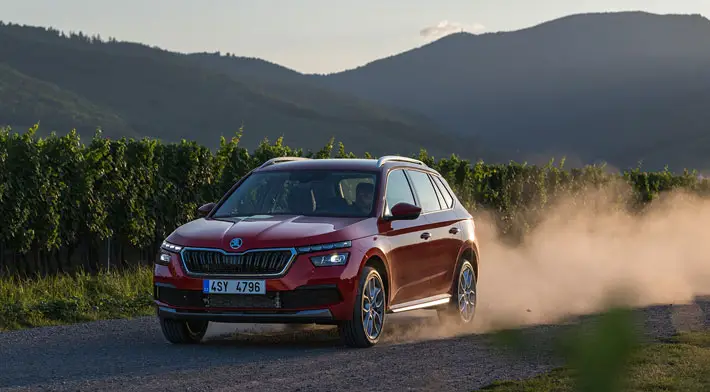 "Extra-chunky body-cladding"
It's taken them a little while, but now Skoda have made a third addition to their cars whose names begin with a K. It's called Kamiq, and it sits in their SUV line-up below both Kodiaq and Karoq. Smaller it may be, yet size-wise, it's nearly as big as the Yeti was. So, that makes the Kamiq Skoda's smallest SUV to date – if, that is, it actually is an SUV.
Such things are a more than a tad difficult to define. But if it weren't for the Kamiq's extra-chunky body-cladding, its ever-so-slightly raised ride height, and its all-important – to those with ourdoorsy lifestyles – roof-bars, it might be said that from certain angles, front notwithstanding, the Kamiq could easily be mistaken for Skoda's altogether more hatchback-like Scala. I followed a Scala the other day whilst driving the Kamiq, and I'll admit it had me confused; nothing new there perhaps. And the Kamiq is a hatchback too, remember.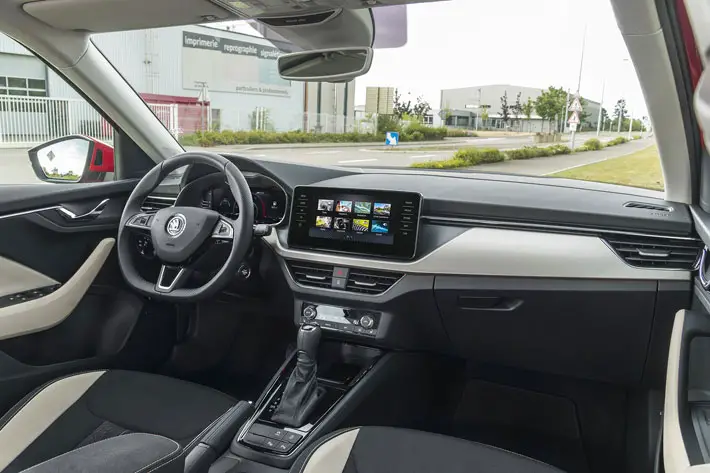 "Practical touches"
In fact it's a very practical hatchback indeed. Behind the optionally electronic operated tailgate you'll find a 400-litre boot containing such things as bag hooks, a removable LED boot-light that doubles as a torch, and a 12V socket. Our Kamiq had the optional spare wheel too – always a bonus. Further forward you'll find one of the most spacious cabins to be had in the compact SUV-cum-crossover class. There's room for two six-footers to sit comfortably behind each other and there are further practical touches such as under-seat storage, grippy cupholders, a car-park ticket clip, and umbrellas stored neatly in the doors.
Fortunately, Skoda haven't made things so sensible that they've become dull. The Kamiq's interior may not be about the win awards for its cutting edge design or striking aesthetics, nevertheless there's a multi-configurable digital dashboard, soft touch materials in all the right places and should your budget allow such things a 9.2-inch touchscreen display is an option available over the standard fit 6.5 and 8.0-inch versions (dependant on spec) – as are Apple Car Play and Android Auto. The Kamiq is also the first car I've driven that also reads your text messages and sends correctly written replies back after you've dictated them. Honestly, in places the Kamiq's interior feels more up-market than that of its direct VW competition.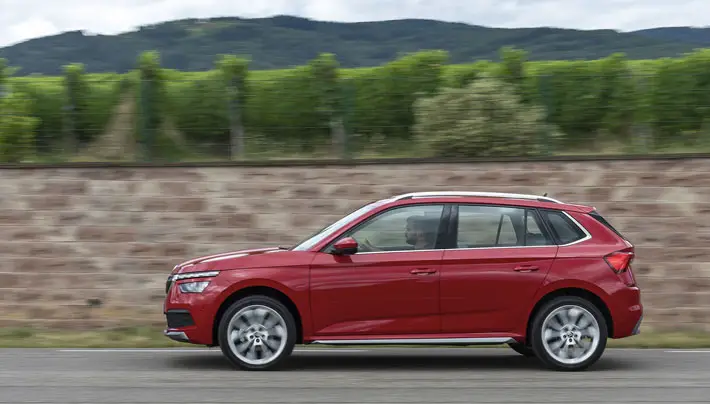 "Quirkiness and character"
It also feels nicely solid and well-engineered once on the move. The six-speed manual has very smooth shift and our Kamiq's 113bhp three-cylinder engine thrummed along happily without ever feeling under powered or resorting to too much noise whilst returning very near its claimed MPG. That's impressive stuff, especially when you consider it displaces just 999cc.
Having to switch off the lane assist system every time you start said engine is, I'll admit, less impressive – and so too are the Kamiq's Eco driving tips which pop-up in the dashboard every time it thinks you've selected the wrong gear. I'm sorry Kamiq but I definitely know the roads around here far better than you do.
Minor niggles aside there's still an awful lot to like about the Kamiq. And despite its slight nanny-state tendencies it remains, like many a Skoda, practical, beautifully built, and incredibly easy to live with. I'm not about to swap my Yeti for one anytime yet – the Kamiq lacks the Yeti's quirkiness and character – but if I was in the market for a compact SUV/Crossover/mid-sized family hatch, and one that was perhaps just a little less follow-the- crowd, I'd certainly give the Kamiq the consideration it so-rightly deserves.
Skoda Kamiq SE 1.0 TSi 115ps
Engine: 998 cc, 3Cyl, 12V turbo, petrol
Transmission: 6 speed manual. Front wheel drive
Power: 113 bhp @ 5,000 rpm
Torque: 148 lbft @ 2,000 rpm
0-62mph: 9.9 sec
Max Speed: 120 mph
MPG: 47.9 – 42.8 (WLTP combined).
CO2: 116 g/km
Price: from £19,935 (as tested £24,460)