Land Rover Defender 110 (2020) – Review
By Liam Bird
The fact that Land Rover chose to include 62 miles of motorway driving during the recent launch of their new Land Rover Defender 110 perhaps goes someway into not only showing just how different the new Defender is to the old, but also, just how wide the breadth of ability the Defender now possesses. An hour or so circumnavigating the Midlands in an old Defender was something only the most devout of their followers would have relished; in the new Defender however, it was a breeze.
It is inevitable that the new Defender will be compared to the old, nevertheless, having now driven both, trying to do so seems foolhardy. You simply cannot make a car like the old Defender anymore: safety regulations wouldn't allow it. Besides, Land Rover have moved on. Where once the Solihull brand were makers of what was originally devised as an alternative to a tractor – a single centre-seat prototype of the original Land Rover once existed – they're now very much a manufacturer of premium products.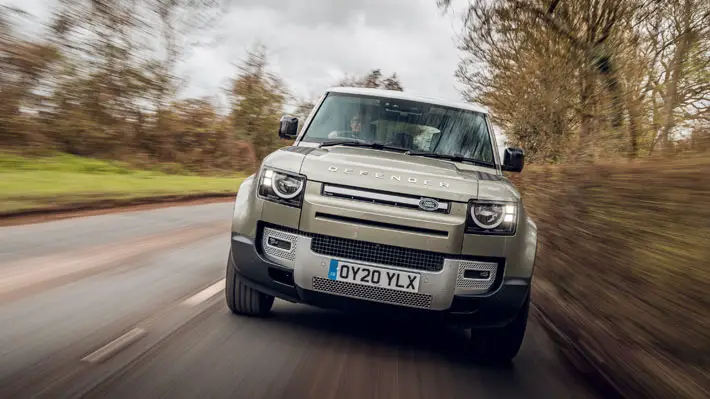 "Brilliantly lofty driving position"
You can still spec a central front seat in your new Defender, should you so wish. You can have steel wheels, chunky off-road tyres, a winch, a snorkel… Even a commercial version will be available soon. You get rubber mats, a huge boot, a brilliantly lofty driving position – now with space for your right arm – an open dashboard in which to store all of life's jetsam, exposed screw heads, and perhaps most importantly, that instantly recognisable Defender silhouette.
There won't however, be a pick-up, the new aluminium monocoque can't be configured as such, thus you're unlikely to see a new Defender with a cherry-picker in the back.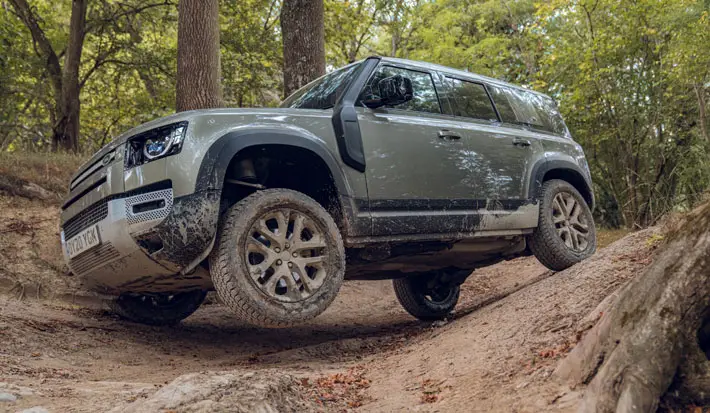 That chassis has however transformed the way the Defender feels, especially so if they've fitted air-suspension. Where once a Defender would bang and crash over almost everything in its path, it now glides, its independent suspension smoothing out all but the worst of imperfections.
At (ahem!) 80mph it's quiet, you can hear the digital radio or the sat-nav rather than just the gearbox. The 2.0-litre twin-turbo diesel Ingenium engine doesn't sound like it's about to explode at any minute and packs a surprising punch. And although there's body-roll when cornering – the Defender is still a heavy beast – you can at last now feel what's going on through that trademark enormous steering wheel.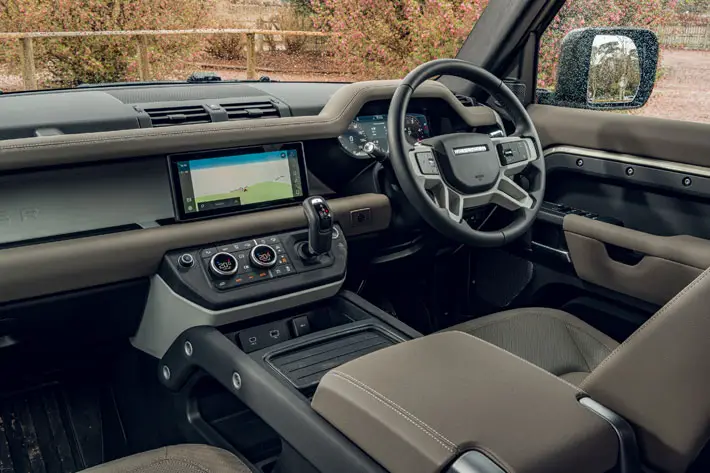 "Fine-tune everything"
That newfound refinement hasn't come at the cost of ruggedness or off-road ability either. Yes, you can Bluetooth your phone or enable Apple CarPlay, but you can do so whilst wading through 900mm of water. The Defender has four-wheel drive, adjustable locking differentials, an 8-speed automatic gearbox with high and low ratios, hill-descent control, massive axle articulation, and a Terrain Response system that's so sophisticated it boggles the mind.
You can choose to fine-tune everything via the new touchscreen, or you can just leave it all in the automatic setting. Either way the software will make it all work in harmony, enabling you, as the driver, to negotiate obstacles you'd simply reverse away from in virtually every other vehicle you can think of. Capable and Effortless are words that do not do the Defender justice. It'll tow 3.5 tonnes too.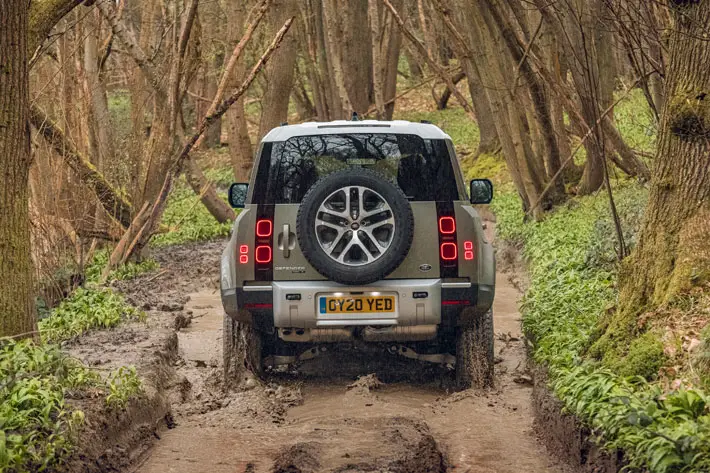 Honestly, there really is a certain something about this new Defender… I know the diehards will say it's too suburban, too refined, too plush, too expensive.
Until that is, they drive one. Then, believe me; they'll want one.
Land Rover Defender 110 D240 S
Engine: 1,999cc, 4 Cyl, Ingenium twin-turbo, diesel.
Transmission: 8-speed. Automatic. Four Wheel Drive – with Terrain Response and selectable low range
Power: 240 bhp @ 4,000 rpm
Torque: 317 lbft @ 1,400 rpm
0-62 Mph: 8.7 sec
Max Speed: 117 mph
MPG: 31.7 – 29.6 (WLTP combined).
CO2: 234-251 g/km (WLTP combined).
Price: from £52,110.