Six Ideas To Keep Working From Home Homely
by Steve Crabtree/@stevecrab
With the ups and downs of lockdown 2020, the working world has been a funny thing. But with the craziness settling down a bit, here and there we have glimpses of some form of order being restored.
And whilst offices are gingerly opening their doors to employees again, working from home thing has been embraced over the spring and summer months. Where some employers might have been scared of letting employees out of their sight before the pandemic, we're now seeing that #WFH could actually become part of life. Improvements in work life balance have soared, and being happier at work is no longer a token strapline that companies pretend they're concerned about. Businesses seem to be coming round to the idea that home working is actually beneficial to them too.
So, when you log on after your morning shower, how you are set up for the day becomes more important. It's not just about giving you a laptop and a work phone. There's lots of factors to make your working from home space a nice place to be.  Comfortable, but not distractive.  Kind of office-like, but cool enough so the space fits right in with your home.
We've taken some of the best ideas on the market to help you turn part of your home in to a WFH area, making sure the Home aspect doesn't receive too much corporate intrusion…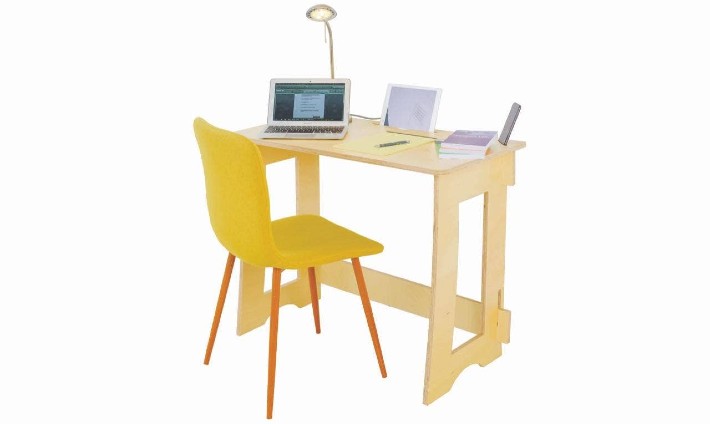 Clever Closet 60 Second Desk
Having the work surface you need can make or break your working day. The sofa? Definitely not. Coffee table in front of the TV? Good luck! Kitchen worktop? Perhaps. But a dedicated desk means you're dedicated to your work, and the 60 Second Desk from Clever Closet is a pretty remarkable bit of kit. 
The 60 Second Desk comes in six pieces that slot together in one minute flat, and creates a sturdy and spacious work zone. It's dimensions don't impact your personal home areas, but give you a good working area to be comfortable. And on sight, it looks minimal and cool. There's discreet cable management grooves to let power cords neatly trail through, and grooves to let you prop up your tablet or phone. So those video calls are going to be a piece of cake. 
When I put this together to try out, I instantly liked it. It's robust, with a Scandinavian-minimalistic look, and it's much more than just a quick fix. However, it can be if you want it to be. If you're that short on space and need to put it down when you're not using it, it comes down and stores away in it's box just as quickly as it does when you put it up.
A fab unit that I've actually chosen to continue using this as my permanent WFH station. Practical and good looking, at £149 the Clever Closet 60 Second Desk is something you could do with. clevercloset.co.uk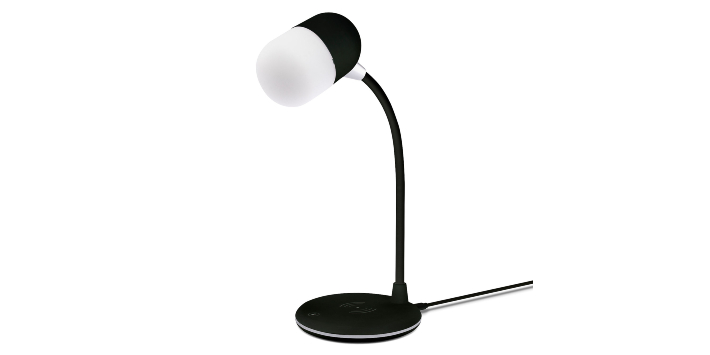 Groov-e Apollo Lamp
Don't be fooled by the nice summer in to thinking working from home is all warmth and sunlight! When it hits autumn and the winter kicks in, you're going to need a variation of light to help you concentrate, see what you're doing, and be kind to your eyes. The Groov-e Apollo lamp does this for you, and it does a heck of a lot more besides.
Firstly, it's compact and doesn't take up too much space. It's flexible, so the unit can sit where you'd like it, and it's easy to direct the light where you need it. It can also plug in in to the USB port on your laptop, minimising plug socket overload. It's got a nice soft way of operating it too, a simple touch will turn it on, adjust the brightness settings, and turn it off again.
But then there's more. It trebles up as a wireless phone charger and bluetooth speaker – meaning the cable free environment you probably crave for it catered for. Along with the bonus of giving you the necessities to keep your phone full of juice, and the background music flowing nicely. Groov-e might not call it a smart lamp, but that's certainly what it is! A brilliant necessity for you WFH needs.
The Groov-e Apollo lamp is priced at £29.99 and available from: www.groov-e.co.uk
Livescribe Aegir Smart Pen
The Livescribe smart pen is a genius device that lets you take a break from tapping away at your keyboard, and write your thoughts down on paper.
The Aegir Smartpen from Livescribe delivers the traditional benefits of pen and paper, whilst also providing the benefit of digitally transcribing your handwritten notes. This makes your notes easily shareable and ensures that they are backed up so that you can't lose them.
I found the pen easy to set up, and although it took me a little bit of time to work out how to connect it to the app on your phone, once I'd overcome that I was away!  The pen captures your notes via the free Livescribe + app, and it stores information for times when you can't pair your pen with your device automatically.
But the magic with this pen comes with the Livescribe notebooks and diaries that are available with it. The pen contains a camera, and the notebooks contain pages of barely visible dots – so when you write, as well as the traditional hand written note it can even change the handwriting to text format, and this allows those handwritten bits you need to do to only be done once and lets you share your notes professionally with yout colleagues.
The app can record your voice as you write, and charges vis USB-C cable, supplied. You get replacement ink, and with an RRP from £119.99 its a very good piece of WFH kit! Available from livescribe.com
House of Marley Redemption ANC True Wireless Earbuds
Zoom this, Zoom that. Zoom meetings aren't just for quizzes – they're a part of working life now. To get the best sound and mic quality, your earphones are key because we all know, the laptop audio option often doesn't cut it. Marley produce a great set of lightweight earphones, that do a great job and sit comfortably. So to get the most out of your online calls and meetings, these are the perfect option. 
Firstly, you get stereo voice communications. So when I tried these out, the call handling was crystal clear.  I tapped the earphones to control volume, and I could get 2 hours out of them with a quick 15 minute charge.  There's a seven hour on-board Battery Life, and 28 hours if you include the playtime with the case charge.
It's not just , you can leave these in and go for your lunchtime run around the local park. Letting you get the real musical deal going in to your ears when your working out too. And as well as the practicalities, they look cool too.
I can't believe such great sound can be produced by such little things! £179.99 for these, and you've got yourself the ultimate in lightweight, all-round earphones for work and for play. Available from thehouseofmarley.co.uk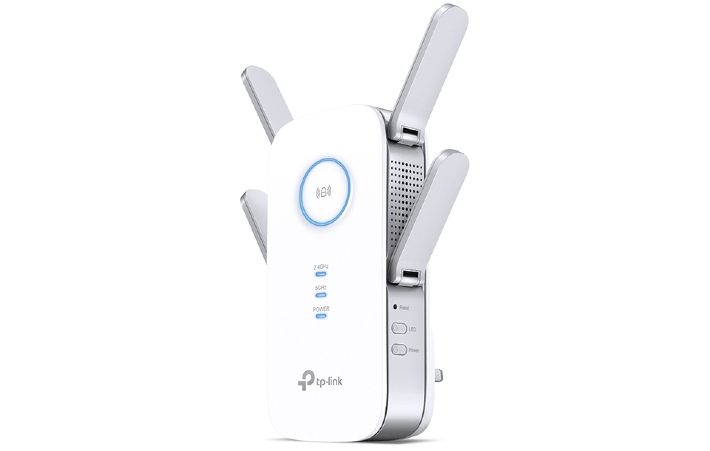 RE60 Mesh Wi-Fi Range Extender
You don't want your home routers limitations to dictate where your best WFH space is going to be.  And there's no need to go through the rigmarole of having new lines installed or anything like that, when TP-Link can offer you the RE60 Mesh Wi-Fi Range Extender.
With four external and dual band antennas, it establishes a stable wireless connection to any Wi-Fi router. And the network's coverage can be boosted up to 14,000 square feet. I found it comes with a seriously easy set-up, and provides the speed and performance necessary to support your most demanding online applications. Lag-free video connection was a major plus point – so you won't be that annoying one on the video conferences that keeps freezing and stuttering!
And of course, at the end of work, you can catch up with a bit of Netflix before joining the rest of the family for dinner. And if you don't tell them you're finished for the day, neither will I 😉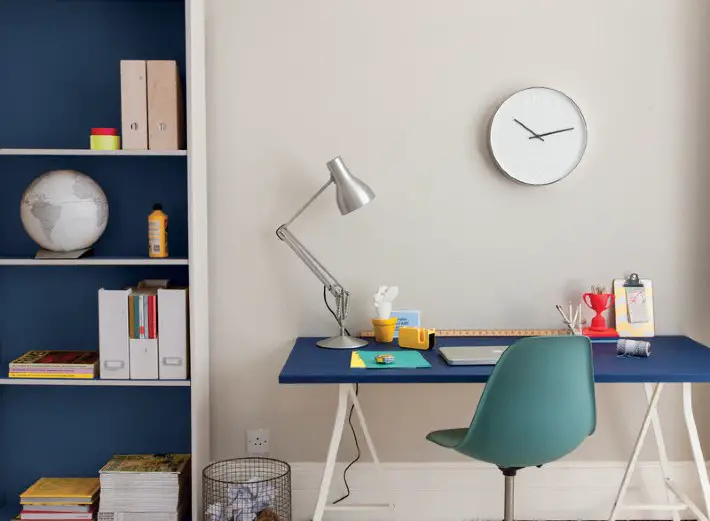 Inspired Space with Dulux
So, you might pick a corner of your spare bedroom to set up your working from home base. But is it TOO spare-room-y?!  Is it not the sort of area that makes you think you're there to work?  It happens… some of the best performers in work are inspired by the environment around them.
So maybe refreshing the room with a lick of paint is what you need. And Dulux can help you balance the cool bedroom meets cool office space perfectly. They have created the visualiser app to see what colours work in your home, which allows you to see your workspace in their range of colour schemes.
It's the must-have tool to make sure your imagination works. It helps you see which hues work for you, and your inspiring mind. And you get that working from home space that doesn't look out of place.
Download the app here: dulux.co.uk