Red Sky at Night [Mikron Theatre] – Review – Guiseley Wetherby Whaler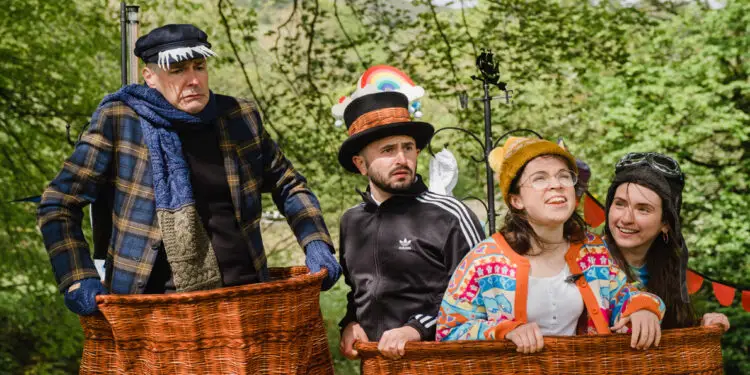 By Richard Mansfield, May 2022
In Red Sky At Night Mikron Theatre has created a play truly befitting its 50th Anniversary year and its tradition of bringing its presentations of contemporary drama on contemporary themes out into community venues. This animated and highly entertaining production certainly reflects the energy and enthusiasm that has been released after a frustrating two years of being unable to perform before live audiences.
Who could have imagined that meteorology and weather would offer such a fertile theme for a fun two hours following the fortunes of an erstwhile nerdy girl presenting the weather bulletin for a hapless daytime television station, the 'Nither Valley TV News'? Needless to say, the prospect has been developed widely and very imaginatively.
Exploiting our reputedly very British fixation for the weather, particularly the rain, Lindsay Rodden has penned a clever and humorous script that melds folklore, with its peculiar allusions and sayings, so commonplace in our language, with the wisdoms of science.
Essentially, alongside the history of our developing knowledge of the true mechanics of the atmosphere, which may even now be regarded by some cynics as educated guess work, sits the expectation that those who present the forecast will become 'personalities' in their own right.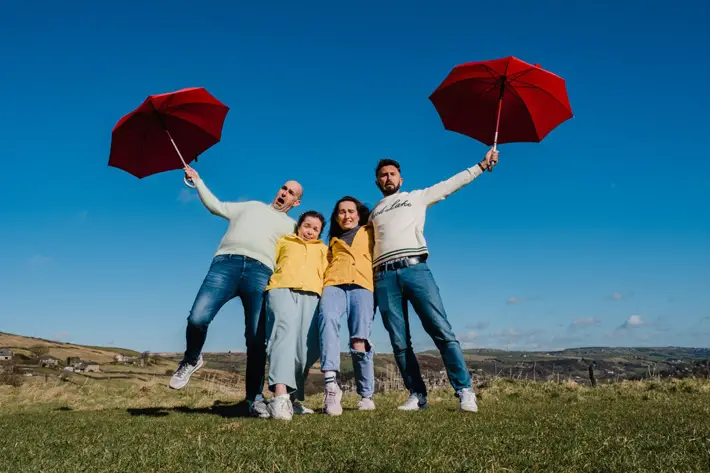 "Faultless"
Besides being there to inform, the weather forecast has to be appealing and entertaining, something well caricatured in this play. However, what if your presenter doesn't match that requirement?
So enter the rather nerdy Hayley Green (Hannah Bainbridge), seemingly a swot, a lass more interested in studying academic meteorology for her doctorate than being a weather girl. Reluctantly she finds as the extremely nervous on-screen weather presenter to a rather second rate daytime television station.
Within this scenario various stereotypical characters involved in the production of the bulletins are presented, very amusingly and not without satire.
They are characters whose flaws are all too familiar to us in the blandness of what passes much of the time for supposedly acceptable 'television', the meaningless but recurring jingle, the shallow presentation of personality.
In this production, newcomer to Mikron, Hannah Bainbridge is joined similarly by Alice McKenna. Each slips, with ease, into the spirit of the company alongside veteran James McLean and Thomas Cotran, for whom this is a second year.
They combine in what appear to be faultless and convincing performances from all.

"Lovely little touches"
Red Sky At Night offers a fast-paced, colourful programme with the cast adopting seamless changes of character and costume. Trombone, flute and saxophone are among the instruments that this versatile and talented cast employ to accompany the songs. With barely a still moment, the interval provides a timely break for actors and audience alike.
It would not be a Mikron play without relevance to the topical issues of the modern world and in this instance it is that alterations in weather accumulate into climate change. The approach is more subtle than blunt; it is distinctly educative without being preachy or hectoring. At two hours though, the production could perhaps do with trimming down a little.
There are some lovely little touches along the way, especially one for the insomniacs among us, those who have been awake at five-fifteen in the mornings, when the Shipping Forecast is broadcast. So, herald this number – 'The Shipping Broadcast Lullaby' – sung soothingly by the cast. Very different from those occasions when there is 'a lot of weather' and the presenter has to gallop breathlessly through a vast list of criteria in the forecast.
Suffice perhaps to say that it is good to know that Mikron is back on the road… and the canals of England.
images: Liz Baker