Raising Agents – Review – Square Chapel Arts Centre, Halifax
By Steve Crabtree, April 2022
Marsden's very own, incredible Mikron Theatre are 50 years old this year. And to celebrate, they're doing what they do best: Touring.
Right now, they're performing Maeve Larkin's Raising Agents, and I got to pop down the road to watch it at the Square Chapel Arts Centre in Halifax.
Raising Agents is a heartwarming, yet also funny tale that tells the story of the Bunnington Women's Institute. Membership is down, and in a rapidly moderning world it's up in the air as to whether or not it'll be around much longer.  But with the imminent 100 year anniversary of the WI just around the corner, the four remaining members are determined to make the branch work – even if they have differing views on how it was going to survive.
"As animated as they were sensational"
A four-strong cast were the stars the show, each one of them as animated as they were sensational.  Two males, two females playing an all-female group. The comedy effect of the casting choice made the story very funny, but also very engaging.
The fantastic James McLean is back in the Mikron fold as Moira. Straight laced, motherly and perhaps the most senior of the ladies. His character made me think of one a mum of a friend I had at infant school. You soon forget you're not watching a lady at work. Alice McKenna and her fantastic vocal range, nicely portrayed the new PR guru member. As the latest member and most modern thinker, she wanted to set about things in a very different way from tradition.
Throughout Raising Agents, we learned how to make the best rabbit pie, and were treated to a brief, yet in-depth rundown on the history of the WI. Leeds' Hannah Bainbridge did a stirling job playing Penny, the sensible one, who educated us all with that information. And another returnee, Thomas Cotran, played Ange. Like McLean, he had no trouble getting into character and at times his wannabe-diva-like attitude, and flouncy nature as he paraded round the stage was almost too good!
All four of them connected nicely, making the characters likeable and letting the play flow nicely.
"A show so good"
With a small set, we're given a true Mikron style stage. A small serving hatch backdrop is a permanent fixture, with musical instruments to the side, and the odd prop and extra hat and coat around the back.  It's wasn't much, with a show so good, it didn't need to be. It worked.
At only 45 minutes per act the script was light and fast, and came with some some brilliant musical numbers. And, as if the cast weren't talented enough, each of them played multiple instruments too. When the songs started up, so did the trombones, accordions, oboes, and saxophones.
We even had the excitement of a guitar string snapping mid-song. And, in true WI fashion, the ladies sorted it out, fixed it quickly, and the show went on. Moira simply asked us to talk amongst ourselves while they mended the guitar, and I loved that this glitch fitted into the story.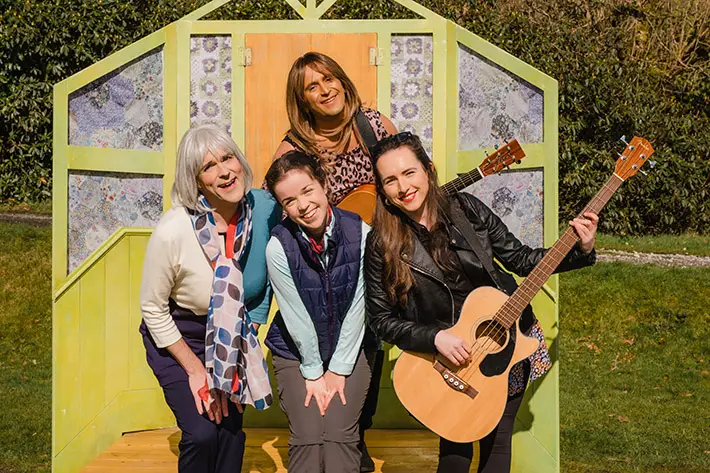 "Tea, tarts and todays tech"
We had a number of local WI members in the house tonight, all of them enjoying the show. A small group of them sat directly behind me and made it obvious that Raising Agents was relatable to them, laughing when they recognised themselves in the characters. "And that's why my cups of tea are important!" said one, after a cup of tea was made out to be something of a WI hero.
Despite its educational and humorous side, the show also give us some emotion too.  The sadness of loneliness, and importance of friendships made you stop and think. And a number of people in the audience sang along to 'Jerusalem' as it was performed, which I thought was lovely.
From learning about the WI's roots in Canada, to tea, tarts and todays tech; Raising Agents is a brilliant play that contains a lot of fun. It gave every man and woman, young and old a very entertaining evening, and every one of us left the Square Chapel with a smile on our face.
Raising Agents is touring Yorkshire and beyond until October 2022. Check out mikron.org.uk for details.