Looking Good Dead – Review – York Grand Opera House
By Roger Crow, March 2022
There was a time when an enigmatic key given to a protagonist was the gateway for any thriller. However, since the invention of the flash drive, the USB memory stick is the (far from) USP for any 21st-century mystery. Such is the case with Looking Good Dead.
But first, the opener, which offers a whiff of S&M for the M&S market. When a sacrificial pawn meets a potentially untimely end, we know this isn't just a ploy to make half awake theatregoers sit up and take notice, though it does that job admirably. It tells us this is a grown-up drama which offers mature themes. But who was that poor young woman and why did she possibly meet such a demise? Well, that's stage one of the mystery.
When Tom Bryce, a self assured, rather cocky businessman comes home with a mystery thumb drive found on a train, the game is afoot. We, the amateur detectives in the audience, are desperate, okay mildly intrigued, to know what is on the memory stick, and thankfully Tom has Max (Luke Ward-Wilkinson), a computer wiz genius of a son (who should be about 20, but looks more like 30).
He also has a fractious relationship with his wife, Kellie, whose fondness for the bottle means she's just the broken character that all such mysteries need.
"Works beautifully"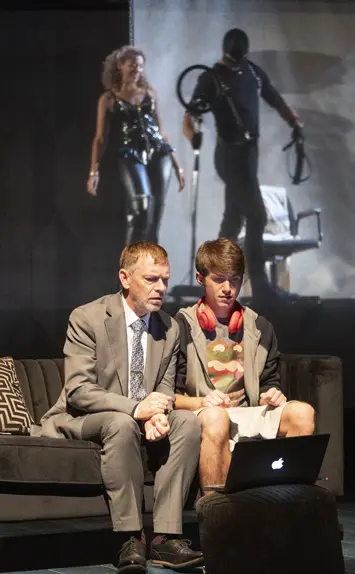 Trouble is the flash drive is password protected and will take at least a few minutes to open thanks to the budding Bill Gates whose NOISE-CANCELLING HEADPHONES might be integral to the plot later.
Despite the breadcrumb trail of clues, and the 8mm-style plot (that's an old Nicolas Cage movie about snuff films if none the wiser), Looking Good Dead grabs me from the first few minutes, and doesn't let go for the duration.
If the cast were a bunch of unknowns, then it would be all the more credible, but Adam Woodyatt may as well arrive on stage with a huge neon sign above his head saying NOT IAN BEALE.
That's the problem with playing a character for more than three decades. The baggage of EastEnders is enormous, and when your stage wife, Laurie Brett, was also your screen spouse, Jane, then obviously the suspension of disbelief is problematic.
That said, there's a shorthand between the two built up from years of working together that works beautifully.
Anyway, unsurprisingly the flash drive contains a link to a clip of the poor woman from the opener meeting a grisly end, and father and son being suitably shocked by what they see.
While the mystery unfolds, we discover Kellie also spends cash like there's no tomorrow, Tom is broke, and there's another son off on a gap year doing cool things in exotic places.
When a body is found, the police are called to investigate, and also thrown into the mix is Jonas Kent (Ian Houghton), an American businessman who offers the drowning Bryce clan a lifeline with a lucrative deal involving expensive watches.
As the police piece together the mystery with a Silence of the Lambs-style sub plot involving bugs, I'm fascinated to see where this is going.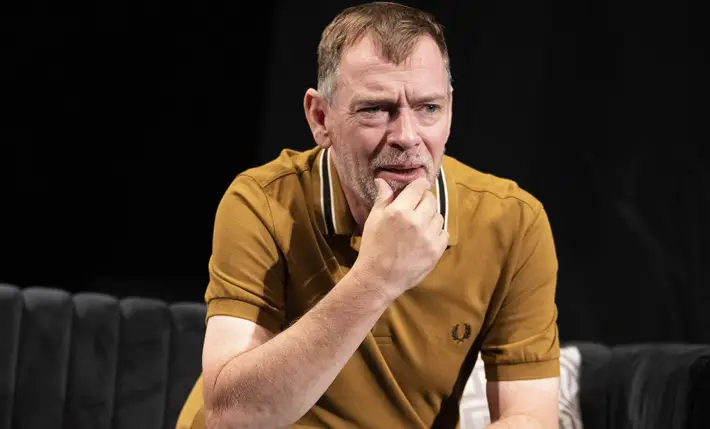 "Quick fire banter"
A simple but effective multi-level set features the protagonist's home on one level, the villain's lair on another, and a police set which slides in and out when needed. When clips of nefarious goings on are played on the laptop, the drama plays out on the higher level, which is a rather clever move.
There are some intentionally groanworthy gags to lighten the mood, and though the odd action scenes feel a little clumsy, I loved almost every minute.
It's such a well-oiled machine of a script that the odd moment of silence would have enhanced the drama. And yes, there is the odd moment, thanks to those headphones and a key development, but every time the cops are on stage, there's quick fire banter, and phone calls, and no chance for them to stop and think for a minute. Less sometimes is more, so those eureka moments have less impact without the occasional beat before the revelation.
Okay, that might work better on TV or film than on stage, but as a show like The Woman in Black proved on the same stage, tension is not created by overlapping dialogue, but moments of silence.
That aside, director Jonathan O'Boyle does a good job of spinning the assorted plates, and though I've not read the Peter James page-turner on which this is based, it ticks over nicely.
The Scooby Doo-style reveal at the ending is a little awkward, but for the most part this is great entertainment.