How To Clean Different Fabrics In Your Home
Your home is your haven, so naturally, you want everything to look its best and after carefully choosing our home décor, it can be heart-breaking to find stubborn stains and dirt on your beautiful home fabrics. However, accidents do happen and over time everything from your sofas, rugs, and carpets through to your cushions and curtains will need to be cleaned.
Whether you are wondering how to remove a stubborn stain from a sofa or how to carefully wash your curtains without damaging your much-loved home fabrics, our latest blog is here to help.
How to clean your various home fabrics
Home fabrics naturally gather dust and dirt, and the longer these are left, the harder they will be to clean. However, home cleaning doesn't need to be difficult, especially when you follow our basic rules of cleaning your home fabrics. In general, your home fabrics will fall into the categories of synthetic or natural, with both types requiring their own approach to home cleaning.
There are likely to be many synthetic fabrics within your home interior, such as nylon, polyester, and acrylic, which tend to be easier to clean than natural fabrics. Although, always proceed with caution and check the fabric for cleaning instructions, as it may be recommended to use a water-based cleaning agent.
If you are looking to clean natural fabrics such as cotton, linen, velvet, wool or silk, steam cleaning is likely to be the best option. Try to avoid using large amounts of water, as natural fabrics will retain lots of water, which can lead to damage such as discolouration or shrinkage. If you need to spot clean a stain, stick to a water-based product, but only use a small amount to avoid visible water rings.
Although leather is a natural material it tends to be very durable, so only occasional conditioning will be needed to help your upholstery retain its smoothness and elasticity. However, dust and dirt will need wiping and if you are struggling with a tough stain, try to avoid using strong cleaning agents which can distort the colour of your leather.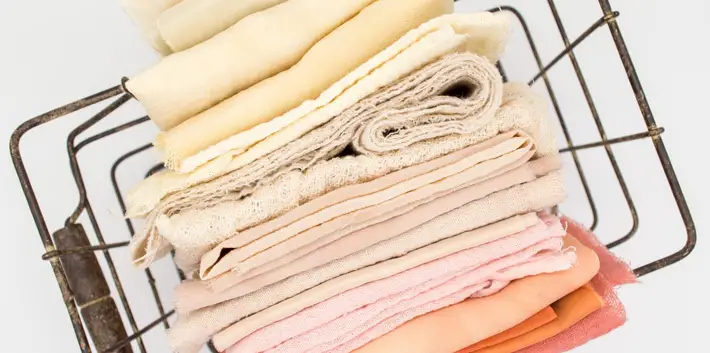 How to clean curtains and blinds
For many of us, our window dressings are the key component of our interior design, as hanging new curtains or blinds is often the quickest way to transform our room in line with the latest trends.
There are a huge range of companies that offer so many beautiful home fabrics to choose from, including light neutral colours and delicate fabrics such as velvet and satin, it is important to consider our home cleaning tips if you want to maintain their stunning finish.
Thankfully, many curtains can be placed in the washing machine on a gentle cycle, however, delicate fabrics should be hand-washed with a very mild cleaning product. In the case of blinds, a damp sponge can be used to remove light dirt whilst the blinds are in situ. However, for stubborn stains, you may need to remove the blind so that the full surface can be cleaned with warm water.
How to clean sofas, upholstered furniture, and cushions
Although regular vacuuming is essential to stay on top of dust and general dirt, if there are spills or stains cleaning will be needed. If the item has removable covers, it may be possible to wash the fabric in a washing machine, however, for large items, this is not recommended as it is difficult to ensure an even clean. However, you should always check for any specific cleaning instructions.
Next, complete a cleaning test on an area that is not visible, such as underneath a cushion or behind the sofa. If you need to spot clean, always use a white coloured cloth to apply the cleaning agent, as this will stop the colour within your fabric from leaking. Then, wipe the area down with a wet sponge and leave the item to dry in a warm and well-ventilated area.
How to clean rugs and carpets
Whether you need to remove coffee stains or red wine stains, Good Housekeeping outlines some useful tips and tricks for getting those stubborn stains out of your carpets. If your rug or carpet is made using a natural material such as wool or cotton, you can hand wash a small area with a mild detergent, which can then be rinsed with cold water.
However, if the stain is difficult to remove, a brush should be used to loosen the stain from the fibres, then once dry, the area can be vacuumed. If a larger area needs to be cleaned, we recommend hiring a carpet cleaning machine or calling in a team of professionals.