The Road To Success For Gift Shop Businesses
Running a gift shop business is more competitive than ever before, which means it has never been more important to be innovative about the way you do business. No matter if you're thinking of opening a brand new gift shop, or you're looking for ways to make your existing shop more successful, these five tips are sure to help you on the road to success.
Stock products that suit your customers' needs
Certain giftware products never fail to be popular, such as candles, figurines, photo frames, mugs, teddy bears, cards and postcards. It's a great idea to have these types of popular items on hand, but you should also tailor your stock to suit the unique needs of your target market. For example, when shopping for wholesale candles you'll have a huge variety of sizes, styles, scents and ingredients to choose from, but you have to keep in mind what will be popular with your unique clientele. This Wholesale Candles Buying Guide covers everything from the type of candles that are most popular to the most popular scents.
It's also important to fulfil the changing needs of customers throughout the year. Consider the seasons, special events, and public holidays and order appropriate stock well in advance. Be prepared also to adjust your displays to showcase seasonal products. You should consider tailoring your products for popular events such as Christmas, Valentines, Easter, Mother's Day, Father's Day and other special occasions.
Create an experience your customers will remember
To stand out from the crowd you need to make sure your gift shop has a unique edge that compels customers to choose your business over the competition. Perhaps you could cater to a niche part of the market by stocking a particular type of product. Maybe your gift shop could be themed and beautifully decorated to give shoppers a reason to look around and keep returning to check out every fresh display. Maybe you could host special events or services, such as gallery showcases for local artists.
Ultimately, the goal is not simply to stock products but to create an experience for customers that will keep them coming back. Your service – your ability to give product recommendations or style advice, for example – plays an important role in customer experience too. By creating a welcoming and accommodating atmosphere you can show customers they're valued and make them more likely to return in future.
Invest in a modern POS system
Modern point of sale systems offer a level of inventory management and versatility that can take your business to new levels of success compared to outdated cash registers. They can streamline the stock-taking process, reduce the risk of errors that could lead to revenue losses, and give valuable insights into customer buying habits by providing data and analytics on various retail metrics.
Mobile POS systems, often run via tablets or even mobile phones, allow you to handle sales from anywhere in the shop, so at busy times you can quickly install extra tills by simply switching on additional mobile devices. They also allow you to complete sales away from your premises, such as a pop-up stall at an event.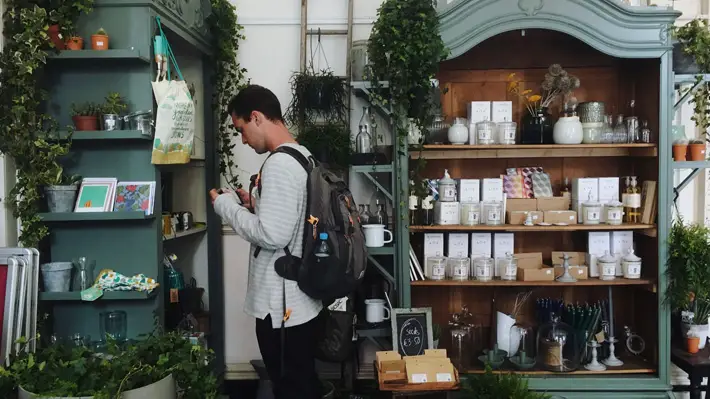 Growing your online presence
The internet and social media are where people turn to find great places to shop, so you must take your marketing efforts online to reach new customers. Create social media pages for your giftware business and curate content that reflects your brand's ethos, values and unique personality. You can showcase new products, show off your vibrant window displays, and run special offers to give customers a reason to visit your store. It's important to adopt a consistent posting schedule and be capable of responding to users to drive engagement, so it is definitely worth investing in a social media marketing agency to manage this for you or, at the very least, to help you get started in growing your social presence.
It's also incredibly helpful to have your dedicated website to boost your online presence. You can use this to give potential customers practical information about your business such as opening hours, new product launches or special events. Some gift shop businesses also sell via their websites in addition to their brick-and-mortar stores to reach customers all over the country.
Upsell and add value with additional services
Upselling is key to success in the giftware industry. Customers might come into the store simply to browse or to purchase just one item, but you can increase revenue by offering small complementary products or services. For example, stock birthday cards, gift bags, wrapping paper and balloons so customers can get everything they need in one place. Offer a gift-wrapping service so that customers don't have to deal with the hassle of wrapping themselves. Position small, low-priced items near your till area to tempt customers into last-minute impulse purchases.
You could also offer more comprehensive services to make the shopping experience more convenient for customers. For example, offer consultations to help customers pick out the perfect gifts or, if you sell homewares and have an eye for design, offer an interior design service. You could also stock products that can be personalised and charge a fee to complete the personalisation. Consider your skills and figure out how to turn them into a service that could boost revenue and give your gift shop a unique selling point.