An Interview with Adam Woodyatt on Looking Good Dead
The Roy Grace series from best-selling author Peter James returns to Grand Opera House York with the world premiere stage production of Looking Good Dead, starring award winning actor and EastEnders icon, Adam Woodyatt.
Here, Adam talks about his role and the thrill of taking to the road, as well as his memories of Albert Square…
What can audiences expect when they come to see Looking Good Dead?
It's a really brilliant production. Peter James' story is excellent, and the script has been adapted beautifully. It's got thrills, fun, twists and turns and I am confident that people can have a lovely evening or afternoon out. Plus, you can get an ice cream in the interval!
Can you tell us a bit about who you play in the show? Can you relate to them in any way?
I play Tom Bryce, he's a businessman, husband, father, basically a very normal bloke. So he's easy to relate to in many ways.
You've previously worked with Laurie Brett as a married couple on EastEnders (Ian and Jane Beale), how does it differ working together this time around?
This time it's on stage and not on TV. It's great working with Laurie again, it's very easy, comfortable. There is a familiarity that is just there.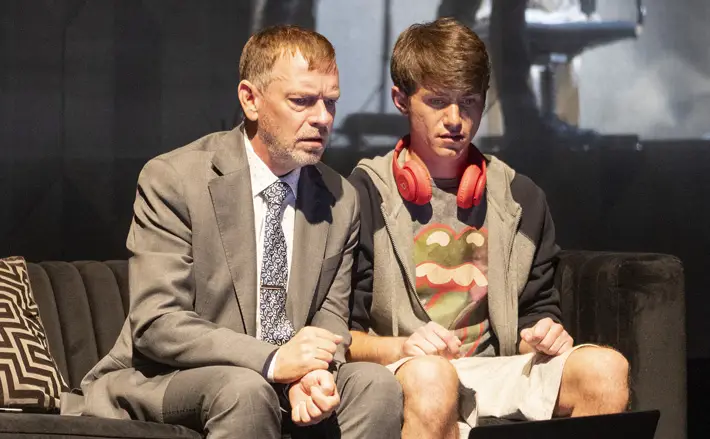 "Element of surprise"
What are your fondest memories from being together in Albert Square?
There were so many moments… the live ep, the tandem, the braying horse!!! And I'm looking forward to having more memorable moments.
The previous Peter James plays have had some great star names from television and you now join that list – what do you think attracts actors to his plays?
There have been some great names, and I actually know some of them as they're colleagues of mine! I'm really looking forward to being part of this show and I know Shane Ritchie had nothing but brilliant things to say about the Peter James productions he has been part of. Of course I spoke to him and asked what it was like!
Do you enjoy the novels of Peter James?
I have read Looking Good Dead and really enjoyed it, despite not being a massive reader. I'm hoping that the show will appeal to fans of Peter James' novels and many more people as well. When I read the book, I was kept guessing the entire time, and I hope we can keep that excitement for audiences.
Peter has sold millions of books, which have been Number One on the Bestseller List 19 times, but why do you think the adaptation of his books to stage has been so successful?
The adaptations are always faithful to the book, but with a twist or a tiny change so that even someone who knows the book incredibly well isn't one hundred percent certain what is going to happen, which adds a brilliant element of surprise and anticipation. Added to that, as well as the thrills there's some good humour in the plays. I think there's a lot to look forward to in Looking Good Dead.
Why do you think audiences love to see a good thriller on stage?
I really enjoy a good thriller. I'm not one for horrors, but something that makes you jump a bit and gets your adrenaline going is great entertainment. If we can draw people in and make them believe everything and end with a sharp intake of breath, then I think we have done our job. It's one of those chances to get a thrill in a safe space.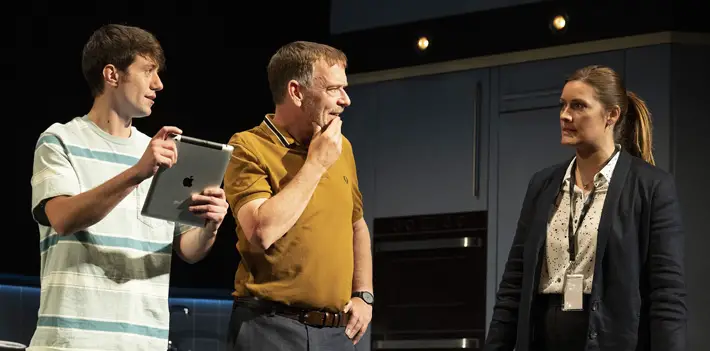 "Feeling of immediacy"
You've appeared on both stage and screen, do you have a preference?
What has really appealed to me about being part of Looking Good Dead is getting that live reaction. EastEnders has had massive responses when we have done live episodes. Especially in 2015 for me. I loved it. I loved that feeling of immediacy and knowing that what happens in this moment is what the audience will see there and then. I love that buzz. I've done pantomimes over the years which are always a favourite thing for me to do, so the prospect of being able to go out and do a theatre tour is really exciting.
What are you most looking forward to about taking the show on the road?
I'm so looking forward to getting to see some parts of the country that I have never visited before. I'm also looking forward to spending my daytimes with my bike and having a wander around the local areas. I'm also really looking forward to seeing the different theatres. I know that around the country there are some stunning and historic buildings everywhere. I've done the same job for 36 years so to have a chance to go and enjoy myself touring the country is so exciting for me.
What are your plans once the tour ends?
I'm going to help a friend out who has a pop up restaurant at Pub in the Park during the summer, if I've not got any proper work on.
'Looking Good Dead' is at York Grand Opera House, Tue 29 March – Sat 2 April 2022.
Tickets from £13: atgtickets.com/york