Valley Girl (1983) – Film Review
Director: Martha Coolidge
Cast: Nicolas Cage, Deborah Foreman, Elizabeth Daily
Certificate: 15
By Sarah Morgan
Think of Nicolas Cage these days and the image of a wild and crazy guy probably springs to mind.
During the last 30 years or so he's been a unique presence on our screens, whether channelling Elvis in David Lynch's Wild at Heart, winning an Oscar for his portrayal of an alcoholic in Leaving Las Vegas or poking fun at his own image rather deliciously in The Unbearable Weight of Massive Talent.
But before that, he had a short-lived career as a teen idol. His unconventional looks perhaps meant he was never going to be hugely successful in that role. However, one of the best films he made during that period was Valley Girl, a 1983 romantic comedy in which he was billed as Cage for the first time. Until then, he'd been listed under his birth name of Nicolas Coppola. He changed it to avoid being linked to his uncle, Oscar-winning Godfather director Francis Ford Coppola.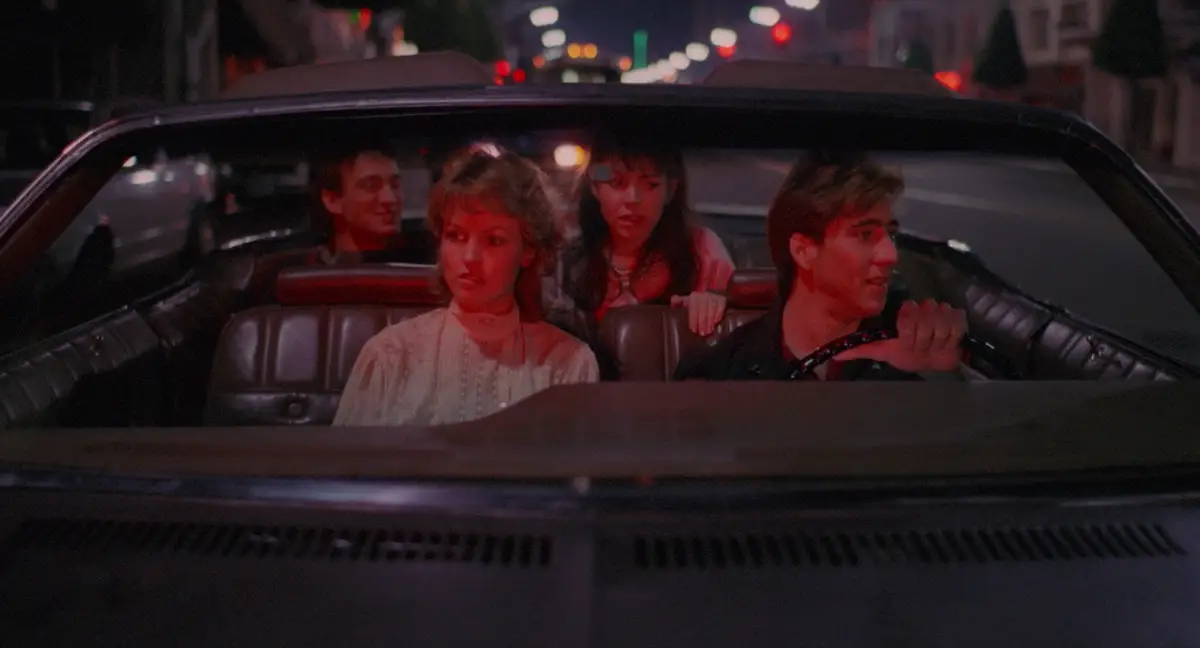 "Tragedy around the corner"
It was also an early movie for director Martha Coolidge and is a modern updating of Shakespeare's Romeo and Juliet. The main female character, played by Deborah Foreman, is called Julie, while the Romeo figure, portrayed by Cage, has been renamed Randy.
They're teenagers from different sides of the tracks. Julie is the Valley Girl of the title; she's pretty, popular and looks as if she was born with apple pie in her mouth. He, meanwhile, is a punk from a less affluent neighbourhood. They say that opposites attract. And that's definitely the case for this pair.
Despite falling in love with Randy, Julie feels she can't have a future with him, so succumbs to the overtures from her former boyfriend Tommy,  a slick but charmless womaniser who wants to get back with her. Will she see the error of her ways? Is tragedy around the corner, as it is in Shakespeare's original play? Well, you'll have to watch to find out.
"Intriguing"
There are better teen movies from the same period. I'm particularly thinking of those made by John Hughes. But, Valley Girl is entertaining despite being a little rough around the edges. It's also showing its age; I can't imagine if it were remade today that the nude scenes would be included.
Clueless does a similar thing in updating a classic story, but with more panache. Nevertheless, it's intriguing to see Cage developing his on-screen persona; he's certainly by miles the best aspect of the entire film.
He's also present in the special features, and some may be surprised by how affable and open he is while discussing the film. He's part of Hollywood royalty, but he's just one of the guys here. Most of the rest of the cast and Coolidge also talk about their on-set experiences in an extensive and informative set of interviews.
SPECIAL FEATURES
Limited Edition Box Set - 3000 Copies
Limited Edition hardbound slipcase featuring new artwork by Sam Gilbey
1080p HD presentation on Blu-ray from a 4K scan of the original negatives
Optional English SDH
New audio commentary with Maya Montañez Smukler (author of Liberating Hollywood: Women Directors and the Feminist Reform of 1970s American Cinema) and Maria San Filippo (editor of After 'Happily Ever After': Romantic Comedy in the Post-Romantic Age)
Audio commentary with director Martha Coolidge
New interview with Deborah Foreman
Valley Girl in Conversation – 2018 interview with director Martha Coolidge and actresses E. G. Daily and Heidi Holicker
Martha Coolidge and Nicolas Cage on Valley Girl
A huge selection of archival interviews with cast and crew totalling over 3 hours
20 Totally Tubular Years Later – 2003 featurette
The Music of Valley Girl - featurette
Music Videos
Storyboard Comparisons
Original theatrical trailer
A Limited Edition collector's booklet featuring new writing by Alexandra Heller-Nicholas and Craig Ian Mann
Valley Girl is released on 4k Blu-ray by Eureka, £32.99