The Unbearable Weight of Massive Talent (2022) – Film Review
Director: Tom Gormican
Cast: Nicolas Cage, Pedro Pascal, Sharon Horgan
Certificate: 15
By Roger Crow
Ah Nicolas Cage. Where would the movie world be without those decades of films featuring the larger-than-life star? Whether in Face/Off, Moonstruck, Con Air or countless other flicks, he's a shot of adrenaline in often humdrum projects.
"Guys on a mission"
Thankfully all of the above are classics, and he's also on top form in this meta comedy action thriller. Like Being John Malkovich and Jean Claude Van Damme offering JCVD, an alternate version of the movie star we know and love pokes fun at his own back catalogue, often with some delicious throwaway lines.
The plot centres on a version of Nicolas Cage, who has career troubles and is harassed by Nicky, a version of himself from different points in his life. (The recreation of his Wogan era/Wild at Heart-plugging madness is uncanny).
A fractured relationship with ex-wife Olivia and daughter Addy together with a lost film role leads Cage to realise he needs to give up acting. However, the offer of a trip to Mallorca to meet tycoon playboy Javi is too good to pass up, so off he goes. Javi wants to make a movie, and the two are soon bonding over Paddington 2. Yes, really, though as one of the greatest films ever made, little wonder.
However, they are soon guys on a mission in a generic plot involving lethal bad guys
So it starts off as a meta comedy, turns into a stoner farce, and then a Michael Bay-style action thriller.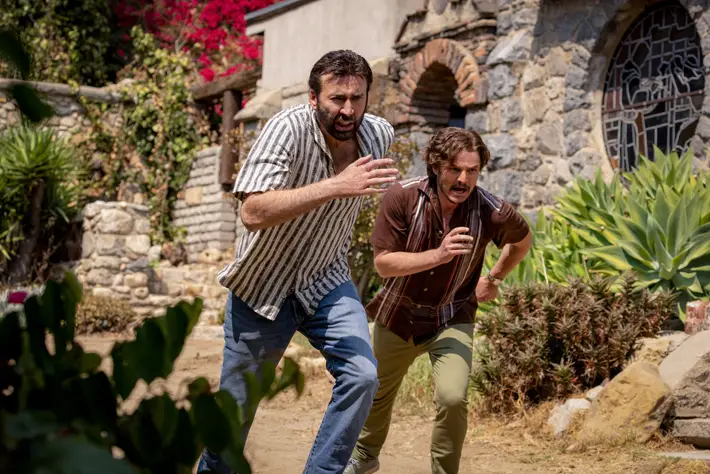 "Stylish nonsense"
The Med locations are glorious and the colours really pop in HD, especially Cage's red dressing gown. Solid support from Pedro Pascal and Sharon Horgan help make this a compelling watch, and though there are some laugh-out-loud funny moments and a scenery-chewing performance from Cage, it's essentially a one-hour sketch that goes on way too long.
Extras include a behind-the-scenes look at the making of the movie, and a yack track by writer/director Tom Gormican and writer Kevin Etten.
Fun, silly, stylish nonsense which should brighten the dullest day.
Blu-ray & 4k UHD Special Features:
• Audio commentary by writer/director Tom Gormican and writer Kevin Etten
• Deleted scenes (with optional audio commentary by writer/director Tom Gormican and writer Kevin Etten)
• The Mind
• Glimmers of a Bygone Cage
• Everybody Needs a Javi
• Nick, Nicky, and Sergio
• Second Act Action
• Cages 5 and Up
• SXSW Film Festival Q&A
The Unbearable Weight of Massive Talent is on digital, Steelbook, 4K UHD, Blu-ray & DVD now from Lionsgate UK