Paddington 2 (2017) – Film Review
Director: Paul King
Cast: Hugh Bonneville, Hugh Grant, Sally Hawkins
Certificate: PG
by Roger Crow
Perfection, as we all know is an elusive quality. We may strive for it, but despite Fairground Attraction's foot-tapping plea, few things are rarely perfect.
Except occasionally a film comes along where everything clicks. The right producer hires the best director and the ideal cast and crew, together with spot-on effects technicians. And the story is strong enough to carry the weight of expectation from start to finish. Every second of celluloid is a well-crafted dream; finely tuned, expertly crafted and dovetails with the next scene.
It's a film with a start, a middle and end. It makes sense. There's a cross generational appeal, so those pushing 50 can enjoy what's on screen as much as those in the spring of youth and the winter of their years.
Paddington 2 is one of those movies, a film so utterly wondrous, it feels like a dozen Christmases rolled into one.
Three years to the day after seeing the first Paddington movie on the big screen, I'd hoped the sequel would live up to that wonderful starter of a motion picture. A film which introduced us to the eponymous bear from darkest Peru who finds a new home in London with the Brown family and proceeds to steal the hearts of almost everyone around him.
Film one was a toe in the water, a brilliant mix of wry humour, sight gags, action scenes and delightful musical segues. It was everything I'd hoped for from the bear who stole my heart as a six-year-old kid reading Michael Bond's books for the first time.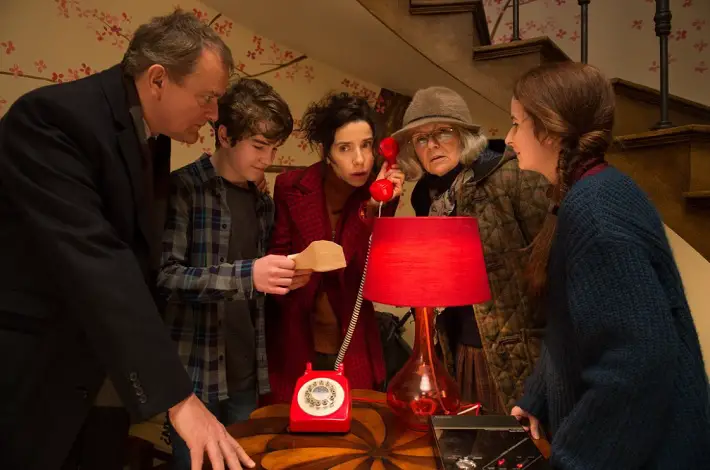 "Beautifully crafted screenplay"
With the ideal casting of Hugh Bonneville, Sally Hawkins and Julie Walters as key members of the family who take Paddington under their collective wing, the inevitable move for the sequel was to pluck the bear from his adoptive family.
While trying to save up enough cash to buy a pop-up book for his Aunt Lucy, so she can experience a flavour of London in Peru, Paddington embarks on a window cleaning round, which owes a spiritual debt to Wallace and Gromit and countless silent movie stars.
There are so many gags in Paddington 2, it's hard to keep count of the amount of times I giggled, but it's a lot. When ham actor Phoenix Buchanan (Hugh Grant, in a career-best performance) pinches said book, for reasons which eventually become clear, there are no prizes for guessing who's framed for the crime and winds up doing a long spell inside.
So most of the movie is a prison caper, but the likes of which you've never seen. Brendan Gleeson gives another of his effortlessly brilliant performances, this time as a fearsome prison chef.
Paddington, seeing the best in everyone, proceeds to change the lives of those inside, while back in that moneyed region of London he had to leave behind, the locals are falling apart without him.
Writers Paul King and Simon Farnaby construct such a beautifully crafted screenplay, there's no lull in the story from minute one to the breathtaking final few minutes. In terms of emotional sucker punches, the finale is up there with ET for the most tear-jerking final 15 minutes of any film I've seen. Yes, it was dusty in that cinema, and yes, I did get something in my eye. A lot.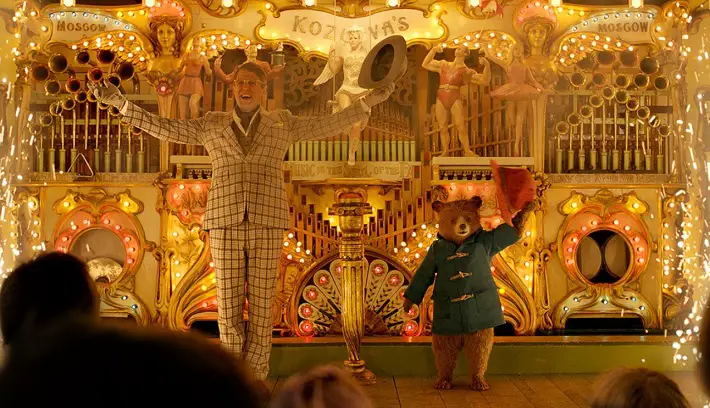 "Lightness of touch"
And as with film one, Farnaby leaves me giggling like an idiot as the amorous security guard who takes a shine to Grant's disguised nun. (In film one, Farnaby's flirting with Hugh Bonneville in drag was one of the funniest scenes of 2014).
Director King proved he could tell a beautifully touching and original tale with The Bunny and the Bull many years ago, and armed with a bigger budget three years ago, he adapted that indie quality with great success.
I'd wondered if Paddington was a fluke and he'd drop the ball with the sequel, but with the training wheels off, he's now become the Chris Hoy of British comedy directors. A more assured but no less brilliant film maker whose lightness of touch is astounding. And that pop-up book scene with Paddington and his Aunt is among the best things you'll see on screen in this or any other year.
There no doubt it'll land technical awards for effects, and maybe production design, but if there's any justice, this should also land a BAFTA nod for Best Film. It won't of course. That will be reserved for a socially conscious, political drama deemed far more worthy, but for me Paddington 2 is easily the best British film of 2017.
Michael Bond, the little bear's much missed creator, would be more than proud.
9/10